City Hall defines 'Character' with latest public art exhibition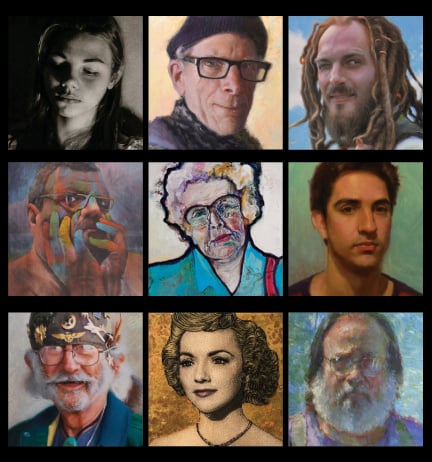 A band of 14 characters currently occupies City Hall's Robert T. Matsui Gallery. The Traveler peers over his shoulder, perhaps taking one last look at the past before continuing on down the road. Polychromatic, paint-stained fingers run down the face of Untitled's hulking but yet vulnerable figure. The white-bearded subject of Chalkboard in Five Stanzas fades into and out of view next to a chalkboard likeness of himself, which is eradicated with one swipe of an eraser.
The latest installment of the Sacramento Metropolitan Arts Commission's gallery program, "Defining Character: The Art of the Portrait"—which will be exhibited at City Hall through July 31—features works from Sacramento artists Laura Caron, Maren Conrad, Debra Hardesty, Fred Dalkey, Troy Dalton, Frank Ordaz, Annie Murphy-Robinson and Jerald Silva. Most of the portraits are of anonymous subjects, but the collection includes two depictions of Dalton—a self-portrait and one by fellow painter Hardesty.
SMAC executive director Shelly Willis says that "Defining Character" was inspired by an exhibition concept submitted to SMAC's Art in Public Places Committee, which accepts public proposals year-round for both the Robert T. Matsui and SMUD art galleries. This democratic approach represents what Willis calls "an effort to encourage emerging curators with interesting ideas."
"Defining Character" is on display through July 31 at the Robert T. Matsui Gallery in City Hall. 915 I St. downtownsac.org