Coastal Carnival to make waves in downtown Sacramento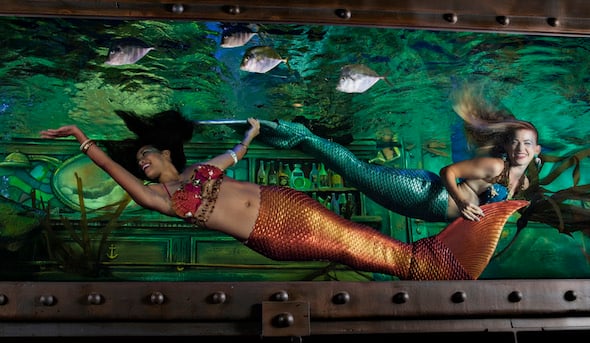 Anchors aweigh! An underwater circus featuring performances from mermaids, aquatic trapeze artists, sea clowns and more is coming to town this weekend.
The Coastal Carnival event, which will be held at Dive Bar on Feb. 20 and 21, invites grown-up guests to watch a free 45-minute-long underwater performance in the 7,500-gallon, 40-foot-long aquarium spanning the downtown bar's entire ceiling. The narrative behind Coastal Carnival follows the story of a group of mermaids who imagine themselves as circus performers after coming across a sunken ship that went down with a circus troupe in it.
"It is the first time that an underwater circus of this nature has been done in [over a century]," says Virginia Hankins, who performs as Catalina Mermaid for event co-producer, Sheroes Entertainment LLC. "There was an underwater circus in the Victorian times, but no one has done anything like it in decades. That's what's pretty special about it." (According to Hankins, the last underwater circus where mermaids performed in tanks in front of audiences was the "Neptune's Daughter" show at The Hippodrome in New York in 1906.)
Highlighted performances include a humorous bit featuring an overly romantic lion tamer who's trying to get the attention of a beautiful lioness (performed by Los Angeles-based entertainer Merman Jax and Dive Bar's own head mermaid Rachel Smith), as well as the show's climactic, intricate underwater ballet piece created by Hollywood choreographer Clinton Kyles.
When not viewing the show, visitors can enjoy more land-based carnival attractions such as a bean bag toss (where guests can win drink coupons) and a photo space where they can stick their heads through a hand-painted sign and pretend to be mermaids.
Dive Bar will also offer guests dressed in carnival or underwater-themed costumes $3 off drink purchases.
"[Coastal Carnival] is bringing people a fun-natured, almost like vaudeville-type show that they can go to and party and have a fun time hanging out with their friends," Hankins says.
Free. 9:30 & 11:30 p.m. Dive Bar. 1016 K St. 737-5999
Related Links
–Fat's Restaurants to host its inaugural banana cream pie eating contest
–A new restaurant is putting down roots in downtown Auburn
–New time-lapse video shows Sacramento on the rise