Comedians with Disabilities Act hosts a CD release concert at Punch Line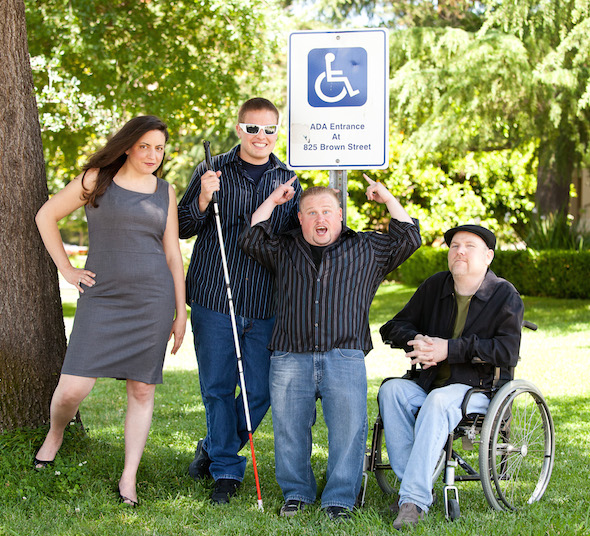 A blind guy, a little person, a stutterer and a man in a wheelchair enter a comedy club. If that sounds like the set-up to a joke, it sort of is: This is the actual foursome that makes up the Comedians With Disabilities Act, which celebrates the release of its debut live CD on Wednesday, April 29, with a concert at the Punch Line.
Led by Sacramento-based comic Michael O'Connell, the quartet has toured nationwide with its riffs exploring the challenges and travails of living with disabilities, from dating to driving to the awkwardness and misperceptions of everyday interactions with the able-bodied.
"A lot of people out there don't know anyone in a wheelchair, or a little person, or someone who stutters," O'Connell says. "So this is a wonderful opportunity to go, 'Oh, wait—these are normal, real people, too.' We've gotten a lot of people coming up and saying that, which I think is fantastic. It's great."
O'Connell said the idea came in 2010 when he brainstormed with his friend and fellow locally based comic Keith Lowell Jensen (who will host Wednesday's concert) about starting a touring act composed of disabled comedians. They recruited Steve Danner, a little person and veteran comic based out of Napa, to start with; O'Connell and Jensen later brought aboard Eric Mee, a blind comic from Sacramento, after seeing Mee perform a well-received set at the Sacramento Comedy Spot.
In November 2010, O'Connell, Danner and Mee sold out their first show as the Comedians With Disabilites Act, quickly establishing a local following that has grown along with the group in the years since.
"I love the crowds around Sacramento," Mee says. "They're not hesitant to laugh at disabled jokes. I've been to venues where people are just, 'OK, I don't like that. I wanna hear more inspirational stuff—not you saying that you can't date Asians because neither of you can drive. Tell me about you overcame you blindness—not how it gets you down.' You know? So I love Sacramento."
The CWDA diversified in 2011 by adding member Nina G, an Alameda-based comedian with both a stutter and long struggle with learning disabilities. The four have toured colleges, comedy clubs and other venues around the United States, including a nationally broadcast set at the Laugh Factory in Los Angeles in 2012.
"That's sort of a dream venue for comedians," O'Connell says. "To be up there on that big famous stage in LA was really a breakthrough for us. We've done it twice now."
After nearly five years of collaborating, the group's debut live album, Disabled Comedy Only, was recorded last October during a performance in Oakland. The act was joined onstage by three additional disabled comics—Steve Lee, Queenie TT and Loren Kraut—who will reunite with the act this week in Sacramento.
"A lot of comedians do wait quite a while to do their first CD," O'Connell says. "I think we finally realized that we'd been doing colleges and we'd been doing clubs and theaters and things. And there's always been a really great response from people wanting to know more. We realized that this is a good time. It's a really unique album because of the people in it and the content. We felt that people would really enjoy this a lot. So we just decided: Let's get it done and stop waiting around."
Disabled Comedy Only is currently available for presale on iTunes; the CD version of the album will be available for purchase at Wednesday's Punch Line show. A Bay Area CD release party and performance will follow for the group this Friday in Alameda.
"We're doing comedy, yes—but the silver lining of it is that we're raising disability awareness out there," O'Connell says. "We feel a responsibility to educate a bit, too. That's the fun challenge—to sneak education in and keep it funny."
$15 (with two-drink minimum; ages 18 and over). Punch Line Comedy Club. 2100 Arden Way. 925-5500. punchlinesac.com
You Might Also Like
Classic comedies like "'The Blues Brothers' and 'Tootsie' will shine on the big screen this spring
Margaret Cho brings the funny to Cache Creek in May
5 questions for comic Bobby Slayton