Comfort Cuisine: First look at Amaro Italian Bistro & Bar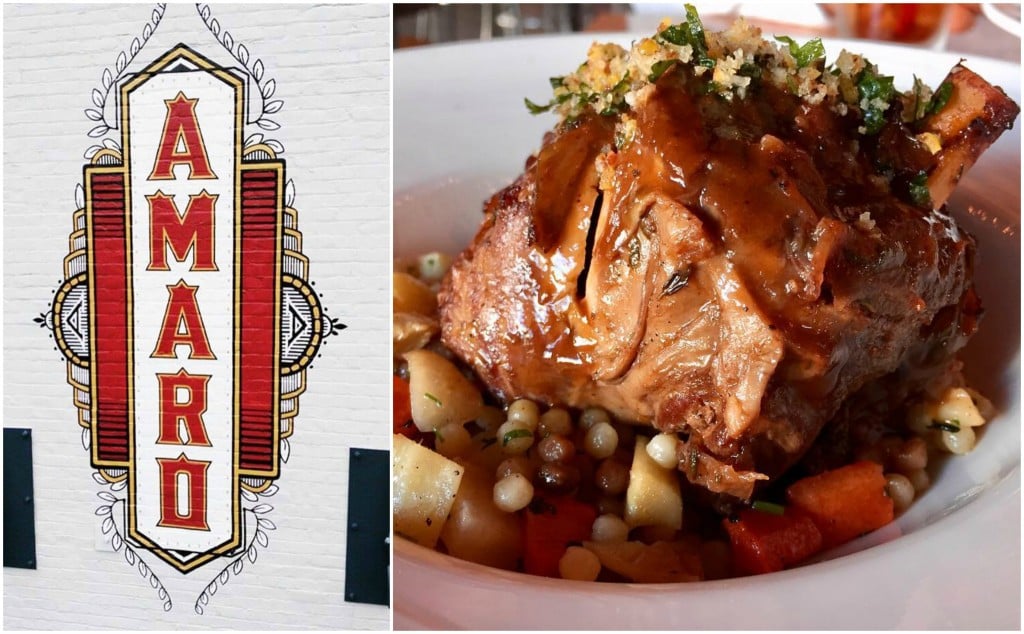 Casual diners on the R Street corridor are already spoiled for choice, with counter-service cafes like Nido, Metro Kitchen and Billy Ngo's Fish Face and gastropubs like Iron Horse Tavern, Burgers & Brew and Fox & Goose. But Amaro Italian Bistro & Bar, which opened Jan. 8, brings something new to the neighborhood dining scene.
Owners Jason Boggs, Garrett Van Vleck and Alex Origoni—collaborators on R Street hotspot Shady Lady Saloon, which Esquire named one of the best bars in the country, and Sail Inn & Grotto, a reconstructed dive-bar-cum-gastropub in West Sacramento—are joined in this new venture by the Deftones' drummer Abe Cunningham.
Amaro's décor features walls of book-lined shelves, chandeliers and reproductions of Old Masters beneath a tin ceiling, but this ornately decorated "dining room" doesn't envelop the clientele in luxury—instead it floats in an atrium above diners' heads like a collective thought-bubble. Below, the dining room itself is wood and steel, as hearty and practical as the rustic-yet-durable seating in a ski lodge—a paint-flecked budding Van Gogh from the neighboring Warehouse Artists Lofts wouldn't feel underdressed coming in for a pizza, and a suited Capitol worker would fit in, too. It's a clever conceit, juxtaposing the idea of Italianate ornament with the utility and comfort of humbler furnishings, and it works, especially in this neighborhood.
The specialty cocktail menu is short, with an emphasis on Italian spirits and liqueurs. The Red Devil blends the restaurant's namesake Amaro Averna liqueur (with the bitterness of citrus rind), Cynar (an herbal bitters featuring artichoke), and sweet vermouth for a balanced cocktail that's smooth, herbaceous and not-too-sweet. The American Tourist showcases rye whiskey with Cynar, orange bitters and maraschino for a variation on a Manhattan. The wine list offers just the Barberas and Sangioveses you want to drink with this food, and the pours are as generous as a Calabrian grandmother's welcoming bosom.
The menu is rustic Italian, grounded in solid culinary traditions and executed in a straightforward fashion, with just enough inventiveness in every dish to ensure the flavors make you sit up and pay attention. The carne pizza is recognizably Neapolitan, with a blistered, charred crust that droops in the middle (as it should) from the weight of tomato sauce. This traditional base is dotted with fontina and topped with a nicely composed mix of charcuterie, including pepperoni, prosciutto, pancetta and Italian sausage, all sliced paper thin and spiced with Calabrian chili pesto for a dish that's more poetic than its meaty, man-pizza name would imply.
The spaghetti alla puttanesca (the name translates as "prostitute's spaghetti") is also on point, strong on the fundamentals, with salty capers and niçoise olives dotting a garlic and chili-infused chunky tomato sauce served over fresh al dente pasta and topped with a glistening silver anchovy that will change your mind about the salty fish even if you think you don't like them.
On the appetizer side, one standout is the carpaccio. It's another restrained and orderly preparation of a classic dish, with parsley, arugula, capers and sea-salt decorating lacy rounds of translucent beef. But the star of the plate is a surprising mustard seed oil with a pickle-spice sweetness to it, the whole mustard providing the pop and texture of caviar, a pleasing contrast to the melty softness of the raw beef.
The osso buco entrée is a tender, braised pork shank on a bed of fregola sarda, a pasta resembling Israeli couscous that is toasted to golden nuttiness before cooking. Roasted root vegetables and red wine demi-glace bring sweetness to the dish, and a citrus gremolata spikes every forkful of meaty, roasty, rooty wintriness with a fresh grace note.
Amaro's lasagna is the kind you grew up eating if you're an Italian American—cheesy, bubbly and crispy-edged. The restaurant uses Orland Farmstead's "ricottage," an original creation of the local creamery that is a hybrid of ricotta and cottage cheeses, as well as fontina and Parmesan, along with béchamel, bolognese and fresh pasta. Each serving is individually baked to ensure that, as our server put it, "every piece is an end piece, with crispy edges all around." A thoughtful detail of preparation, among many at a place that clearly enjoys raising the Italian comfort food bar to new heights—as well as the decorated roof.
1100 R St. 399-4145.
You Might Also Like
Hook & Ladder launches new pop-up ramen cart
Selland's on Broadway to open as early as March
Mother's popular chef's tasting menu makes a comeback