Comic Genius
Artist Adrian Tomine, who first got hooked on comics while growing up in Sacramento, is now creating covers for The New Yorker and The New York Times Magazine—and that's in his spare time, when he's not busy reinventing the American comic book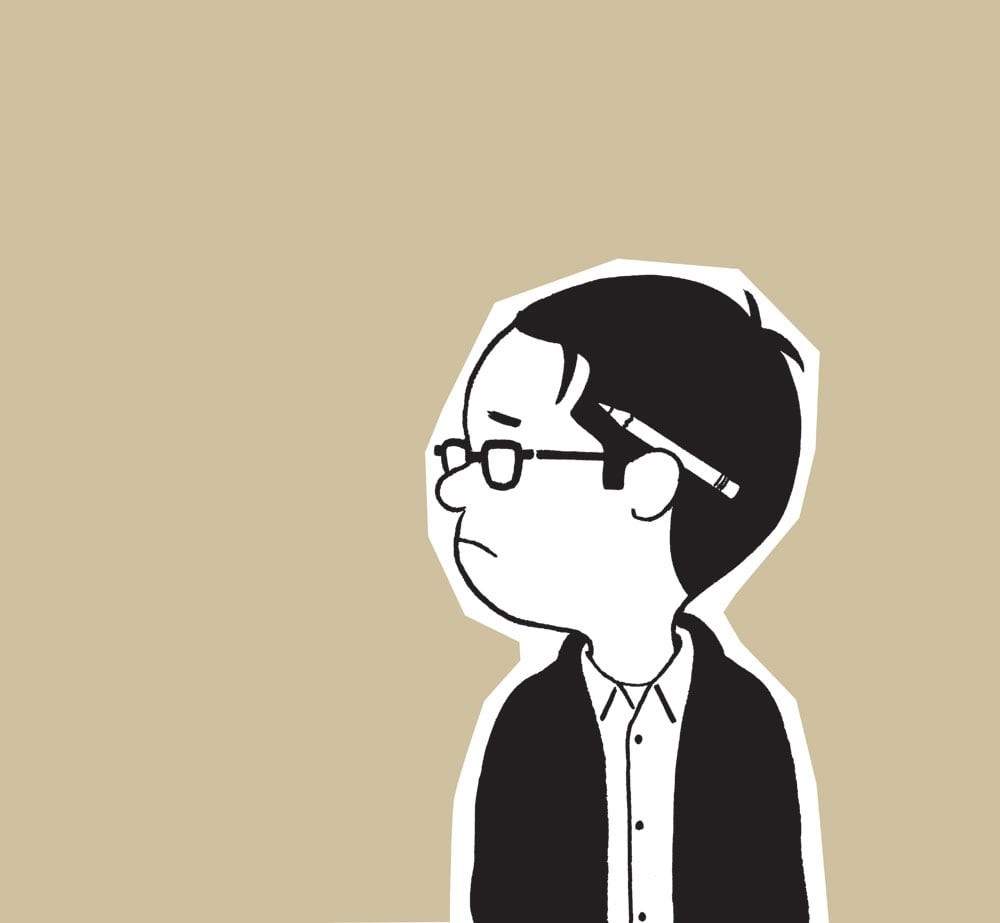 The first time I met the cartoonist Adrian Tomine, the waiter was a rock star. Well, he wasn't a rock star yet. This is back in late 1991, and the waiter was a polite, meticulous guy named John McCrea. Tomine was still a high school student at Rio Americano, and McCrea was serving quiche and mochas at now-defunct Greta's Café at 19th and Capitol—that is, when he wasn't performing irony-riddled pop songs at local clubs with his crack unit, a little band called Cake.
Today, McCrea is a rock star, and Tomine (his family pronounces it "toe-MEE-neh") is the equivalent of a rock star in the world of comic books. He packs conventions, he's close friends with fellow cartoonists who are helping renovate the medium (notably Daniel Clowes, of Ghost World fame), and his original art is collected by connoisseurs. Of course, the world of comic books is one in which people spend an unhealthy amount of time alone indoors staring at blank pieces of paper, so it differs a tiny bit from going on tour with De La Soul and Cheap Trick. Still, if there's a comics-artist equivalent to playing Madison Square Garden, it's drawing covers for that singular magazine, The New Yorker—something Adrian Tomine has been doing since 2004, the year he turned 30.
The reason Tomine and I were meeting up for lunch that day in 1991 had to do with these intriguing little pamphlets he'd been drawing, photocopying, hand-stapling and selling through local comic shops, like the midtown store Beyond the Pale at 21st and J.
Tomine titled his mini comics Optic Nerve, and filled them with short, taut, hardboiled, hyper-literate stories that melded film-noir sullenness with urban-slacker malaise. This was, in 1991, about the last thing you'd expect in a comic, given the medium's propensity, especially at that time, for steroid-buff, spandex-clad, vaguely fascistic superheroes. Actually, the last thing I expected that afternoon was to discover that a 17-year-old was responsible, given the worldliness (and, more to the point, world-weariness) of the stories, and the last thing Tomine expected was to be offered to be published in a national magazine.
"I was being pretty realistic in terms of my ambitions at that point," he says today, "which was really to get some of these things out of my sketchbook and into a little pamphlet. And if I could sell a couple copies at the local comics store, then that would be a great success to me."
Success came to Tomine more quickly, and more substantially. I had recently relocated to Sacramento from Brooklyn to work as an editor at Pulse!, the music monthly published by Tower Records. Tomine's strip would eventually run from February 1992 through September 1994, which is when he decided to hunker down and focus on his English degree at UC Berkeley. After Tomine regularly submitted his minis, Optic Nerve was picked up for distribution by the eminent Canadian publisher Drawn & Quarterly, home to the artists Seth, Joe Matt, Chester Brown and other figures influential in stripping comics of their super-hero tendencies, and making them a medium for personal expression—and for the sharing of intimate, often dark personal details. Tomine fit right in. D&Q's serialization of Tomine's Optic Nerve has led, since 1998, to four book collections.
The most recent of Tomine's books, Shortcomings, was released in 2007, and is his most sustained. In contrast with his earlier books, Shortcomings is a self-contained, full-length work, a "graphic novel" in the true sense of the term. His short pieces in the past had garnered comparisons to those of short-story master Raymond Carver (who also lived in Sacramento), thanks to Tomine's attention to the details of urban tension and twentysomething melancholy. Shortcomings focuses on a young Asian-American man's inner conflict about dating Caucasian women—you could say that Tomine had moved from Carver to Philip Roth. The New York Times did just that, and praised him for being "daring in his restraint." The San Francisco Chronicle flat out called Shortcomings a "milestone."
And that work, in turn, has led to high-profile commissions from magazines, including Details and The New York Times Magazine. "He's like a dream artist for me," says New Yorker Art Editor Françoise Mouly when asked about Tomine. "I'm always looking for artists who do narrative storytelling images. The other requirement is for images that look good, and with Adrian, he's pretty high up on that ladder. Not only do his images tell a story, but there's this aura of mystery. You keep wanting to look at it, because it posits a 'before' and an 'after,' so it's perfect for The New Yorker."
As of this writing, Tomine's most recent New Yorker cover appeared on the February 2, 2009 issue. His sixth for the magazine, it depicts a lonesome ice cream truck in the dead of urban winter. Behind the truck stands the grand but beleaguered city, bleak and grey, and in the middle ground is a desolate public park, its trees reduced to spindles as narrow as the New York society women whom Tom Wolfe famously captioned "social X-rays." A flurry of snow sweeps across the page. The only hint of warmth in Tomine's picture is a muted yellow glow emanating wanly from inside the ice cream truck—but even the driver, who's reading the newspaper (people are always reading in Tomine's work), is bundled for a blizzard.
Despite his Sacramento rearing, Tomine knows New York winters. He lives in Brooklyn these days, and like the Virginia-reared Wolfe, he's a New York City transplant whose outsider vantage has given him just enough detachment to see the city in a way that transfixes the natives. He says of his New Yorker and Times work, which also includes drawings for interior pages, "I feel like I'm in tune with the right level of observation that some of these assignments require. Maybe I'm noticing things that lifelong residents might have become jaded to—or, I might be more of a tourist, and easily impressed by things that aren't as significant to someone who's lived there their whole life."
Tomine was born May 31, 1974, to two Sacramento State professors, who divorced shortly thereafter. He spent an itinerant childhood largely with his mother, a psychologist, while his father, a professor of engineering, remained in Sacramento, to which he and his mother returned in time for him to attend high school. Both parents have non-academic creative pursuits, including silk-screening and documentary filmmaking, which along with their work ethic he credits as an inspiration.
Though his fans today might imagine otherwise, young Tomine was no less keen on superheroes than were his pre-teen peers. He just grew out of it more quickly. "I had a long period of my childhood where I actually envisioned myself working for Marvel Comics," he says, "and I did a lot of my own versions of superheroes [laughs]. But, yeah, I got that out of my system."
Among the artists who fascinated him at a precocious age was Yoshihiro Tatsumi, a somewhat esoteric figure from the world of Japanese manga who favored stark realism over fantasy and entertainment. ("Manga" is the Japanese word for comics, but their popularity in Japan dwarfs the role of comics in American life; in Japan manga is arguably a more powerful cultural force than are TV or movies.) Tasumi's troubling stories of post-war Japan often bring to mind novelist Nelson Algren's tales of mid-century Chicago, or closer to home, Sacramento-based writer William T. Vollmann's visits to the moral dark side.
Tomine first read Tatsumi's stories about dissolute veterans and conniving madams in the Sacramento comic shop World's Best Comics at around age 13. "There was one, almost like a bootleg translation of Tatsumi's work, that even he wasn't aware of himself, but that I stumbled upon," Tomine says. "And it was, like a lot of the comics that I was discovering at that time, more disturbing than anything else." Though Tomine was born into a Japanese-American family by parents who were both in internment camps, he says that the Japanese origin of Tatsumi's work wasn't what drew him in. "That experience of being freaked out by a comic was really inspiring to me," he says. In recent years, Tomine has been active in bringing Tatsumi's work (legally) to an English-reading audience, first through three short-story collections, and this year in an 840-page memoir, A Drifting Life, due out April 14, all of which he edited and designed.
Other influences were closer to home. Though they didn't meet until more recently, Tomine knew at the time that R. Crumb, the underground comics legend, lived in nearby Winters through the early 1990s. (Crumb later moved with his family to France.) "I was very excited when I watched the documentary [Crumb] about him," he says. "He talked about having a friend drive him around so he could draw some of the street lights and telephone wires and things like that, and to me it was very clearly Sacramento I was recognizing in his sketches."
Tomine also got to know Justin Green, an innovator in autobiographical comics who had his own Pulse! strip for a decade, and Green's wife, the talented cartoonist Carol Tyler. A visit to their East Sacramento home sticks with him: "I remember it being really interesting to see adults who took comics not just seriously but matter-of-factly, and there were comics and art books sort of strewn all about the house, not just hidden away in the kids room. And to see a home studio was exciting to me."
As it turns out, Tomine wasn't the first Sacramentan to draw a New Yorker cover. He wasn't even the first on his block. "I remember my stepbrother coming home one day and saying that there was some famous artist who lived across the street from us," Tomine says, thinking back to his childhood, "and no one paid much attention to him. And then years later, I remember reading an interview with Wayne Thiebaud, and realizing he was the guy who lived across the street from us."
Thiebaud, of course, has painted several iconic New Yorker covers, including an August 2002 issue showing two upside-down clown-faced ice cream cones. So, yeah, Tomine isn't the first Sacramentan to feature ice cream, either. (At least one other Sacramento resident, Stephanie Skaliksy, also did New Yorker covers and cartoons in the early 1990s.)
What Tomine has done is contribute to the modernization of the New Yorker's look. Says one collector of his original art, Steve Bodow, head writer for The Daily Show with Jon Stewart, "Unlike with Crumb or [cartoonist] Chris Ware, I feel like I'm looking at my world, a world that I recognize. He's observing the world in a way that's similar to the way I do, the real world—except he has the talent to actually express that visually instead of just yapping about it."
Says Mouly, "I know he's a favorite artist of some of the younger people here at the New Yorker. They recognize his art as being emblematic of their 'cultural cool.' He has a mixture of very vibrant sensibility and very sharp coolness."
Part of that quality may be that Tomine, despite being firmly planted in one of New York's underdog boroughs, never left behind his home state. "I think that there's sort of aspects of California, whether it's Sacramento or the Bay Area," he says, "that have become ingrained in my mind as being the default depictions of a house, or a street, or a business district, and so to draw something more specifically, like New York, I need to get reference. By default, it just starts to look like the West Coast."
Tomine's work, in comics and in magazines, generally features slender, young, casually attired denizens of that mental and social space situated tentatively between the waning of college and the waxing of "real life." The narratives read like they take place in a world in which Peanuts creator Charles Schulz's moody pianist, Schroeder, has grown up, but has not yet grown out of his self-imposed romantic and artistic torture. While Tomine's stories are often emotionally brutal, the images are just as important to the telling; he's an expert designer and typographer, and his pages benefit from a strong graphic sensibility. There's a deceptive simplicity to the thin lines with which he places introverted characters into willfully generic municipal environments.
Tomine spends most of his time in his Brooklyn apartment, where he's working on his next issue of Optic Nerve (his first to be in full color). He jokes that these days his experience of Sacramento is largely limited to the homes of his parents (his Dad still lives in the same house near Howe and Fair Oaks Blvd. that he's lived in since Tomine's childhood) when he visits with his wife, a psychology graduate student. But he still has hankerings: "New Yorkers have such a snobby view of having the best restaurants in the country," he says, "but when my wife and I go back to Sacramento, we're always pleasantly surprised. There's this new Japanese noodle shop, Shoki Ramen House, that opened up near the DMV [on Broadway], and it's pretty outrageously authentic. You feel like you're in a little noodle shop in Japan." Though Tomine left Sacramento for college in Berkeley, and Berkeley for a career in Brooklyn, the city in which he went to high school remains central to Tomine's sense of how his life shaped its course: "If I'd lived someplace smaller," he says, "and this is pre-Internet, I don't know if I would have stumbled on a lot of those comics. But at the same time, it wasn't like the sort of cultural assault that you feel living in a city like New York, where there's a million things to do, and a million things to see, all the time. So I felt like I had enough: a good level of inspiration, but also a kind of peaceful setting to just stay at home and do my work, too."