Coveted Tower Bridge Farm-to-Fork Gala dinner tickets expected to sell out fast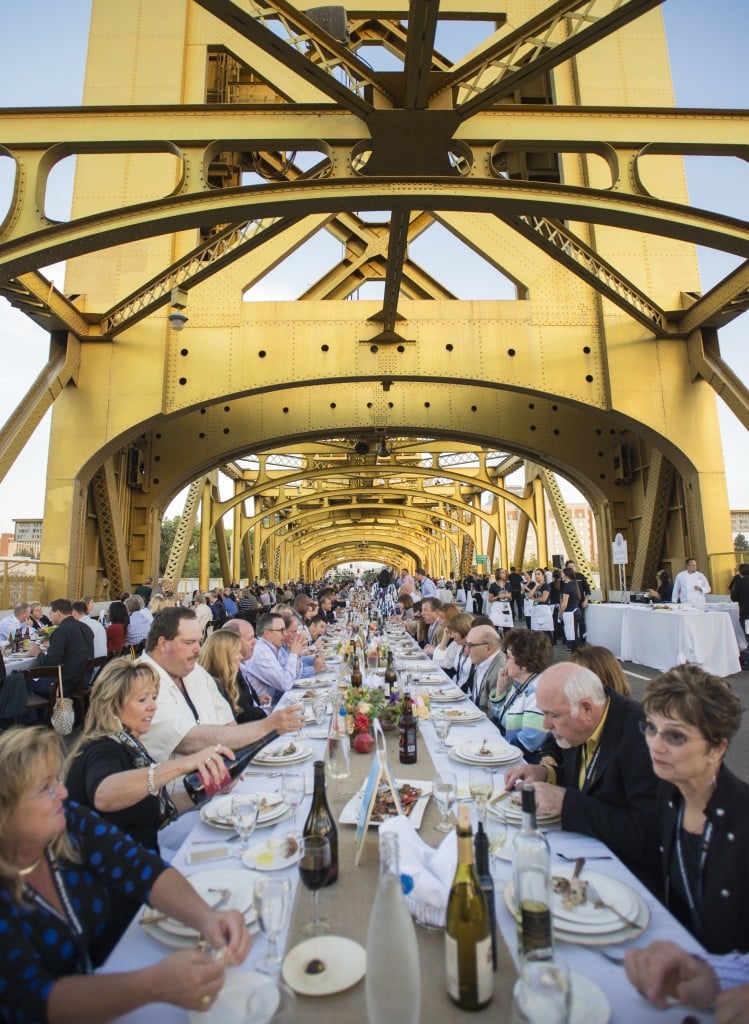 Tickets for the third annual Farm-to-Fork Gala dinner, which will return to the Tower Bridge on Sept. 27, go on sale at 9 a.m. on Monday, July 20.
Oliver Ridgeway, executive chef of Grange Restaurant & Bar, and Ravin Patel, executive chef of Selland Family Restaurants (which includes Ella, The Kitchen and Selland's Market-Cafe), will head a team of 30 area chefs to create a multicourse menu with ingredients culled from local farms. Serving 740 guests, this annual culinary feat culminates 18 days of festivities honoring Sacramento's agricultural legacy.
"I'm really excited about it," Ridgeway says. "The city of Sacramento is working so hard toward its identity these days, and I think a big part of its identity is food. The fact that a community has come together with chefs and farmers to celebrate what we do here—which is providing great food through agriculture and chefs—[shows that] we've really got something special going on here."
So special, in fact, that the tickets for last year's dinner were sold out in less than a minute, according to Mike Testa, chief operating officer of the Sacramento Convention & Visitors Bureau.
"[The Farm-to-Fork Gala Dinner] is unique and it's high profile," says Testa. "This is the cap to a monthlong celebration of Sacramento's food scene. It's about celebrating the bounty we have in this region."
For now, the menu is being kept under wraps, but Ridgeway mentions there will be an emphasis on grains this year. "Beyond vegetables and proteins, we want to get deeper into what's [available] around here," he says.
Proceeds from the gala will fund the Farm-to-Fork Festival on Saturday, Sept. 26. The free event, which will take place on Capitol Mall from 11 a.m.-6 p.m., will include vendors promoting food and agriculture education, a beer garden and seven stages (up from last year's four) featuring food-related demos like butchering and cooking. Another highlight of the celebration will be the Legends of Wine event (Sept. 17), in which attendees can taste dishes paired with local wines selected by experts Darrell Corti and David Berkley.
Tickets to the Farm-to-Fork Gala Dinner cost $175 per person, with a four-ticket maximum per purchase (or $5,000 for a sponsorship package that includes a table of eight, name/company recognition, etc.). Call 808-7777 or visit farmtofork.com for more information and to purchase tickets.
You Might Also Like
Bridge Party: Sactown's 2012 idea to host events on the Tower Bridge
Sacratomato Week festivities spice up midtown July 20-25
From drone races to bacon-wrapped peanut butter cups, what to expect at the 162nd annual California State Fair