Craving of the Week: Dutchman's Stroopwafels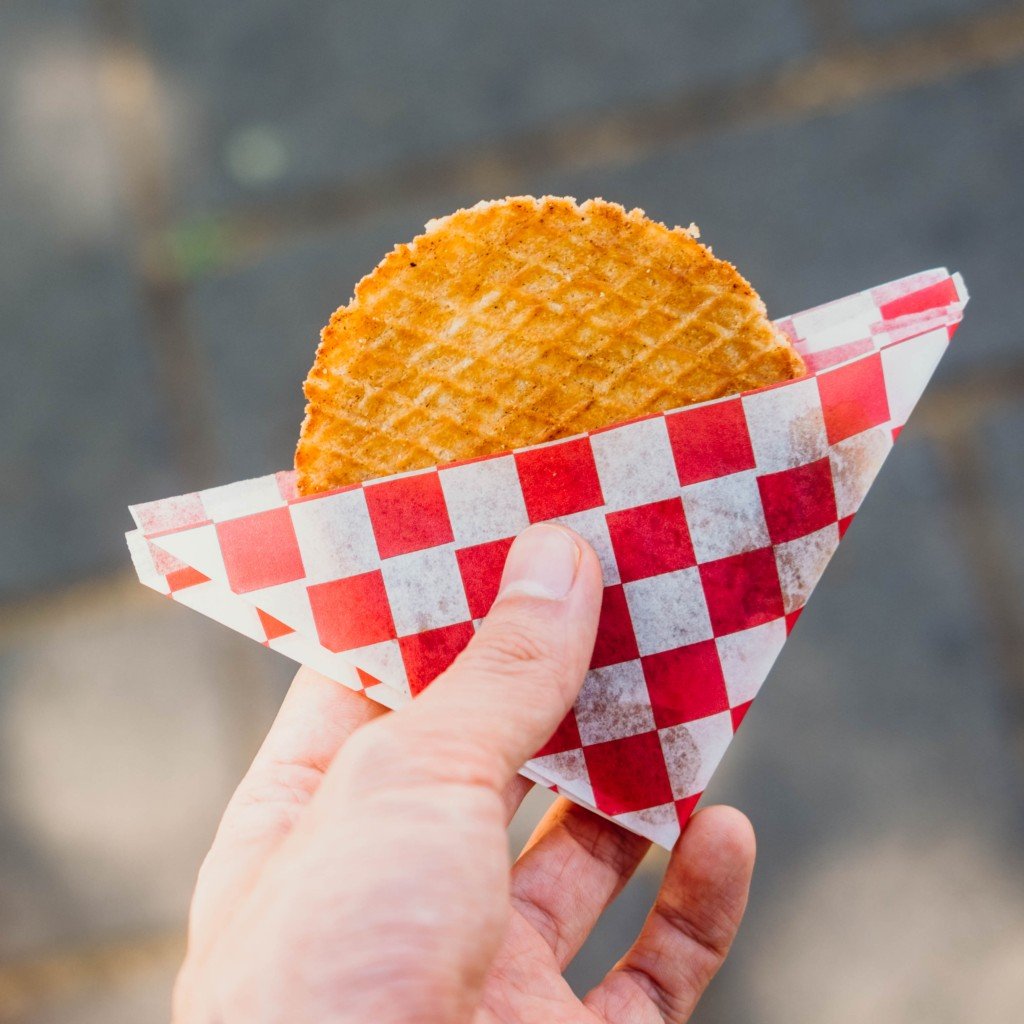 We don't waffle when it comes to waffles. To us, they're the quintessential breakfast comfort food. But lately, we've also been savoring them for dessert, thanks to a crave-worthy cookie version by Dutchman's Stroopwafels.
Made from two thin layers of waffles glued together by caramel syrup that oozes out with each bite, the stroopwafel—which translates, appropriately, to "syrup waffle"—is decadent and cinnamony (think crispy snickerdoodle). We recommend getting multiples of the regular, which is palm-sized and served in a checkerboard wax paper triangle for easy on-the-go snacking. (If you don't care as much about portability, you can get a giant size of the cookie, which is about the size of a face.)
Husband-and-wife team Johan and Koreen van Ravenhorst have been slinging the gooey European snack—which they learned to make on a pilgrimage to Gouda, Netherlands, the birthplace of the stroopwafel—in Sacramento since last October via bakfiets, a Dutch cargo bicycle that Johan designed himself. They pedal their mobile dessert cart to downtown and midtown spots like Cesar Chavez Plaza and the Midtown Farmers Market on most weekdays and Saturdays.
View Dutchman's Stroopwafels' schedule at dutchmansstroopwafels.com or on Instagram at @dutchmansstroopwafels. Today, you can find the cart outside the State Capitol on 10th Street from noon-2 p.m., as well as at Concerts in the Park at Cesar Chavez park starting at 5 p.m. Tomorrow it'll be at the Midtown Farmers Market at 20th and K streets from 8 a.m.-1 p.m.
You Might Also Like
Craving of the Week: The Cabin's Gimmie S'more
Taste: Milka Coffee Roasters now serving sparkling espresso in a restored downtown Victorian & more dining news for April 26
Craving of the Week: An Honest Pie's buttermilk pie