Craving of the Week: Mayahuel's La Abuelita Ice Cream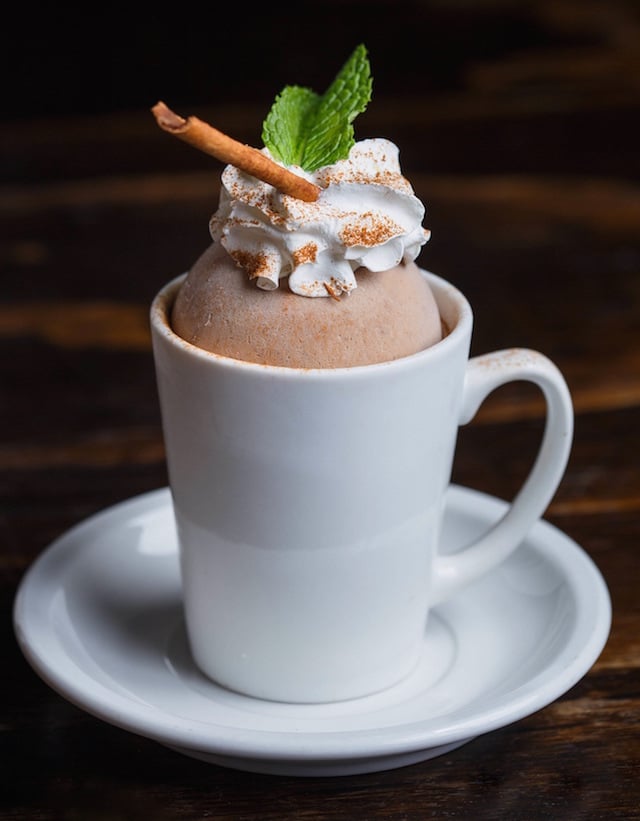 Trust us, the last thing we want to order during these scorching summer days in Sacramento is any menu item with the word "hot" in the description. But one spoonful of the house-made frozen hot chocolate at downtown Mexican restaurant Tequila Museo Mayahuel will quickly change anyone's mind.
Chef-owner Ernesto Delgado created the cool treat, coined La Abuelita Ice Cream, with his childhood in mind. Delgado grew up in the northern Mexican state of Michoacán, where Abuelita chocolate, a popular brand (the word means "grandmother" in Spanish) with a subtle cinnamon spice, was the key ingredient for the classic hot chocolate his mother used to make, spun into steamy milk by hand with a wooden tool called a molinillo.
"Anyone who has had that hot chocolate automatically knows the flavor," Delgado says. "Whenever you taste something that takes you back to your childhood, it becomes special. It's about a memory connection to your upbringing."
Using the same hunks of Abuelita chocolate, this summertime version of the classic winter treat has the uncanny taste of a steamy cup of hot chocolate and the ultra-dense, creamy texture of homemade ice cream, so thick you must brace the dish with your hand to dig in for a spoonful. Topped with a cloud of cinnamon-dusted whipped cream and a cinnamon stick, it's served in a coffee mug to round out the nostalgic post-dinner experience. Talk about sweet memories.
1200 K St. 441-7200. tequilamuseo.com
You Might Also Like
Craving of the Week: the Espresso Chocolate Mousse at RailBridge Cellars & Company
Craving of the Week: The Mill's Waffle-in-Hand
Craving of the Week: Skool's Matcha White Chocolate Cake