Craving of the Week: SacTown Sports Bar's Brown Butter Burger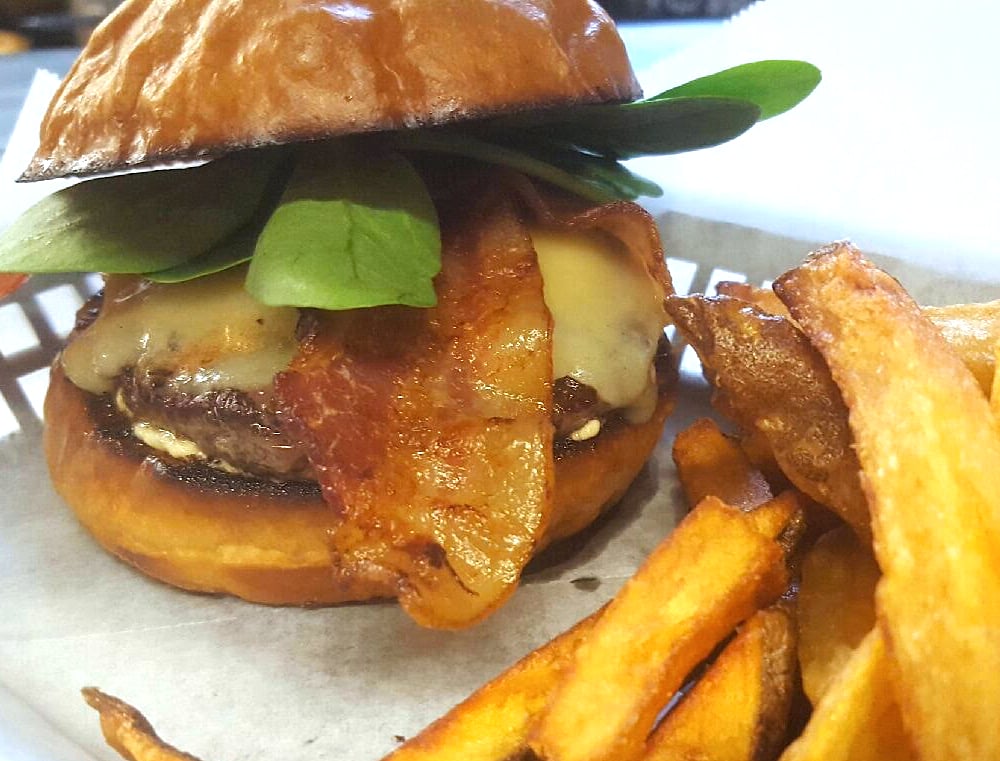 To the naked eye, it's an ordinary bacon cheeseburger and fries.
But chef Cory Lazaldi of the new SacTown Sports Bar has secretly weaponized his Brown Butter Burger, planting a taste-bud-slaying burst of creamy flavor at its core. When you bite through the crackly crust of this burger's brioche bun and into the luscious center, it's all about richness and, surprisingly, subtlety. This is no mere greasy gut bomb; the textures of the bread and fresh spinach garnish are light and crispy, framing and showcasing the meaty, cheesy center.
Lazaldi, who got his burger chops as executive chef at Broderick and its erstwhile sister restaurant Capital Dime, was inspired by a brown butter stock he learned to make at his most recent gig, working under chef Ray Silva at Roseville's Cibo 7.
"I took the technique and ended up making almost a fortified brown butter stock, then folding it in with fresh butter," Lazaldi says. To create this dish, the chef toasts a brioche bun from Davis' Village Bakery in clarified butter, then adds a Black Angus patty and sharp white cheddar from Sierra Nevada Creamery. "We put our brown butter under the cheese, so that when we melt the cheese it makes this little pocket of brown butter goodness," he says.
The burger has the makings of an instant classic, and is the most popular menu item by far at the recently opened Old Sacramento restaurant, which had its soft launch in early November. Lazardi's aim with the spot is to apply fine-dining techniques, ingredients and standards to the traditionally casual sports bar menu. The scratch-made fries that accompany the burger, for instance, take 48 hours to make, according to Lazardi, in a process that includes long periods of brining and air-drying. Pair the meal with a local brew, or one of SacTown Sports Bar's craft cocktails on tap, and in your hot buttered bliss you might forget Boogie Cousins' bad manners, or forgive Chip Kelly for failing to save the 49ers. At least the food will give you something to cheer about at the bar's grand opening Super Bowl party on Feb. 5.
106 J St. 662-7743. sactownsportsbar.com
You Might Also Like
Swine and dine at the sixth annual Sacramento Bacon Fest
Craving of the Week: An Honest Pie's buttermilk pie
Craving of the Week: BarnBurner's Angel Food Cake French Toast