Crest Theatre brings 'Big Lebowski,' 'The Shining' and other classics to the big screen in January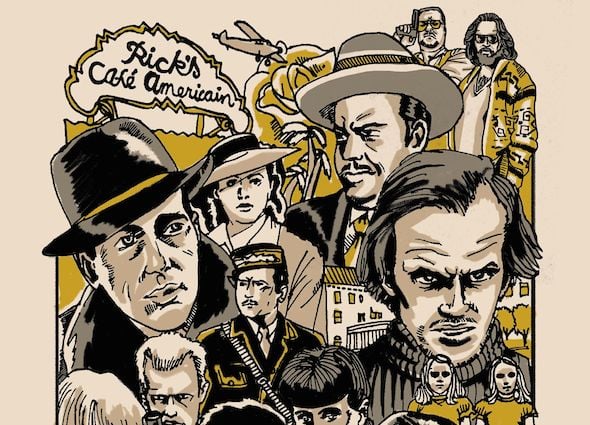 January might be a wasteland for good new movies at the multiplex, but The Crest Theatre has film lovers covered in the new year with a series of cinema classics.
The program launches this Friday with Orson Welles' 1941 masterpiece Citizen Kane and continues through the end of the month with both vintage favorites (Casablanca, Vertigo) and more modern-day classics (Blade Runner, The Shining). The theater has also slated a screening of the cult darling The Big Lebowski on Jan. 19, which will be followed on Jan. 22 by a live performance from the film's Oscar-winning star Jeff Bridges and his band the Abiders.
All of the movies will be presented in their original 35-millimeter film format as the Crest's new management restores a regular schedule of screenings to the movie palace.
"We're still developing exactly how the movie programming will be done—whether it'll be a month dedicated to a particular actor or a particular filmmaker," says Crest co-owner Yulya Borroum, who says the venue's Facebook page has fielded such viewer suggestions as a month of Robin Williams films or regular spotlights on certain film genres. "[We could] try having the first Friday of the month be horror movies, and the second Friday of the month be love stories. We haven't fully figured it out. We'll be judging the response and see how the audience responds to them."
January's films will be preceded by era-specific costume contests for viewers looking to rock their best white dinner jackets (à la Rick in Casablanca), blond updos (à la Kim Novak in Vertigo) or sweaters and shades (à la The Dude in The Big Lebowski). Winners will receive a pair of passes to a future screening at the Crest.
And as date nights go, viewers can't really beat the price for Citizen Kane and Casablanca, which feature free admission with a receipt from any restaurant on K Street, which means dinner at the acclaimed (and conveniently adjacent) vegetarian spot Mother or any other neighboring eateries gets you into a great movie—on the big screen, no less—at no extra charge. (Admission to Blade Runner, The Big Lebowski, The Shining and Vertigo is $9.50, or $7.50 for kids and seniors.)
The full series runs through January as follows (see below for the Crest's poster for the series, designed by local artist Hans Bennewitz):
Jan. 2: Citizen Kane
Jan. 9: Casablanca
Jan. 16: Blade Runner
Jan. 19: The Big Lebowski
Jan. 23: The Shining
Jan. 29: Vertigo
Prices vary. Doors open at 6:30 p.m.; screenings at 7:30 p.m. The Crest Theatre. 1013 K St. 476-3356. crestsacramento.com