Crocker Art Museum announces architect for new Crocker Park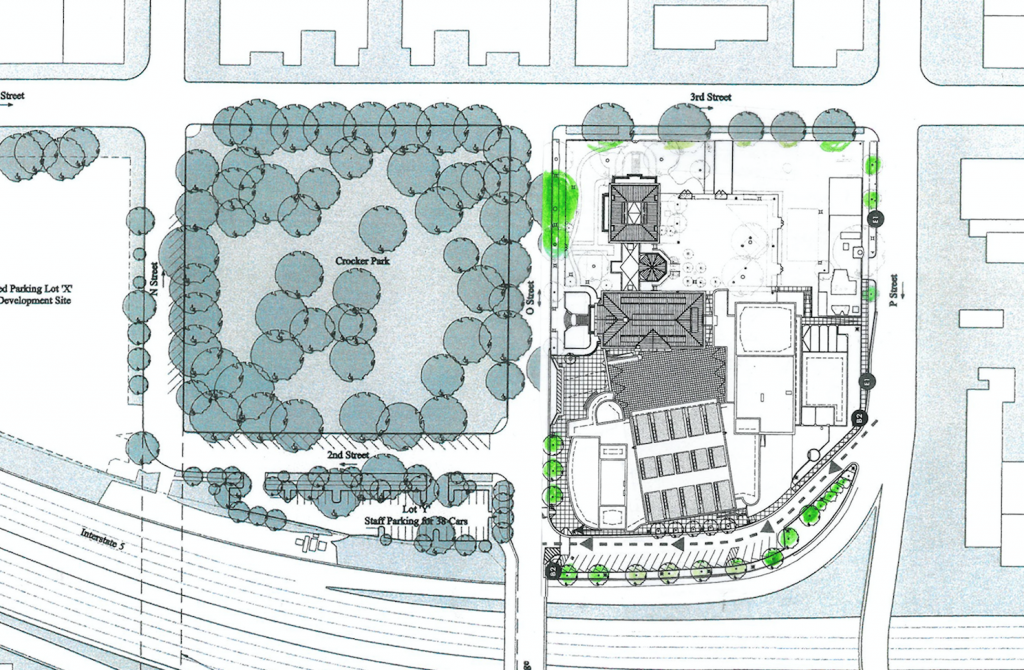 Crocker Park is getting its long-overdue facelift. Following a speedy selection process, which involved sifting through 50 acclaimed architecture firms that had submitted their qualifications, the Crocker Art Museum has selected Seattle-based Olson Kundig to design its new Crocker Park project.
A committee of 30 individuals, including local design professionals, museum board members, elected officials and community members, unanimously chose Olson Kundig whose projects range from the redesign of the Space Needle (which will feature the world's first rotating glass floor when completed) to the planned Bob Dylan Center in Tulsa. The selection was all the more impressive given the list of A-list firms such as Pei Cobb Freed & Partners, Morphosis, Steven Holl Architects, Studio Libeskind, OMA and Bohlin Cywinski Jackson.
The $40 million project was originally slated to break ground in 2008 with the Teel Family Pavilion addition, but was jettisoned due to the economy. The undertaking will reinvent the 3-acre parcel of land located directly across from the museum on O Street to include a structure that doubles as a parking garage and event space. The area will also feature a sculpture park, for which Olson Kundig will partner with Surfacedesign, the San Francisco landscape architecture firm that won the Cooper Hewitt National Design Award last year, and whose work includes the Golden Gate Bridge visitor plaza and Honolulu's IBM plaza.
Crocker Art Museum director Lial Jones says while every firm that applied was well qualified, Olson Kundig and Surfacedesign shone with their enthusiasm for the project and how they addressed the design challenges. She also says they were simply the right fit for the project and for Sacramento..
"It is great to be able to work with amazing talent and together come up with something brand-new that will really serve this community well," says Jones. "I firmly believe that great architecture is the product of a good architect and a good client working together in tandem. So you want somebody who you really think you'll be able to partner with that will come up with the very best design solutions with you."
Jones will soon begin working with Olson Kundig principal Alan Maskin, who will lead the project, and Surfacedesign's co-founder James Lord (the two are also working together on the Bay Area Discovery Museum in Sausalito). The structure will not only need to address the Crocker's parking issues, but also allow the museum to bring its programming—like the summer jazz concert series and the monthly ArtMix gatherings—outside of its current facilities and into the park.
"We're asking a lot of questions," says Maskin. "Not only 'What does the Crocker need in terms of its programs?' but also 'What does Sacramento need in terms of this major urban park that is located in that community?' "
While the process is just getting started and will be highly collaborative, Maskin does have a few ideas for the site already. For example, it might include a rooftop park or other kinds of elevated spaces to provide city views. "It would be amazing for people to come visit and be able to see the river nearby, the relationship to the Capitol, and the urban configuration of Sacramento in that area," says Maskin. "So locating something up high would be fantastic. I've designed a number of rooftop parks in Korea. These are large parks on the 10th and 11th stories of buildings, and they're not gardens, they're parks. And it's this incredible thing to be on a park up in the sky, and it's a project type that I'm really interested in. The potential for that is here too, so we'll see how the process plays out."
He also believes there's an opportunity to challenge predetermined notions of parking garages. "There's the question of what a parking garage is going to mean in the future," he says, "especially in a time when the role of the car seems to be changing, with ride sharing and different uses of public transportation. It seems like it's possible that the car could be used less than it is currently. I'm intrigued with the idea of making a building that could be adapted and changed if it needed to be and could be another type of building. There are things we can do now that could make it easier for that evolution to happen if the world moves that way."
The architect also sees the opportunity to expand the museum's footprint. "There will be art installations and programs and it will allow the museum to literally spill outside the museum walls," he says. From a design perspective, it's one of the most interesting, compelling design challenges you can ever be given," says Maskin. "In that regard, this will be one of the top projects I ever work on."
Jones hopes to break ground on the project no later than Oct. 10, 2020 (coinciding with the 10th anniversary of the opening of the Teel Family Pavilion), and is excited for the opportunity to better connect the museum with the Sacramento community.
"I think about Sacramento as being a community that embraces the outdoors," she says. "I think about it as a place that really appreciates the indoor-outdoor experience. Some museums have a sculpture park that is walled off and is about keeping people out, but Sacramento is about inviting people in. The Crocker is about inviting people in. So it's very much about having the public be a part of us, and about making Sacramento a better place."
Because the museum isn't located directly on Capitol Mall, visibility will be a key component of the new Crocker Park. "Old Sacramento, the railyards, the [Golden 1 Center], West Sacramento, Raley Field, the Bridge District—they are all within walking distance of the museum," she says. "We're right in the middle of everything, but because we're not that visible, people forget about us. Crocker Park is about putting a spotlight on where we are, and how we connect to everything else."
You Might Also Like
Why Not Here?: Let's convert our garage rooftops into creative hubs
A new food hall and market to open along the Broadway corridor
Downtown Sacramento's renaissance continues with the extreme makeover of a key corner on K Street