Darling Aviary to take roost downtown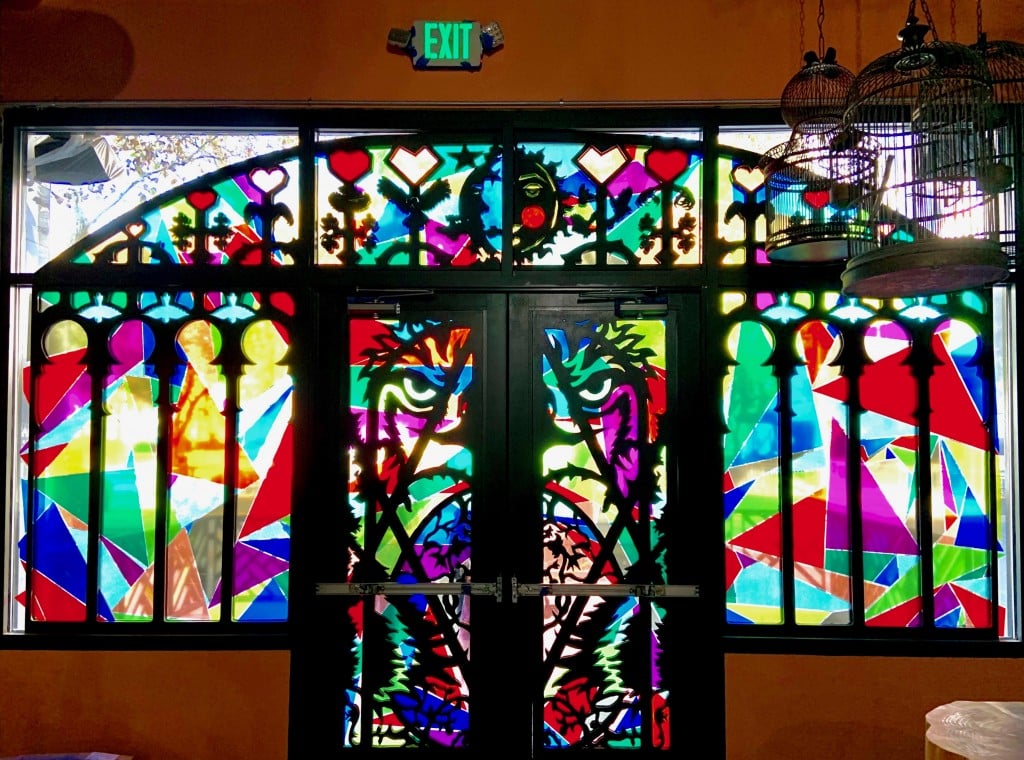 The founders of midtown's pink-plastered bar and club, Flamingo House, are set to open yet another bird-themed watering hole in late December called Darling Aviary. Located on the 700 block of K Street, which now houses restaurants like Tiger, Solomon's Delicatessen and MidiCi, the two-story bar and lounge will celebrate all fair fowl, not just one. According to co-owners Amadeu Goncalves, Matt Byrd, Bobby Falcon and Christian Tolen, the 2,400-square-foot space will evoke a forgotten Victorian aviary—one that might have held exotic birds like cockatoos or toucans—that has been overrun with vegetation and refurbished with a futuristic aesthetic.
Conceived by Sacramento designer and artist Dacy Kolsky, Darling Aviary's look exudes a strong DIY retro-futurist vibe. The front façade features an intricate "wrought iron and stained glass" window (it's actually painted wood and colored cellophane) and a double door whose organic curves and colors are intended to be reminiscent of the late Victorian Arts and Crafts movement. Inside, scavenged branches—revivified with paint and fake leaves—protrude from a wall between looking-glass-shaped wall fixtures, where abstract art will be projected. Across the narrow space, an "infinity mirror" on the wall (those mirrors that look like a spooky lighted tunnel into the void) hangs above the bar that's topped with a long, "live-edge" wooden surface (where the natural edge of the wood is left largely intact). There you can order from a list of local beers as well as craft cocktails that are still being developed by bar manager Marcos Gutierrez. A collection of vintage birdcages and other avian-related memorabilia—amassed by Goncalves, Byrd and others—feather this nest, including an 11-foot-tall cage where Goncalves hopes to have DJs spin beats.
"I want this space to be like the Flamingo House, in that each time you look, you see another little detail or tiny item," Goncalves says.
If you're looking for a higher perch in which to admire the city, take the elevator up to the rooftop where an open-air bar area dubbed The Nest at Darling Aviary will be waiting just above the K Street treeline. Freebirds can take a break from their revels to sample a number of hand-held gourmet burgers (including vegan options) designed by consulting chef Aimal Formoli, formerly of Formoli's Bistro. Despite all the ostentatious plumage, Goncalves wants to ensure that Darling Aviary is accessible to downtown's diverse crowds.
"We're not trying to sell the 'cool factor,' " Goncalves says. "And a lot of bars are selling that. We want people to be immersed in the art and the creativity of the space, and to let their guard down and feel open to conversation."
718 K Street. Stay tuned to sactownmag.com for more updates on Darling Aviary.
You Might Also Like
Taste: Pete's moves downtown, and other dining news for October
Radio Activation: Capital Public Radio's new downtown HQ
New details on downtown's planned mini-golf pub with an upscale speakeasy