Dawson's launches monthly beer dinners with Track 7 meal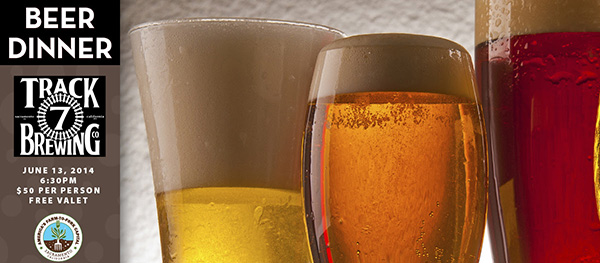 Sacramento's booming beer scene has another reason to rejoice this week as Dawson's at the Hyatt Regency launches its monthly craft beer dinners.
Every second Friday through the end of summer, chef de cuisine Michael Grande will create a four-course menu to pair with four selections from a local brewery. First up is Track 7 Brewing, which will provide grains used in its brewing process for Grande's starter course "spent grain" flatbread. Grande says the dish is intended to complement the brewery's light Bee Line Blonde, with sweet elements like grilled donut peaches that will echo the local wildflower honey in the ale.
After a course of house-made pinwheel sausage paired with Track 7's Daylight Amber, a tender salad of locally grown hop shoots and the fattiness of a beer-marinated king salmon will offset the bitterness of the Hoppy Palm Pale Ale. For dessert, Grande plans to pair the malty Big 4 Strong Ale with an ice cream sandwich made with dark chocolate cookies and sea salt caramel gelato. "[The beer's] got that nice sweetness that's going to go with a caramel gelato and the cookie," Grande says.
The Dawson's series is the latest beer-and-food showcase in a city that has made meccas of brew-centric eateries like LowBrau and pairing programs like that hosted at Ten22.
Grande says he was inspired to try beer pairings after working on Dawson's wine dinners, which are held every third Thursday of each month and highlight local wineries like Jarvis and Stags Leap. "Wine pairs very well with food, and I think beer has the same potential to do that as well," he says.
Reservations are recommended for the Dawson's event on June 13, which Grande says will probably cap out at about 50 guests. The meal costs $50 per person, which includes free valet parking, a 6:30 appetizer reception that will feature more Track 7 brews, and the 7 p.m. dinner seating on the patio.
Visit facebook.com/DawsonsSacramento for more information or call 321-3600 to make reservations for the beer dinners at Dawson's, which is located inside the Hyatt Regency at 1209 L Street.