December's Taste roundup: Curry Up Now readies to spice things up in midtown, and more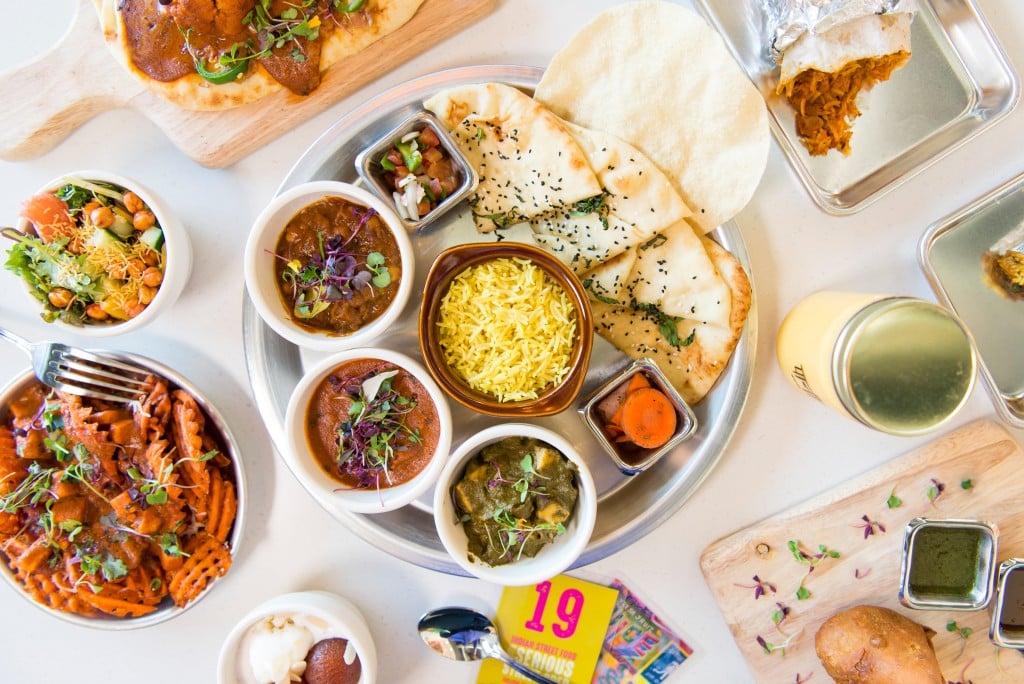 With menu items featuring cheeky names like Naughty Naan and Sexy Fries, Curry Up Now is set to spice things up with its Indian fusion fare at midtown's Ice Blocks in mid-January.
The San Francisco-based fast-casual restaurant began as a food truck in 2009 and has grown to six locations in California and one in Georgia, dishing out a blend of traditional Indian foods—including samosas stuffed with ground lamb, curried potatoes and chutneys, and bowls laden with saag paneer or daal lentils over basmati rice—and more contemporary fusion eats like burritos stuffed with chicken tikka masala (a fan-favorite) or kashmiri lamb. Those aforementioned Sexy Fries are an Indian-inspired poutine of criss-cut sweet potato fries topped with cheese and your choice of chicken, lamb or vegan protein; and the Naughty Naan elevates the staple flatbread with toppings like mozzarella, caramelized onions and shaved jalapeño. The first of potentially five Sacramento spots to open over the next five years, according to franchisee David Leuterio, this outpost's 1,450-square-foot interior will pay homage to its new home with a ceiling-high mural by Sacramento artists Ali Futrell and Jeremy Stanger that depicts River City landmarks like the Tower Bridge and State Capitol.
1610 R St. curryupnow.com
In other news
In March 2020, Claimstake Brewing is expected to open a new taproom and restaurant at the Cordova Golf Course in Rancho Cordova. (The restaurant will be open to the public.) The brewery originally launched in Rancho in 2017 and is known for suds with quirky names like Papaya Was a Rolling Stonefruit Tart IPA and the Stanimal Imperial Stout. This 1,000-square-foot space will be Claimstake's first location to serve food, and in addition to the 10 taps pouring Claimstake brews, the restaurant is expected to offer eats like burgers and chicken and waffles smothered in country sausage gravy, as well as 'hoppified' desserts like alcohol-infused cookies and cupcakes. 9425 Jackson Rd. Rancho Cordova. claimstakebrewing.com
Grand Island-raised Sam Krienke and his wife Megan McCarty (both are Lodi-born), who started brewing beers in their kitchen, have expanded their home brewing outfit and launched a craft brewery and taproom dubbed Delta Borne Brewing in November. Located in North Highlands, the taproom occupies a 1,400-square-foot storefront (once home to a Togo's sandwich shop) and will soon pour a selection of exclusively Delta Borne brews from its 10 taps (currently, Krienke and McCarty are offering a mix of their own beers and guest beers). The husband-wife team plans for a grand opening in January, but ale aficionados can taste the wares during the current soft-opening phase—fan-favorites include the House Hazy IPA, a blend of East and West coast styles, and the milk stout made with peanut butter and Ghirardelli chocolate. 5444 Watt Ave. Visit Delta Borne Brewing on Facebook for updates.
Good Bottle, a boutique liquor store boasting shelves stocked with craft spirits and wines and vintage bar tools (like glassware and bar carts), opened in downtown on Dec. 11. Shop owners Chris Sinclair (formerly a bartender at The Red Rabbit Kitchen & Bar) and Emily Neuhauser (who worked for her family's restaurant in Half Moon Bay) have curated the store's selections from distilleries both local—like El Dorado Hills' New Alchemy Distilling and Rancho Cordova-based J.J. Pfister—and international, including The Celt whiskey from Wales-based Penderyn Whiskey & Spirits and Yamazaki single-malt whisky. Going booze-free? The shop also plans to offer a limited selection of soda shrubs, like those from North Sacramento enterprise Burly Beverages. 1123 11th St. 916-309-4868. Follow Good Bottle on Instagram.
The Real Curry Queen food truck has been doling out Indian fare to the Sacramento region since debuting in November. Owner Pam Birak, a Yuba City native, was inspired by her farmworker parents to use all organic meats and vegetables for her dishes, which highlight homestyle, Northern Indian cooking. Birak's lineup includes such flavor-packed items as the Rocky Range Chicken Curry, which is served with cumin-spiced basmati rice and a buttery flatbread called paratha; the Samosa and Chana, a deep-fried veggie-filled pastry served with chana and a tamarind-mint chutney; and the masala based on Birak's grandmother's recipe (which takes a full day to concoct). Sip on hot chai tea for a spicy after-meal treat, or nab one of the made-from-scratch chocolate chip cookies, a decadent deviation from the traditional Indian eats. 916-995-0215. For locations visit therealcurryqueen.com.
Small Bites
Rocklin-based Mexican restaurant Mezcalito Oaxacan Cuisine has expanded to Folsom and has been offering up eats like its handmade tortillas and 21-ingredient mole since its November soft-opening. Owners Francisco Garcia and Ruben Regalado plan to host a grand opening once the brand-new bar, which is currently being installed, is finished. (187 Blue Ravine Rd. Folsom. 916-351-0900) Known for frequenting regional farmers markets, Sacramento-based kombucha company KC Kombucha opened its first taproom on Sept. 6 in Oak Park offering spritzy and organic flavors of its fermented tea drink like lemon pomegranate. (3326 Broadway. 916-833-5064. kc-kombucha.com)
Finally, there are only two weeks left to indulge in the signature pappardelle alla Bolognese at The Press Bistro. The midtown favorite is closing its doors on Dec. 31, when it will host a five-course New Year's Eve dinner featuring said pasta dish and others like sea bass with butternut squash risotto. (1809 Capitol Ave. 916-444-2566. thepressbistro.com)
You Might Also Like
Popular SF cookie delivery company opens its first shop in Woodland
Three festive pop-up bars to drink in the holiday season
Darling Aviary takes roost downtown