Der Biergarten opens as midtown's latest beer destination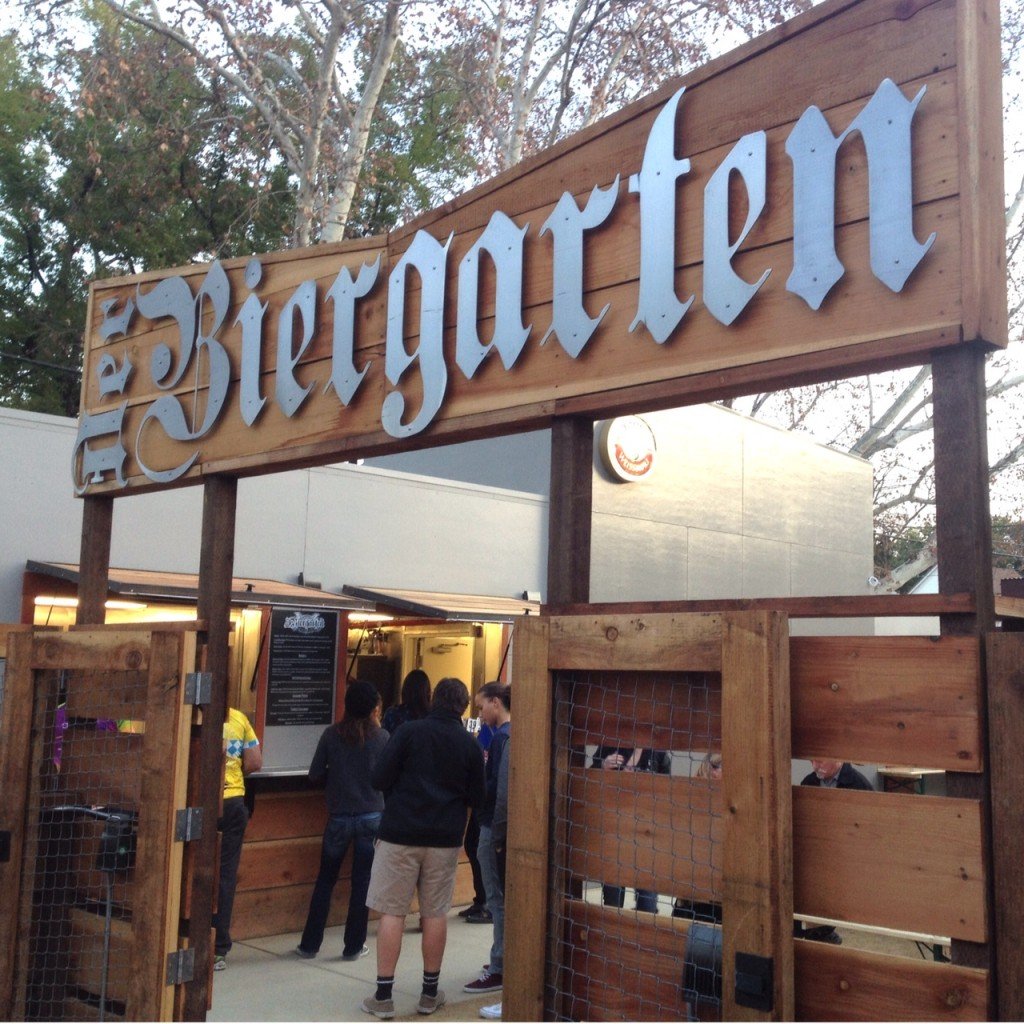 Midtown has a new home for foam at Der Biergarten, the long-delayed open-air beer destination that served up its first official brews over the weekend at 24th and K streets.
Local hopheads can try one of 32 draft beers and munch from a food menu of sausages, hot dogs, pretzels, salads and "Belgies"—ham sandwiches on waffles brimming with esoteric extras like mustard, cream cheese or chipotle raspberry sauce. Visitors order from a tap house and kitchen converted by owner Sean Derfield from industrial-size shipping containers, and gather at rows of communal tables or among the boisterous, streetside crowd framed by heavy redwood rails.
And while the place thrums with couples and groups (and even some of their dogs; the establishment is pooch-friendly) from happy hour to closing time, Der Biergarten is both scene and sanctuary for true beer believers of any (legal) age. The selections split evenly between classic German offerings and excellent West Coast brews; one-liter steins of Hofbrau Dunkel and Weihenstephaner share table space with tall, blooming glasses of golden Erdinger and svelte, sumptuous pints of Black Butte Porter from Deschutes Brewery in Oregon.
Choice beer picks include the Alt-Bier from Redlands-based Hangar 24 Brewery as well as Der Biergarten's house blonde ale crafted by Lost Coast Brewery in Eureka and Buffalo Lager from Sacramento's own New Helvetia Brewing Co. On the food side, the decadent DerFinator—a cheese-stuffed, bacon-wrapped, BBQ sauce-doused hot dog delivered on a bun slathered with cream cheese, red onions and Der Biergarten's "secret garlic sauce"—is a must for meat-lovers, while vegetarians won't go hungry with options like the hearty pretzel (served with mustard and cheese sauce) or cucumber salad with vinegar and dill dressing.
Der Biergarten is open seven days a week from 3 p.m.-10 p.m., weather permitting ("If it's raining we are closed," its website announces up front). Browse the full beer list and more at beergardensacramento.com. For more on the local beer scene, pick up the February/March issue of Sactown Magazine for our complete Beer Lover's Guide to Sacramento. Find a location near you here.