Deschutes Brewery brings "World's Largest Pop-Up Pub" back to midtown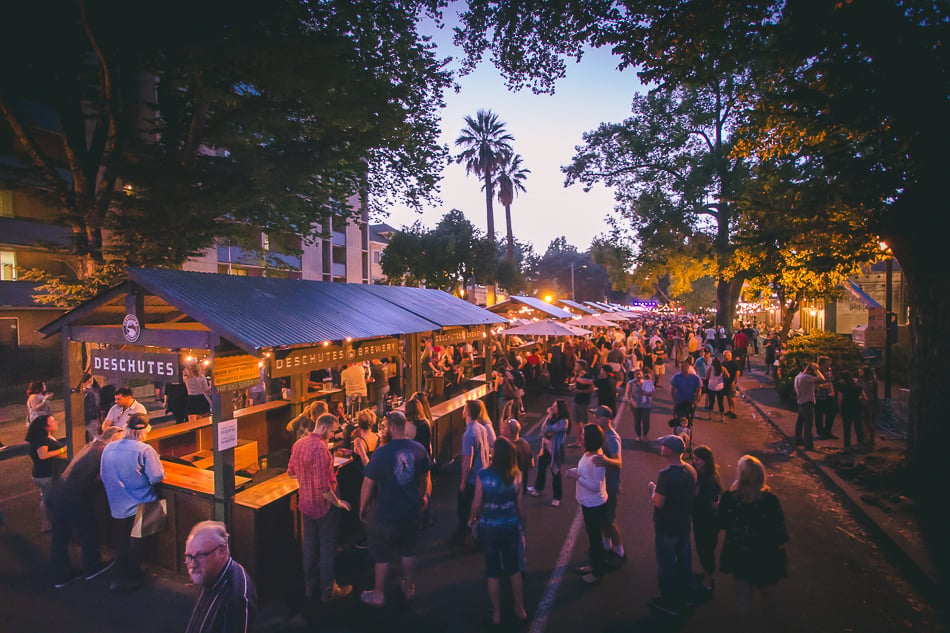 The Handle District will become the tap handle district on Saturday, Oct. 14, when Deschutes Brewery brings the "World's Largest Pop-Up Pub" for the third year in a row.
Dubbed the Street Pub, the free beer-focused event will once again feature a 400-foot-long bar with more than 60 taps, which will be set up at 18th and L streets from 2-10 p.m. The Bend, Oregon-based brewery will pour some 17 brews, including its citrusy Hop Trip pale ale, the crowd-pleasing American Wheat, and Bachelor Bitter, an English-style pub ale that is typically only found on draft in the brewery's home state. Beer geeks will also be able to sip wares from the likes of Big Stump Brewing Company and Crispin Cider from the guest taps.
Folks can sample beer-paired bites crafted by Deschutes' executive chef Jeff Usinowicz and local chefs like Wes Nilssen from midtown's de Vere's Irish Pub, while listening to Lake Tahoe-based blues-funk quintet Jelly Bread, and Ideateam, a nine-piece instrumental jazz ensemble out of Sacramento. If youngsters are tagging along for the afternoon, they can flock to the kids' zone, replete with bounce houses and coloring walls.
Here in the River City (the brewery's final stop in its five-city 2017 Street Pub tour that also included Cincinnati, Ohio, and Roanoke, Virginia), Deschutes will donate the event's proceeds to the local nonprofit Runnin' for Rhett, which creates programs to teach young people about health and fitness. Since 2015 when the Street Pub debuted in Sacramento, the event has raised $180,000 for the organization.
Free admission ($5 per beer; $50 for VIP pass). Oct. 14. 2-10 p.m. The Handle District. 1801 L St. deschutesbrewery.com
You Might Also Like
Bike Dog opens its new taproom on Broadway
New cart-service restaurant and bar to open downtown this spring
Eat, drink and dance your way through 7 international festivals