Dip into National Chocolate Day with Hook & Ladder's Nutella cream puffs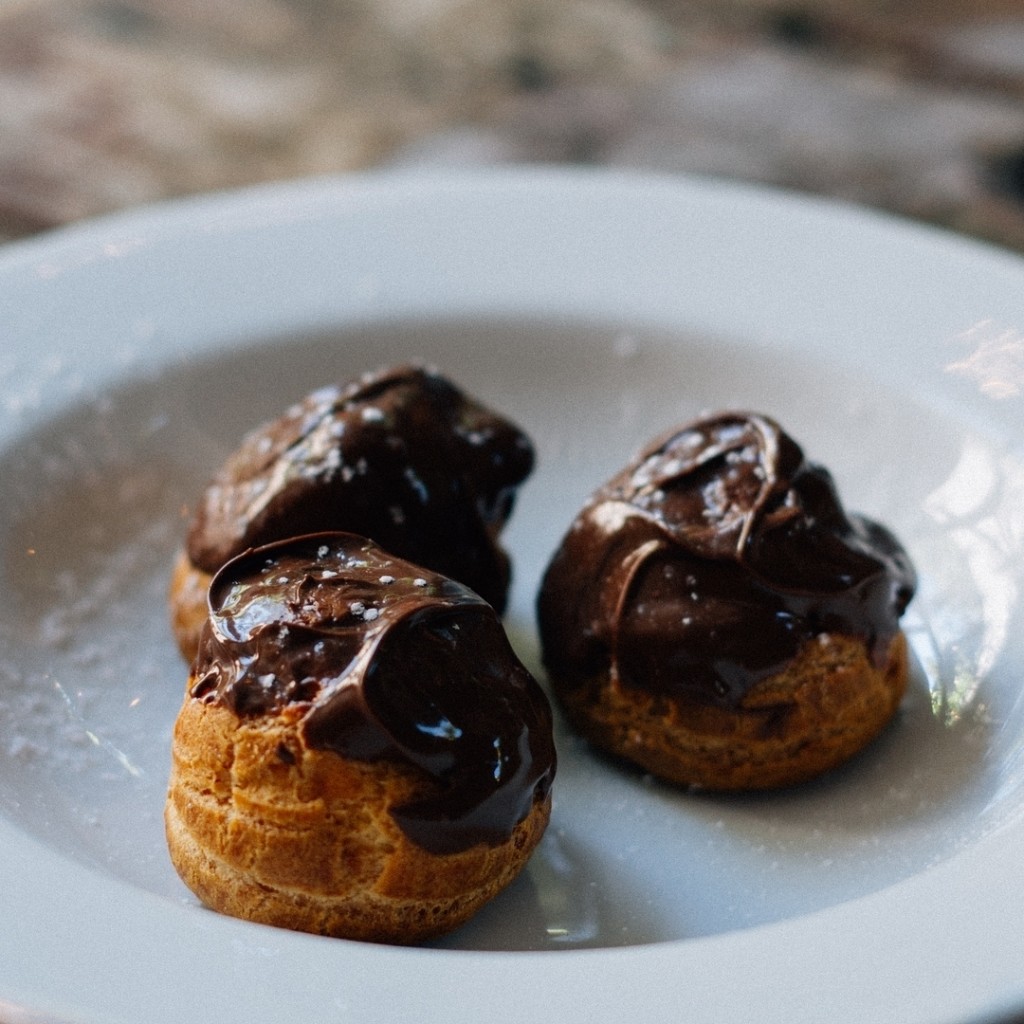 Spread Nutella on anything—a slice of apple, a hunk of day-old bread—and you have an instant dessert. Pop Hook & Ladder's Nutella-crowned cream puff in your mouth, and you have a deceptively simple flavor bomb that slowly releases chocolaty greatness. Not to mention, a perfect excuse to celebrate National Chocolate Day on Saturday, Oct. 28.
"People will eat that stuff by the spoonful," says the restaurant's executive chef Matt Masera, referring to the nostalgic European spread. And he should know: Part of his extended family hails from Turin, Italy, where chocolatiers invented gianduja, a precursor to Nutella, in the early 1800s, making the "nocciola" combination of hazelnuts and chocolate a cultural staple.
Masera, along with chef de cuisine Noah Mansfield, recently created the cream puffs for a private event at Hook & Ladder's upstairs banquet hall. The response to the dish was so overwhelmingly positive, the chefs knew immediately they had to write it into their weekend brunch menu. And we've been on a sugar high ever since.
The bite-sized treats are made with a simple choux pastry of flour, butter and milk that's baked into spheres, filled to order with sweet cream blended with house-made vanilla extract, and dipped into Nutella that's melted over a double boiler. A light dusting of powdered sugar finish off the cream puffs, which come three to a plate and are best eaten right away, when the decadent chocolate-hazelnut spread is still warm.
Forget the eggs Benedict. At our next brunch, we'll be happy to get our just desserts.
Available during Hook & Ladder's weekend brunch on Sat. & Sun. from 10 a.m.-2:30 p.m. 1630 S St. 442-4885. hookandladder916.com
You Might Also Like
Craving of the Week: The Mill's Waffle-in-Hand
Craving of the Week: An Honest Pie's Buttermilk Pie
Craving of the Week: BarnBurner's Angel Food Cake French Toast