Déjà Brew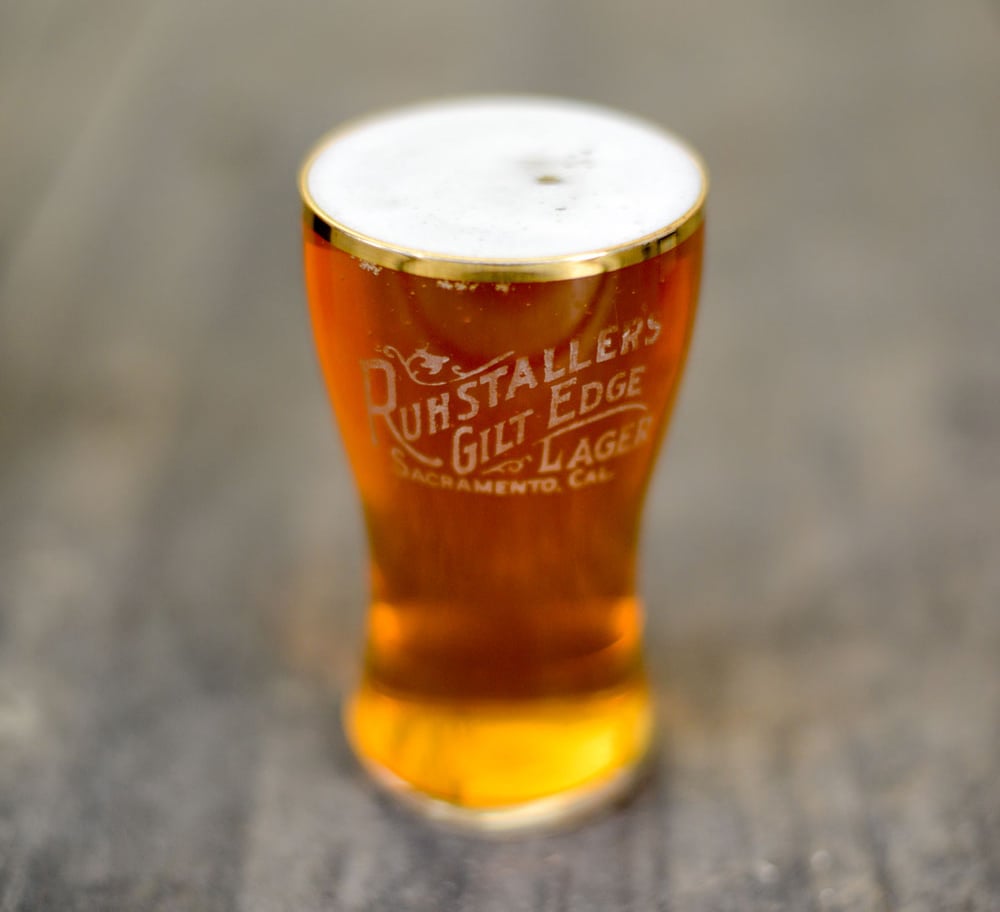 Before Prohibition, Sacramento 
was the beer-making capital of the West, 
and the largest hop-growing region in America. 
Here's how an unlikely cast comprised of a Princeton 
architecture major, the grandson of a U.S. Secretary 
of Defense, a world-renowned grocer and a man 
known as the "Pope of Foam" conspired to create 
what may very well be Sacramento's most 
authentically local beer in almost a century. 
The farm-to-fork movement is about to meet 
farm-to-pint.
Drink up!
IIt's 5:40 a.m. on Aug. 3 and the sun is still a good half hour from rising over the hundreds
of walnut trees that comprise the horizon to the east. A handful of twenty- and thirty-somethings, most of whom don't know each other, are standing in a small group eagerly awaiting direction at the Sierra Orchards farm in Winters, a few miles west of Davis. Even in semidarkness, it's just bright enough to deduce that it's unlikely any of them have stepped foot on a farm before.
Some of them are here because they saw a Facebook post asking them to show up before dawn on this Friday and work in a dirt field on a soon-to-be blazing hot day for nothing more than the promise of coffee and doughnuts. Some are here because they say they want to be a part of something they believe in. Some are here because they say they want to be a part of history. One rode his bike here from South Sacramento, waking at 2:45 a.m. and leaving home at 3:15 a.m. for the two-hour pilgrimage on pitch-black country roads.
All of them are here because they love beer.
As they gather, a horn breaks the morning silence as a 1951 Chevy pickup rounds the corner. The back of the truck is outfitted with wood panels from which, improbably, beer tap handles are protruding. And on the top panel, stenciled in black paint, is the name that has brought this unlikely group of volunteer farmers together on this mid-summer's morning: Ruhstaller.
The man honking is the one responsible for this morning's gathering, even though he doesn't know most of them either. Jan-Erik D. Paino, or J-E as everyone calls him, is the proprietor of Ruhstaller Beer, a one-year-old Sacramento company named for Swiss immigrant Frank Ruhstaller, who ran Sacramento's largest brewery (and one of America's largest) one hundred years ago.
In the brief time that the modern incarnation of Ruhstaller has been in existence, it has become a cult favorite among a growing number of craft beer aficionados in Sacramento, in part because of its unique taste, in part because of its impassioned, civic-minded founder, but also because of its story. And it's the story that has brought most of these volunteers, with only one day's notice, here to this dusty field.
In short, Sacramento was once one of the country's beer capitals, not just because of its abundance of local breweries, including the largest brewery west of the Rockies—the celebrated Buffalo Brewery that counted Frank Ruhstaller as an owner—but because the region's climate, water and fertile soil produced the most, and some would suggest best, hops in the country.
We didn't just make beer here; we grew it.
But that all ended in 1920 with Prohibition. Like in other cities, Sacramento's breweries closed or limped along by producing nonalcoholic beverages. Many hop farmers turned to legal crops, while some continued to grow hops for European brewers. But Sacramento's reputation as a beer capital faded into the history books. When Prohibition ended in 1933, a few hop farmers returned, but the very last one in California—the Signorotti Ranch in the eastern Sacramento County town of Sloughhouse—ceased large-scale commercial production in 1985.
Sacramento's hop industry was all but dead.
Until today.
Through a series of unlikely events that involved some of the brightest minds in the worlds of beer and food and agriculture, the latest chapter of Ruhstaller's story involves enlisting the help of these young urban beer lovers to harvest hops on this tiny three-quarters of an acre of land for perhaps the very first Sacramento beer made with local ingredients in generations, and perhaps in nearly a century.
"It's an unbelievable opportunity," says Damien Roberts, a student at Sacramento City College who lives in South Sacramento and rode his bike two hours in the dark to get here. "Seriously, I love Ruhstaller."
And he's not alone. At the East Sacramento foodie mecca, Corti Brothers grocery—an early champion of Paino's efforts—Ruhstaller recently became its top-selling beer.
It's this kind of enthusiasm that Paino's beer is engendering in increasing numbers. And it's also his own passion for producing an authentically local beer that will soon give Sacramento a taste of its own history. "This is what Sacramento did better than anyone," Paino effuses.
So with the advice and aid of others, Paino is now taking the extremely ambitious, expensive and risky step of seeing if he can revive the once-thriving hop-growing industry in the Sacramento region, reclaiming part of our city's celebrated past, while simultaneously building a business that capitalizes on both the national trend of sourcing local products, as well as the booming craft beer movement that is especially popular with the younger generation of beer drinkers.
His failure or success could end up having a larger impact on the city. The Sacramento region is in a unique geographical position to foster the growth of microbreweries using locally grown ingredients. And if that contributes to a more robust craft beer movement here, the benefits could extend beyond the ability for locals to get a good pint.
In August, the National League of Cities reported that "craft breweries are extremely desirable from an economic development standpoint" because they are growth-oriented exporters and they attract tourists. It also stated that they "help define a sense of place and local identity."
Ruhstaller Redux
In some ways, J-E Paino isn't the most obvious of candidates to take on this challenge. Born in San Francisco in 1972, he was an architecture major at Princeton who gave up a career in architecture three weeks after graduation and spent years in the construction industry before landing at UC Davis in 2007 at the age of 35 to begin studies for his MBA in real estate and finance. Graduating in 2009, he was recruited by Sacramento real estate developers Rubicon Partners (no relation to Rubicon Brewery), which most notably developed the Citizen Hotel project downtown. The focus of his new job was supposed to be on real estate.
In other ways, though, it almost seems like Paino was born for the beer business. On a recent trip to his native Potrero Hill neighborhood in San Francisco, he discovered for the first time that the very first house his parents brought him home to as a newborn from the hospital now looks directly down onto the plant for the Anchor Brewery Company, makers of the highly respected Anchor Steam beer.
As he got older, he also learned that his Italian great-uncle was a winemaker. By the time he was in college, his parents started some vineyards, and soon he was harvesting grapes, but also working for Sonoma wineries like Benziger and Ravenswood. He had the rare opportunity to learn the winemaking trade from both the farmer's and the vintner's perspective—experience that would soon come in handy.
He also had the unique chance to spend much of 2000 helping rebuild Robert and Margrit Mondavi's roof in Napa, which gave him an unexpected vantage point when Robert would take his daily swim in the buff. "He would go for a swim every morning," says Paino. "I'd have my tool belt on and there was Mr. Robert Mondavi, 86 years old, still in good shape. You could see him in all his glory."
The beverage business popped up again at UC Davis, where one of Paino's school projects was to develop a way to make mixed drinks portable. Another project involved midtown real estate and historic buildings. "To understand Sacramento, I had to understand our history," he explains. "So I went to the library and got all the books I could on our history."
Still relatively new to the area, Paino learned about John Sutter and gold and our state government, but he also learned about the rich soil that was so conducive to farming, the water from the Sierras that was naturally filtered as it came down from the mountains, how the Sacramento River fed the crops, and how the city from its earliest days was a transportation hub thanks to the rivers and the Transcontinental Railroad.
But the pieces wouldn't connect until his boss, co-founder of Rubicon Partners Kipp Blewett, saw an exhibit in Old Sacramento about the history of beer. Blewett, who has an affinity for historic buildings, had long been aware of the 1898 Ruhstaller Building at 9th and J, just down the block from the 1925 building that houses the Citizen Hotel, and he was wondering if there could be some way to connect the dots between the building and Frank Ruhstaller, to create a narrative that made sense for the building. A Ruhstaller-themed restaurant, perhaps.
In fact, in Blewett's Citizen Hotel—created in partnership with San Francisco's Joie de Vivre hotel group—its restaurant, Grange, was designed to focus on the budding farm-to-table movement, with most of its food coming from within 100 miles of the restaurant.
So Blewett asked Paino to begin researching the Ruhstaller story between various other projects, one of which included Rubicon's proposal for a massive indoor-outdoor public market on K Street called the Boqueria that was intended to celebrate the region's place as a leader in agriculture. Ultimately the City Council rejected the proposal in favor of another project, but it was another opportunity for Paino to immerse himself in the connection between the city and its surrounding agricultural heritage.
In 2010, Paino, whose budding passion for local history landed him a seat on the board of the Center for Sacramento History, was given a copy of a then-new book called Sacramento Breweries by Ed Carroll, a local historian. The book details the birth, rise and fall of Sacramento's breweries, as well as Frank Ruhstaller's ascendancy to being the city's top brewer.
After much research, Paino suggested to Blewett that creating a beer that honored Sacramento's king of brewers could fill an important niche and, yes, perhaps even have some real estate opportunities (a tap room, a restaurant?) down the road if things went well. "I looked at it as an opportunity for rebranding Sacramento and really getting into touch with what we authentically are," says Blewett.
Blewett and his Rubicon partner Peter Thompson decided to fund the venture, with Paino as a minority owner who, while still employed at Rubicon, would grow to spend nearly all his time on the nascent company.
The goal from the outset would be to create a beer using as many California ingredients as possible. While there are already a handful of successful local breweries in Sacramento, Paino wanted to take the next step and blend the local history with the local ingredients.
"I think we saw that there was a need for a local beer that really embodies all of Sacramento," Paino says. "And in the void, we've adopted [Chico's beer brand] Sierra Nevada. Ironically, Sierra Nevada has more taps in Sacramento then any other beer. So there's clearly a yearning for something local, authentic and craft."
California, Here We Brew
For his portable cocktail project at Davis, Paino had consulted with the professor of malting and brewing sciences there, Dr. Charlie Bamforth, a Brit with an international reputation in the brewing arts and whose nickname is the Pope of Foam (the celebrated grocer and foodie Darrell Corti even asked him once to autograph some books as gifts for a trip overseas). Paino invited the professor to lunch at Grange to seek his advice. To start, Bamforth gave Paino 10 books on the history and science of beer, but he also made what would become a key connection by suggesting Paino contact the talented local brewmaster Peter Hoey. And while Bamforth openly loved the idea of bringing back the Ruhstaller name, he also left Paino with a warning.
"The whole concept of using local malting materials is a very exciting one," says Bamforth. "But to actually get ahold of California- grown materials is a challenge. The only place where you can actually get California-produced malt [barley] is where they get it from way up there on the border."
In fact, "way up there" is in the Klamath River Basin near the Oregon border, where Paino now buys his barley, from a couple who owns a place called McGill Farms. A much closer grower at Dixon's Eatwell Farms tried a limited experiment in 2010 with the San Francisco-based brewer Thirsty Bear, but because there are no malting houses in California to malt the barley, Eatwell shipped the barley to Colorado (Paino uses a malting house in Vancouver, Wash.). Thirsty Bear did produce one batch of "Locavore Ale," claiming it was the first "California brewery in 75 years to brew beer with 100% local, organically grown ingredients." But the costs of shipping it to and from Colorado were prohibitive, and the beer hasn't been produced since.
And then there were the hops, the other essential ingredient that gives beer its bitterness and aroma, or the "spice of beer," as Bamforth calls it. After Prohibition killed off most of California's hop-growing industry, the dominant hop-growing farms in the United States are now in Washington, Idaho and Oregon. Because of their northern location, those regions get up to an hour more sunlight per day than California, as well as more moisture from the rain, both of which are good for hop growing. With no known California hops to be had, Paino was frustrated. Sacramento was once the hops capital of America. Now, he would be forced to order the "orphan hops" from the Northwest. "We don't know the grower," he says. "We don't know what conditions they are grown in; we don't know what year they are; we don't know anything."
So Paino decided he would start with California-grown barley and go from there. He read all of the books Bamforth gave him. "Some I understood, some I didn't," he says, laughing. And working closely with Hoey, the highly respected local brewmaster who worked at area breweries like the Sacramento Brewing Company, Paino released his first batch of Ruhstaller on July 21, 2011. It was a California red ale that he called 1881, named for the year that Frank Ruhstaller took ownership of his first brewery.
The company's description of 1881 reads that "a mild caramel sweetness gives way to a fresh pine and grapefruit citrus note and balanced bitterness."
Almost immediately, local bars and restaurants began to carry the new beer on tap. One of the first was Mulvaney's B&L in midtown. Chef-owner Patrick Mulvaney, known for sourcing local foods and, like Paino, an enthusiast of Sacramento history, knew Hoey's reputation and was one of the very first customers. "It sells really well," says Mulvaney, who took some bottles on a recent trip to Istanbul, Turkey as an example of Sacramento culture. The gift was a hit. One of the descendants of Ruhstaller (most of the clan live in Stockton now and have given Paino their blessing to carry on the "family business") even stopped by once and ordered a glass.
Local beer mecca Pangaea Two Brews Cafe on Franklin Blvd.—which stocks 300 beers by the bottle and 27 on tap—was another of Ruhstaller's first customers. Owner Rob Archie, who says he won't serve a local beer just because it's local, put the beer through a blind taste test with staff and regulars to make sure it met the bar's high standards. It passed with flying colors. Archie points out that he revamped his food menu in early September so that most of their dishes are made, in part, with beer. And Ruhstaller is the only local beer to make an appearance. Just look for the "1881 Red Ale Wild Rice" that's served atop the herb-roasted chicken.
In fact, Paino believes beer should be following the trend that restaurants have begun to establish in recent years, with less emphasis on where food is cooked, and more on where it comes from. In part because of his farming background and in part because he's savvy enough to recognize the craft beer movement's recent focus on geography, Paino realizes how critical farmers are to the equation. Not only does he have genuine respect for farmers, but he often asks himself how a farmer would do something. For example, he says that custom designing and manufacturing the molds from which tap pulls are made can top $10,000. It's expensive, but because the pull is the most visible part of a beer brand at a bar, it's a critical marketing tool.
"Common sense," notes Paino, "says that you find a designer, he designs the tap, you create a mold, send the mold to China, and they send a big box of them back to you, and they're 10 cents each because they're all made of plastic. But that's not what the farmer would do. The farmer would go behind his barn, grab some old tractor parts, clean them up, take them to his workshop, weld on them and say, 'Here you go.' And that's what we did."
But without a farm of his own, Paino found out that one of the largest supply houses in the country for used farm equipment parts sits just off Florin Drive. So he went over and picked out dozens of old parts that he thought would make for great tap pulls. The owners were going to charge him $2.50 for each one. But when he told them what he was using them for, they offered them for free. "Just bring us some beer," they suggested.
Now when he approaches new bars or restaurants to sell Ruhstaller on tap, he lays out a handful of the old parts and lets them choose which one they want, which is why you'll see a different Ruhstaller pull at almost every bar.
Paino and Hoey followed up the 1881 with a limited-edition beer called "Hop Sac 2011" in August of last year before releasing their "Captain," a black IPA (India pale ale), fittingly released on Black Friday—Nov. 25, 2011. The moniker came from Frank Ruhstaller's nickname, and it was another hit. "The black IPA is very interesting and a new concept," says Bamforth. "And really, this is the best one that I've tasted. When I do beer tastings, which I do a lot, I always have that beer."
"You can't just have a good story with a good name on it," recognizes Paino. "You've got to have good beer first. When Sacramento was the largest hop-growing region in America before Prohibition, the brewers competed on quality, not Super Bowl ads. Not gimmicks. It had to be good beer. That's why Ruhstaller put a gilt edge on the lip of the glass because it was supposed to be better beer." (The Ruhstaller family even gave Paino one of the original gilt-edged glasses as a gift).
And while Paino had some experience with restaurateurs, retailers were a different story. When he launched his first bottled batch of 1881 on Dec. 18 last year (with the words "Sacramento's Beer" on the back, and the neck of the bottle wrapped in burlap as a nod to the burlap sacks that farmers have used to harvest hops for generations), one of his first stops was at Corti Brothers. After hearing Paino's story and learning that the brewmaster was Hoey, Corti's Joe Morrison told Paino that he'd take 10 cases without even trying a sip. "I asked him if he meant he wanted 10 over the next quarter, or over the next year," says Paino. "He said, 'No, no. I'll take 10 now.' " Paino was sure that much beer would just gather dust on the shelves.
A week later, Paino was on Christmas break and got a call from Morrison. 'We'll take 12 more cases," he told Paino, who quickly asked if there was something wrong with the first 10 cases. Did they break? Did he deliver them wrong? "No, we're out of them," said Morrison. "We need more."
A grocer's challenge
Thanks largely to Prohibition, commercial hop farms in California were a thing of the past. Or so Paino thought. But in mid-2011, around the time he was getting ready to release his first batch of 1881, he discovered what proved to be the only commercial hop farm in California—Hops-Meister Farms in Lake County, 100 miles from downtown Sacramento. A relatively new hop yard, the Kuchinski family that owns it harvested its first crop in 2007 and now has about 30 acres of organic hops—tiny by commercial hop-growing standards—and sells mostly to California microbrewers like Ruhstaller, San Francisco's Almanac Beer, the Marin Brewing Company and San Francisco's Thirsty Bear Brewery.
For Paino, it was like discovering gold all over again. With the combination of Northern California hops and barley, he believes Ruhstaller sources the highest percent of its ingredients from California—about 94 percent—of any beer in the state. "I don't think any other brewery could come close to saying that," he says.
"With the Kuchinskis, you know where the hops come from," he says excitedly. "It's a 2,000-foot elevation on volcanic soil with hot summer nights, and they even have a German shepherd named Max that couldn't have helped but fertilize those hops. We know who [the hops'] parents are. We know what kind of conditions these guys grew up in."
And so with these California hops, Paino released his second beer, the limited Hop Sac 2011, in August. Despite the much closer proximity, the Kuchinski hops cost twice as much as the "orphan hops" from the Northwest, but the taste and the fact that they were California grown made them irresistible to Paino.
To emphasize the connection to California-grown family farmers, Paino even put their name on the bottles of second batch of 1881, and listed the varietals of the hops—Cascade, Chinook and Columbus. Martin Kuchinski was humbled but thought Paino should list the company's name, Hops-Meister.
But Paino wanted their names on there. He wanted his customers to know these hops come from real people, not mass-market brokers. But Paino soon found out that names on a bottle wasn't enough, at least not in some very important eyes.
In January, Paino stopped by Corti Brothers and store manager Rick Mindermann insisted he go upstairs to meet Darrell Corti, whose knowledge about all things food and drink is, in the opinions of some of the world's experts on food, like Gourmet magazine's former editor Ruth Reichl, unsurpassed.
At first Paino demurred, a bit nervous he admits now. "No, no, that's OK," he told Mindermann. But Mindermann insisted and accompanied Paino through the back door near the butcher's station, through the hallway covered with awards, old photos and newspaper clippings and up the narrow stairway to meet Corti in his office that was littered with books, magazines and assorted culinary ephemera. They visited for nearly 90 minutes, with Paino taking extensive notes. But there was one thing that Corti said that floored Paino and stood out above everything else.
"He threw down the gauntlet," Paino recalls. "He said, 'OK, you've got the names Ruhstaller and Sacramento on the bottle, but until you're using local hops, you don't deserve those.' "
But Paino had done his research and knew that no one in the Sacramento region was growing hops any more. In fact, he had been thrilled to find the Kuchinski hop farm only 100 miles away. He was already proud that he was making one of the most authentically California beers in the state. Then Corti looked Paino directly in his eyes and said, "J-E, you need to do this. You haven't done Sacramento justice until you start growing hops here."
"Who do I call?" Paino asked.
"I will help you," said Corti.
The Pursuit of Hoppiness
Corti suggested that Paino contact Virginia Signorotti, whose late husband George was the man who ran California's very last large-scale hops operation in Sloughhouse until 1985. The Signorotti family had grown hops on this land bordering the Consumnes River off Highway 16 since George's father Avelino Signorotti began farming the crop there around 1930, in anticipation of Prohibition's repeal in 1933, says Virginia.
The property has been divided since George's death, but the rickety old wooden buildings where the hops were dried and packaged, and which date back to the early 1900s, still stand as the last remnants of this region's national dominance in the hops industry. Inside one of the buildings, the name of the ranch is stenciled in black letters on a wall; it's the same stenciling style that George Signorotti used on all the 200-lb. bags of hops that would end up in breweries all across the country.
And so, if you look at a bottle of Ruhstaller today, you'll know where it got its design sensibility. Every bottle, every keg, and even the 1951 truck are stenciled in the signature Signorotti style, and wrapped in burlap just like a bag of hops. So not only is Paino paying tribute to Sacramento's legendary brewer, Frank Ruhstaller, but he's also acknowledging the contribution of one of the state's last commercial hop growers, George Signorotti.
For over 50 years, the Signorotti family sold hops to brokers who sold them all over the world until 1985, when George shut down 115 of his 125 acres as the hop industry in the Northwest began to dominate.
The only hops he continued to grow were on a small 10-acre field and he grew them exclusively for a man whose name is legend among craft brewers today: Fritz Maytag. Maytag was the great-grandson of the founder of the Maytag appliance empire, and he owned San Francisco's revered Anchor Brewing Company for decades, saving the company from ruin and building its reputation. As such, Fritz Maytag is widely considered to be the father of the American craft brewing movement. And from 1986 to 2004, he had the exclusive contract to buy the only hops still grown in California—the Signorotti hops.
In Paino's conversation with Virginia Signorotti, she suggested he speak with Dave Utterback, a sod farmer across the street that had purchased a portion of the Signorotti Ranch after George died. Paino drove out to Sloughhouse to meet with Utterback and discovered a buried treasure in the farmer's backyard. Utterback had saved some of the original Signorotti hop rootstock—rootstock (or rizome in hops parlance) is the unique root of a plant from which crops are planted each season—and had grown and maintained a tiny patch of hops, primarily out of respect to Virginia and as a tactile reminder of what this land once represented.
Perhaps even more valuable was that Utterback helped grow hops on the Signorotti Ranch when he was younger and had the institutional knowledge about how to grow hops in this region. But at the time, Utterback didn't express an interest in growing hops for Paino.
So the search for a local hop grower continued.
As it happened, at the Winters-based Center for Land-Based Learning, a group that provides hands-on experience for the next generation of farmers, holds quarterly dinners featuring local chefs and food from the surrounding farms. It's about as close to farm-to-table as you can get. The center was founded in 2001 by Craig McNamara, a lifelong farmer and the president of the California State Board of Food and Agriculture.
He's also the son of Robert McNamara, the onetime president of Ford Motor Company and the World Bank, but who is best known as the United States Secretary of Defense who served under Presidents Kennedy and Johnson from 1961 to 1968 during the Vietnam War. Here on the farm, Craig is about as far from his father's world of politics and war as one can get.
For the Center's dinner on Feb. 26 this year, the two featured chefs were Patrick Mulvaney and Grange's Oliver Ridgeway, both proponents of locally sourced food, and also both customers of Ruhstaller. And so Mary Kimball, executive director of the Center, invited Paino to serve his beer at the dinner, which he readily agreed to.
These dinners, which at $100 per plate act as fundraisers for the Center's youth education programs, also attract the farmers who grow many of the foods that are featured. After the dinner, Kimball invited Paino to stand up and speak to the crowd, and with an event filled with farmers, he knew he had the right audience to float Corti's idea of growing local hops. Right after he spoke, about a half-dozen farmers approached him, asking questions and expressing interest.
One of them was 24-year-old Sean McNamara, Craig's son. A native of Winters who graduated from Georgetown University a few years ago, Sean has been largely working in construction since graduating, building homes for both private builders and for Habitat for Humanity. He also operates a small olive oil business. Paino and McNamara only chatted for a few minutes, but McNamara didn't even need that much time.
"My decision to grow hops came about 20 seconds after meeting J-E," says McNamara. "I trusted him instantly because of his passion. It also just fits my personality perfectly—it was a challenge; it was innovative. And it contributes to a product that I love—great beer. I knew I was the guy."
But he didn't tell Paino. At least not yet.
On top of a full-time construction job, McNamara spent a week doing research and seeking advice first. Even though he'd grown up on a farm, he wasn't a full-time farmer. He had also once heard the founder of Sierra Nevada, Ken Grossman, speak at UC Davis and he had warned against growing hops (Sierra Nevada has a small, private, eight-acre hop yard where they grow hops for its annual Estate brew). Others had warned about the particular difficulties of growing hops as well. But his father, while counseling him to devise a detailed business plan and start small, was encouraging.
Craig, who studied to be a soil scientist, knew better than most that this land would give Sean a leg up. "The resources here are unique in the world," Craig says. "We're one of five Mediterranean climates on the planet. Historically, as Putah Creek flooded, it would bring all your best soils, your loamy soils right here." Loamy soils are ones that are a mixture of sand, silt and clay and thus are particularly rich in nutrients and retain moisture well, but also drain to allow air to reach the roots. "We're on something here called the Dixon Ridge," he explains. "When a creek or river floods, the loam particles fall out first and so this is the richest soil, the deepest soil. This is about 40 to 50 feet of top soil."
Confident and eager, Sean called Paino about a week after the Center's fundraiser and asked to meet with him. They met for dinner at Grange in early March and McNamara showed up with a three-inch-thick binder filled with research that he had pulled together. Paino recalls that McNamara was excited, but he also came with a dose of reality. In researching hops, McNamara learned that hops are always harvested in August, which means they need to be planted no later than early April. And because hops would require an elaborate setup with 18-foot-high wooden trellises, wires, string, and irrigation systems, significant prep time was required before planting.
"If we're going to do this," McNamara told him. "We've got to do it now."
A Race Against Time
The two agreed on a handshake deal that Paino would buy all of the hops that McNamara, who planned to plant a small, three-quarter-acre hop field, would grow. The hops would be used for Ruhstaller's limited-edition "Hop Sac 2012." The label would also feature the name of McNamara's farm, Blue Heron Hop Yard, which was named for the birds native to nearby Putah Creek. And unlike the 1881 and the "Capt." bottles, Paino wraps the Hop Sac bottle entirely in burlap—like a liquid bag of hops—fixed to the bottle with a wire ring. Each piece of burlap and each label will be affixed by hand, with help from Roseville's PRIDE Industries, a company that employs mentally and physically disabled adults.
It would be, in all likelihood, the first commercially brewed Sacramento beer to use local hops in generations, perhaps since Prohibition. But there was also no guarantee that it would work. Not only had McNamara never grown hops before, but even in legendary hop-growing towns like Sloughhouse, hop farms don't always yield enough hops for a harvest in the first year.
And then there was the matter of time. There simply wasn't enough of it.
With only weeks to prepare the crop after their dinner, McNamara had to locate the right hops rootstock, decide on the varietals, purchase 21-foot-long poles that would sink three feet into the ground (he briefly considered old telephone poles), and he needed time to design the layout of the crops. The poles would take three weeks to get, and he was having trouble finding the right rootstock.
With only about 10 days before he needed to plant, he still hadn't found the rootstock, and panic began to set in. He had already spent $2,000 on poles, but had nothing to grow. "I was pretty desperate," he says. But he happened to notice a sign offering rootstock from Washington state on his daily trip to the local Ace Hardware store. He called immediately, and they arrived only three days before he had to plant.
Now he had the supplies, but the preparation time wasn't the only factor. There was also the issue of rain.
There's a tiny window of opportunity to plant hops. The land needs enough time to dry after the winter rains in February and March in order to prepare the soil, but planting needs to take place before the rain starts up again. Once it starts raining steadily, it becomes too difficult to plant. There was little room for error. Miss the target date by even a day and McNamara would have to wait an entire year before trying again. "We were playing poker with the weather," says Sean.
"We didn't work the soil until the first week of April," says Craig McNamara. Father and son had been watching the weather closely, racing to get the massive poles secured with wire and getting the rootstock tied to the twine upon which it would grow vertically, like grapevines but only much, much higher. And, in a gesture of goodwill, Dave Utterback passed the proverbial torch to Paino and the McNamaras by donating 30-year-old twine that had come from the Signorotti Hop Ranch. These hops would grow, if they grew at all, on the twine used by the last commercial hop growers in California.
But once the twine was in place, Craig knew there was a problem. The weather reports said rain was still days away, but as a farmer for 35 years, he suspected otherwise. Sean remembers that at the crack of dawn on April 9, a few days before they'd intended to plant, his father called and told him, "We've got to do this today."
At 7 a.m., they started the final preparations for the field and worked all day. By 5 p.m. they were ready to plant. Exhausted, they were going to call it a day, but Craig's intuition told him they needed to continue. So they planted from 5 p.m. until just after the sun set at 7:40 p.m., finishing half the crop.
At 2 a.m., defying local weather reports, it began to rain.
Scrambling at first light, the McNamaras and several workers finished planting the last of the hops at 11 a.m. It would rain for five days straight. They had nearly missed their window by just a few hours. Had they waited until the next day to start, it would have been too late for the season. "We needed every day that we took," says Sean.
Now that the hops were planted, the plan was to harvest the hops about five months later, on Aug. 19.
While McNamara was working overtime tending to the crop, Paino was getting to know Dave Utterback better, and the Sloughhouse sod farmer offered Paino the small amount of hops that he was growing in his backyard. Paino would mix the hops from McNamara's ranch with these. So now, not only would Paino brew a Sacramento beer using local hops from Winters, but also the same strain of hops from the historical epicenter of America's hop-growing industry.
But as the harvest date grew closer, there was another problem. A big one. Not only had Sean McNamara never planted hops before, he'd never harvested them either. McNamara had set the date of Aug. 19 for the harvest and Paino had been soliciting volunteers via Facebook and other means for weeks in anticipation. Paino wasn't just looking for free labor, but wanted the community to be a part of the experience. Dozens had pledged their time.
A few weeks before the big day, Paino was visiting the Kuchinski hop farm in Lake County and saw what hops are supposed to look like when they're ready to be harvested. He beelined back to Winters to inspect McNamara's hops and realized the date they set was too late. Weeks of higher-than-expected temperatures in July meant that the hops were already ripe. Waiting to pick them would dry them out too much and damage their flavor.
And so, on the morning of Aug. 2, Paino quickly posted to his Facebook and Twitter followers: "All hands on deck! Hop harvest will be at 5:30 a.m. tomorrow morning. Be prepared for sun—wear long sleeves, a hat and work shoes."
Later that day, Paino made his way to the cluttered upstairs office of Darrell Corti again and told him that he was harvesting the hops that Corti suggested he grow the next morning. Corti immediately peppered Paino with questions on how he would prepare the hops for brewing.
As one of the world's most knowledgeable and influential voices on wine, Corti said something that might be shocking to some. "As fascinating as wine is, beer is more fascinating because it has even more simple ingredients," he said. "They're both interesting products, but consider the fact that one is a fruit-driven product and the other is a grain-driven product. It takes a lot more ingenuity to make a beverage out of a dry grain then a wet fruit."
Then Corti left Paino with some last-minute advice. "The hops are thorny and they're very sticky. And I don't know if you know, the oil, it's very abrasive. So bring gloves."
Harvest Day
It's 5:40 a.m. on Aug. 3 and J-E Paino has just pulled up to the smaller-than-originally-planned group of volunteers. Paino and Sean McNamara know that with the sun about to come up, there is no time to waste.
McNamara gathers the team at the base of the first row and gives them a quick lesson in picking hops. He pulls one of the hops off the vine and holds it in his open hand. The hop cones look like tiny green pinecones.
"If you crunch them and they plump back up to size, they're ready," he tells the group. "See that yellow stuff inside? If you can smell it, they're ready for us." The bright yellow stuff he's referring to is lupulin, which contains the oils and acids that give the beer its bitterness and some of its flavor. He passes around the hop cones for everyone to smell. Paino and McNamara then hand out burlap and old orange-picking bags and harnesses for the volunteers to wear to help carry the bags' weight.
To set the mood, McNamara wants to blast music out across the field and, as luck would have it, his father had purchased his very first generator the day before, so Sean cranked up the volume on Yo-Yo Ma's new album, Goat Rodeo Sessions, a mixture of classical and bluegrass that proves the perfect soundtrack for this moment.
With the smiling pickers casting long shadows on the ground as the sun starts to peek over the walnut trees in the distance, the banjo and fiddle mimic the energy and excitement of a predawn morning on a farm, while Ma's soaring cello adds an anthemic quality that echoes the sense that everyone here feels, like they're playing a small part in the agricultural history of this region.
"This is the culmination of years," says Paino, shaking his head in disbelief as he reaches up and picks a cone off the vines, slowly filling his bag. "All that work. And the fact that these people are here. Some are good friends; some I don't even know. People have owned it."
Soon after, these hops, along with those from Utterback's property, were brewed and bottled locally at the American River Brewing Company in Rancho Cordova. And by Oct. 1, this limited-edition release will be available in only a handful of locations, like Corti Brothers, Taylors Market, Pangaea and at the nine-store local chain Nugget Markets, based in Woodland, which has purchased the lion's share of the release.
One of Painos' strategies is to give independent markets and smaller grocery chains some measure of exclusivity. That kind of allegiance, like the one he's creating with farmers, is what he hopes will help Ruhstaller stand out in a crowded marketplace.
Paino figures that by the end of October, all of Hop Sac 2012 will be gone. Sacramento's first beer made with local hops in perhaps a century will be a thing of the past.
But from the looks of things, it will really be just the beginning. Already, Sean McNamara has decided to expand to five full acres of hop fields. And Dave Utterback, in response to Paino's enthusiasm and willingness to purchase all of his hops, too, now hopes to try one or two acres himself. Both McNamara and Utterback say they can see a path to growing even more in coming years if Paino and other local brewers prove there's a market for locally grown hops.
If demand grows, supply will, too, and Sacramento could be well on its way to reclaiming some small part of its agricultural and brewing history at a time when locally sourced foods and craft beers are speeding into vogue.
Paino seems determined to continue doing his part. Thanks to a partnership with West Sacramento food distributor Tony's Fine Foods, one third of all Ruhstaller sales now come from outside of Sacramento, from as far south as San Diego and as far north as Redding. Paino also plans to ramp up from the three beers he has now, to four or five next year, including a "Gilt-Edge Lager" based on an actual recipe that Frank Ruhstaller used.
And at some point down the road, Paino hopes to have a physical space, a tasting room of some kind, perhaps downtown or perhaps even on a hop farm, much in the same way that wine tasting rooms sit in the middle of vineyards. And that's where his position with Rubicon Partners will come in handy. The firm that developed the Citizen Hotel and proposed the Boqueria project has proven itself to be a champion of Sacramento's historical character and identity. "
I don't think Kipp anticipated the sense of pride in Sacramento for our roots and what's authentically ours," says Paino, referring to the Citizen Hotel. "The Citizen was about Sacramento and the menu at Grange is about Sacramento. It's an old space, but it's rough and has texture, and is authentic and unique. To have a facility like that for Ruhstaller, where you could walk in and see and experience the three-dimensional aspect of what Ruhstaller is—and who he was—and what it means to Sacramento, could be told powerfully in a space similar to that."
And while a tasting room would be a great marketing tool and a powerful way to more fully express the beer's history and sense of place, Paino knows the beer itself still has some growing to do, and he takes both the family's name and his responsibility to Sacramento's brewing heritage very seriously. He knows that's where his success truly lies.
"On the bottle, under Ruhstaller, we say that it's Sacramento's beer," says Paino. "And it was. And we want to earn that back. How do you define that? I think the biggest thing is when people take it out and they say, 'Try my beer. Try the beer of Sacramento, the beer of the valley, the beer of the farm, the beer that really defines who we are as a community. It's proud of its heritage, but it's also looking to do its own thing today.' And I feel like that's success."