Dolores Huerta
Arguably few women wielded more influence on 20th-century California history than Dolores Huerta, who transformed state politics and the lives of millions as a community organizer and the co-founder (with Cesar Chavez) of United Farm Workers. The Smithsonian Institution chronicles the activist's life and work in its new traveling exhibition Dolores Huerta: Revolution in the Fields/Revolución en los Campos, which makes its debut in March at the California Museum. Huerta, 88, speaks about her early days as a lobbyist in Sacramento, the value of sacrifice, and seeing her legacy among the next wave of American leaders.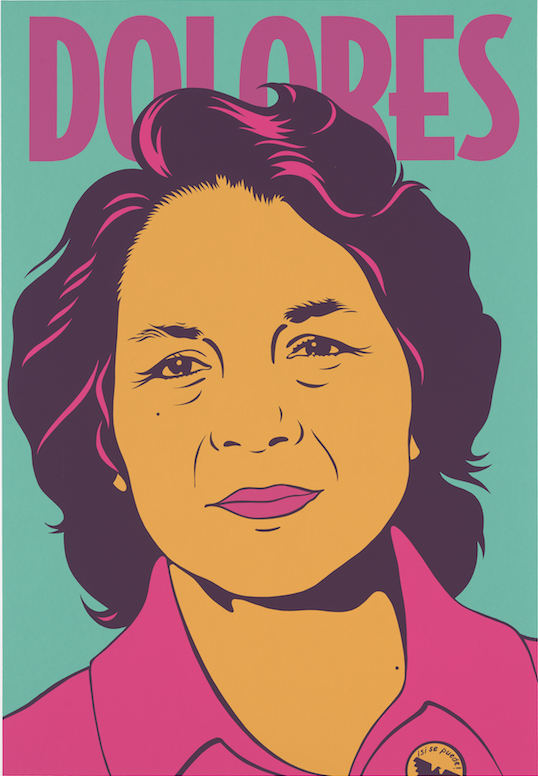 T
The Smithsonian Institution developed Revolution in the Fields after its National Portrait Gallery featured you in its One Life series in 2015. Did the Smithsonian approach you for that original exhibit?
Yes. I was thrilled, and I think what makes it special is that I was the first Latina/Latino person and first living person to have [a One Life] exhibit.
How involved were you in the curatorial process?
I wasn't really that involved. The one who did a lot of that work was my daughter Lori de Leon. She had done some work before with the Cesar Chavez Foundation, and collected all the photographs so they could pick the ones that they wanted.
The new exhibit is based on that One Life show. What are some of your favorite photos that museumgoers can expect to see?
The original exhibit focused a lot on my work with the United Farm Workers, but there was one picture of Fred Ross Sr. [that stood out for me]. He got me and Cesar Chavez into organizing. He went into the California Hall of Fame a [few] years ago, but he's a great organizer that people still don't know that much about. [Note: Huerta herself was inducted in 2013. Dolores Huerta: Revolution in the Fields, which will run from March 9 to July 7 at the California Museum in Sacramento, will include more than 60 photographs that span her almost seven-decade-long career as a teacher, lobbyist, organizer and activist—including the aforementioned 1975 picture of her with her mentor Fred Ross—as well as an audio tour recorded in both English and Spanish.]
Fred Ross actually sent you to lobby in Sacramento, which plays a big role in your story. In 1955, you started working with the Community Service Organization (CSO), Ross' activist group. You were a Latina in your 20s, lobbying in Sacramento. What was the city like then, and how did you fit in?
It was interesting. I remember going to one assemblyman and asking him for his vote, and he threw his hotel key across the desk. He said, "If you want my vote, come and see me in this room." I just stood up and walked out.
Were you able to push back against that kind of behavior?
In the late '50s, that was the way it was. There were no protections for women at that point. It's kind of interesting when we think about that, because now, we think of the #MeToo movement. There have been recent scandals in Sacramento around the issues of sexual harassment of women. Almost 60 years ago, that was always going on. Now at least there are places you can complain to. You can't keep it hidden anymore.
Former California state Senator David Roberti once called you an "indefatigable" and "unorthodox" political figure. What do you think he meant by that?
I was a very persistent lobbyist. I would stay there until late at night and follow these legislators around. You were able to talk to them and get out votes from them. Sometimes, the Legislature would be around until 2 or 3 or 4 o'clock in the morning. I would just stay there until I found my votes.
Roberti also said, "When Dolores is in Sacramento, everybody knows she's in Sacramento."
When I was lobbying for the United Farm Workers union, we always had a ton of people there. We would fill the halls with farmworkers so they knew we were there. Before the United Farm Workers—when we were still with the CSO—we passed a ton of bills. I lobbied a bill to the Legislature so that we could have door-to-door voter registration. Anybody who was a citizen could register another person to vote. Before that, you had to find a deputy registrar to register you.
Why did you want to get involved in organizing farmworkers in the first place? What was the flash point for you?
There were several. One of them was that [during] door-to-door voter registration, we came across a farmworker's home with a dirt floor and orange crates and cardboard boxes for furniture. And there were malnourished children in that home. That's when I decided that that situation had to change. The other was when I was a teacher [in Stockton] and seeing some of these children in my classroom who were malnourished and threadbare, and having to fight my principal to get them vouchers for shoes or lunch. I remember my principal saying to me: "These kids—their parents are all winos. They just spend all their money on alcohol." And I knew that wasn't true. I knew farmworkers were being paid very, very low wages at that time. These things got me thinking, "Well, farmworkers need a union." Cesar Chavez felt the same way I did. When we couldn't get the Community Service Organization to support us, we left them to start United Farm Workers.
One of the earliest efforts you and Chavez organized was the "March to Sacramento," which guided striking grape farmworkers and their supporters from Delano to the State Capitol. What do you remember of arriving here that day in 1966?
At that point in time, we had been into the strike for almost a year. So we did that march to call attention to the strike, and we included a boycott of Schenley wines in that march. The great thing about that march was that there were 70 farmworkers who started it, and when they arrived in Sacramento, there were [nearly] 10,000 people.
What are the biggest challenges farm laborers face today?
The California farmworkers have the best laws to protect them. We have unemployment insurance for farmworkers. We have disability insurance for farmworkers. Other states do not have strong workers' compensation. We have it in California, but [even here] over the years it's been weakened a lot. [Many growers] prefer to spend a lot of money fighting the union instead of giving the money to workers—health plans and pension plans, which United Farm Workers have in their contracts.
Chavez once singled out your willingness to make personal sacrifices as one of your key attributes. That theme recurs frequently in your life and work—the sacrifices it takes to build and sustain a movement.
Back then, people had to make those kinds of sacrifices. The first one was leaving my job as a teacher to become an organizer for no money—leaving my home in Stockton to go to Delano, and having to get my food from the food bank and having my daily meals be rice and beans and cornmeal. In today's world, things have changed. It's so much easier. Now we have so many tools at our disposal, like the Internet and Facebook, and the way you mobilize is so much quicker than we did back then. Still, I think some kind of sacrifice is always involved. It's a matter of choices.
"I was a very persistent lobbyist. I would stay [at the State Capitol] until late at night. Sometimes, the Legislature would be around until 2 or 3 or 4 o'clock in the morning. I would just stay there until I found my votes."
It took a toll on your family too, didn't it?
It did, but there were also rewards. As my youngest [child] Rick says sometimes, "We shared our mother with the world, but she shared the world with us." My kids went through incredible experiences, like travel. I took them all to New York City with me. They got to live in that city. We lived in Chicago. We lived in Los Angeles, San Francisco. We got to meet a lot of wonderful people. My children suffered a lot, but they came out very resourceful, and they came out committed to social justice.
You even sacrificed credit for the iconic UFW motto "¡Si, se puede!"—Spanish for "Yes, it can be done"—which was attributed to Chavez for decades before you reclaimed it.
Yes, but that's just part of being awakened as a feminist. Part of the message that I give out to women is that as women, we have to take credit for our work. We cannot let others take our work away from us.
Out in New York, Alexandria Ocasio-Cortez is roughly the same age you were when you first lobbied in Sacramento. She's among the 42 newly elected congresswomen and senators who headed to Washington, D.C., in January. What echoes do you see between your journey and those of this generation of female leaders?
I identify with her a lot. She was a grassroots community organizer, and that is the way I identify myself—as a grassroots community organizer. It's very exciting that people like her are going to Congress. It's going to make a big difference, especially since she is a young woman of color. This is what we need. We need to get rid of the inequality we have in our system.
That's what we do in our work [at the Dolores Huerta] Foundation—continuing those lessons that Fred Ross taught us and Cesar taught us about organizing leadership at the local level. In the midterm elections, many of our members got elected, [including] to city councils and school boards and recreation boards. [For example] Melissa Hurtado, who is only 30 years old, got elected to the state senate, and Jazmin Robles [who was elected to the Arvin City Council] was part of our young women's leadership group. That's what this work is all about—growing these grassroots leaders and having them take control of their communities.
We find your influence in unexpected places too—like how the San Francisco Police Department rethought its crowd-control methods after its officers beat you at a protest in 1988. Thinking about it today, does the reach and scale of your impact ever surprise you?
It always surprises me. I'm always grateful. Sometimes young women come up to me and say, "I heard you speak, and it changed my life," or "I heard you speak, and I stopped being a gang member," or "I heard you speak and I decided to go to college." A woman came up to me the other day and said, "Thank you for inspiring me to start my own business." As an organizer, you want to share your knowledge and help to empower people. Whatever we know, we need to share it.
Barack Obama awarded you the Presidential Medal of Freedom in 2012. Bill Clinton recognized you with the Eleanor Roosevelt Award for Human Rights in 1999. At least five schools in three states are named after you, if my count is correct—
Actually, we have more now. They broke ground for one in Salinas. I have a street named after me in Weslaco, Texas. Oh, and a park in Albuquerque, New Mexico.
And now, the Smithsonian has immortalized you in a new exhibition that will travel around the country for five years. Among these and other honors and achievements, which is the one you're proudest of?
Hmm. I'm proud of the amnesty legislation we passed in 1986 [the Immigration Reform and Control Act] because so many people got their legalization through that one—[over] a million farmworkers. Obviously the Medal of Freedom has got to be the highest honor. And the Eleanor Roosevelt Award, because of who she was, and who President Clinton and Hillary are.
Labor itself is still a fiery political issue in the United States, with battlegrounds from California to Wisconsin to West Virginia. At age 88, how involved do you see yourself in the future of labor activism?
Well, my foundation [develops] leadership in our local communities: getting people elected to different school boards and organizing parents to make sure that state money is spent the way it should be to help low-income students and English-language learners. I [still] do some labor work, but that's not the focus of the foundation. The focus of the foundation is empowering people and creating leadership at the local level.
In other words, you're not done yet.
No, no. I'm here at my desk right now. I'm working every single day.