Done Wanderin'
It's been 16 years since Jackie Greene's album "Gone Wanderin' " was named one of the best releases of 2002 by "Rolling Stone." Since then, he's made eight more records, trotted the globe as lead guitarist of The Black Crowes, and toured with Lyle Lovett and B.B King. And now, after a decade away from his hometown, Sacramento's prodigal singer-songwriter has returned with a wife, a daughter, and, yes, new music on the way. It's time to shake, (baby) rattle and roll.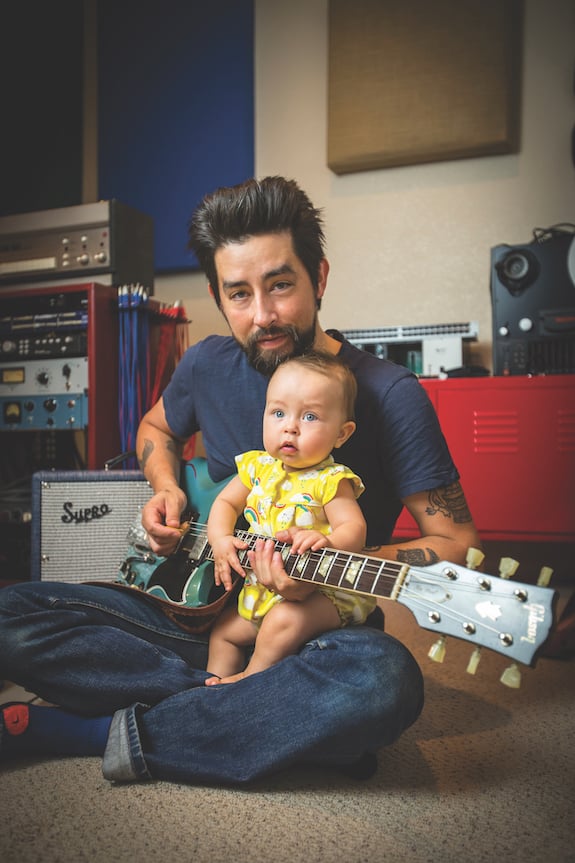 J
ackie Greene walks into Badfish Coffee & Tea in Orangevale looking like just another sleep-deprived new parent in search of some high-grade caffeine.
He made the short drive from his house, and he's dressed for the August heat. Gone, though, is the sleeveless suit-vest style that Greene flashed occasionally as guitarist for arena-rock staple The Black Crowes. Missing, too, is the trademark natty straw hat he has worn when playing live in concert with Americana favorite Joan Osborne, the Grateful Dead's Bob Weir and Phil Lesh, and Southern-fried jam band Gov't Mule, just to name a few of Greene's tour mates over the years.
The temperature outside hovering above 90 degrees, Greene wears a plain black T-shirt and charcoal shorts, ankle-height white crew socks peeking out from some New Balance sneakers. His thick, jet-black hair, tucked beneath a stiff baseball cap, has been trimmed well short of the classic-rock length he long sported. He explains the hat's logo, an ornate N against the silhouette of a guitar pick, is that of the Nashville Sounds, a Triple-A minor league Music City baseball team that until recently was affiliated with the Oakland A's.
Greene settles into conversation about life and music. Now and then he pulls off the Nashville Sounds cap to flatten his mane and, perhaps, to give himself a few extra beats during which he might consider his response to a given question. When he does, his hair reveals a touch of gray.
Greene's new music (he has an EP coming out this fall) and his return to Sacramento, where he was discovered at an open mic night at Fox & Goose nearly 20 years ago, are the main subjects, but he also takes detours into how childhood gives way to parenthood, and how life on the road as a hardworking musician eventually gives way to putting down roots as a dedicated family man.
Perhaps "eventually" overstates the matter of rock musicians' presumed maturation. Plenty never stop touring—make that never stop songwriting, recording, rehearsing and touring, not to mention partying—long enough to raise a family, even if they manage to start one. Many get old fast trying to, paradoxically, extend their youth past its natural expiration date. Greene, who will turn 38 years of age at the tail end of November, saw that potential future coming into view a little while back, and changed course.
"About five years ago, I started thinking," he says. "My friends were having kids. Now, 33 isn't that old, but it's definitely old enough to start thinking about what it means to 'settle down' and have a family."
This is, for the record, the same Jackie Greene who once sang, "I've gone wanderin', again I'm out the door / I'm walking by myself down the street like the night before / And I should be home in bed, but the notion in my head is / Telling me to ramble on." That song is "Gone Wanderin'," the title track off Greene's debut album of the same name (and, judging by YouTube search results, one of his most covered songs by aspiring musicians in possession of a guitar and webcam—harmonica optional). And then again, Gone Wanderin' came out in 2002. Greene was not yet 22 when he released the album (which Rolling Stone named one of its annual top critics' choice picks). The poetic image of a footloose musician with the wind to his back, fame and fortune around the bend, was just that: more romantic aspiration than reportage. He's wiser than that now.
A decade and a half have passed since Gone Wanderin', and Greene can accurately say he has been there and back. Raised in Cameron Park near Placerville (a 20-minute drive east from where he is currently seated in Orangevale) and coming of age as a singer-songwriter at Sacramento spots like True Love Coffeehouse and Marilyn's, he has released a steady stream of records (nine, including last year's The Modern Lives Vol. 1 EP), toured continuously, collaborated broadly and relocated frequently.
As he performed for larger and larger audiences, Greene outgrew most of his hometown's venues, served his time on a major label (Verve Forecast, a conflicted relationship that yielded one album, American Myth) before returning to independent record companies, and began gigging with many of his heroes. He toured with Lyle Lovett, B.B. King, Taj Mahal and Huey Lewis (who once backed him on harmonica), among others, often absorbing some of their styles into his own. America's foremost music industry observers took notice. In 2006, when he played the massive Bonnaroo Music Festival in Tennessee, none less than Jon Pareles, chief pop music critic for The New York Times, proclaimed that Greene "could be the Prince of Americana."
Like the band Cake before him, Greene was at the time the local favorite voted most likely to succeed. But even that level of fame came at a cost. Zealous fans made it difficult to have a regular life, which played a role in his decision to move to San Francisco. (He also still plays on and off with Bay Area favorite The Mother Hips.) For someone who toured upward of half a given year, the city was, much like Lodi and Brooklyn later, more home base than home. The question became: What form does success take? Does it mean playing massive arena shows or recording your own music at your own pace? Coming down firmly on the latter side of those deliberations, Greene is now back home. In his telling, he is finally done wanderin'.
*****
First, though, he had to figure out whom to settle down with. "I was thinking, of all the women I've known in my life, who would I want to be the mother of my children?" he says. "It was very obvious."
Unfortunately for Greene, the answer was not as self-evident to the object of his family-making affection. He had met his future wife (yeah, yeah, spoilers—she eventually said yes), Kyle Stefano, when they were both in their mid-20s. "My first headlining show [in New York] was at Joe's Pub," Greene says, setting the scene at the popular venue near Manhattan's East Village circa 2004. "She was there with her girlfriends. They tried to buy me a shot of tequila or something after the show. I acted all cool."
The pair kept in touch as friends as the years passed—he a traveling musician of increasing renown, she a Brooklyn-based social worker who helped the homeless find housing. "She never took any bullsh-t from me," says Greene of Stefano, mixing admiration and fondness. He shares a story about playing Carnegie Hall and complaining vociferously to his would-be spouse about how the top-tier concert hall had failed to stock—the horror!—decaffeinated coffee backstage. He says Stefano, in turn, described a situation the same day involving a homeless man and bodily fluids. "That's called perspective," says Greene.
He toured with Lyle Lovett, B.B. King, Taj Mahal and Huey Lewis, often absorbing some of their styles into his own. America's foremost music industry observers took notice. None less than Jon Pareles, chief pop music critic for The New York Times, proclaimed that Greene "could be the Prince of Americana."
He traveled the world with The Black Crowes for all of 2013 as their lead guitarist and backup vocalist. As that gig was coming to an end, Greene laid out his family plans to Stefano. After a decade of friendship, she had to be not so much wooed as convinced. As she tells it, Greene wouldn't relent: "He kept flying across the country to see me. I was really holding out. I'd make him stay in a hotel." His exertion paid off after he moved to Brooklyn in 2014 to be with her. "We got married in March 2017," says Stefano, "and got pregnant two months later."
As Stefano talks, Greene is in the backyard singing Los Lobos songs to the couple's infant daughter, Luca. Another rhyme-time favorite is Tom Petty's "American Girl," and he also entertains the 6-month-old with improvised ditties like "Sometimes, There's a Chicken on Your Head." "It's a massive hit overseas, I swear," he jokes.
Greene is charming in conversation, but his face downright glows when he speaks of his daughter. He describes parenthood not just as fulfilling, but as essential: "If people don't have kids, that's fine, but I think that there's something about the human experience—in order for that totality, it's necessary to have kids."
Naturally, the transition to parenthood that Greene has undergone of late plays out in the Modern Lives songs. The lyrics to "Victim of the Crime," off the EP's second volume due out Oct. 5, read like a self-flagellating tell-all about his flirtation with major-label fame. One doesn't join The Black Crowes without an interest in stardom. Greene himself told Sactown years ago that he wanted nothing so much as a top 10 hit. Today he offers a qualified take on the pop charts: "I want it on my terms. I don't want a top 10 hit if it means I have to make the kind of music I don't want to make."
As it turns out, "Victim of the Crime" is quite personal: "It's more of a love song to my wife. It's about having to navigate my way to be in a relationship with her. Like, trying to get through being young, and, quite frankly, being a philanderer. And finding my way to a place of calm where I can be a family man, you know?" When he waves his right hand to emphasize a point, into view comes a fresh wrist tattoo: his daughter's name in script.
After several years together with Stefano in Brooklyn, it came time to scout locations for this family the couple was becoming. "The plan," says Greene, "was always to have the baby and move out of New York, because neither of us are actually originally from New York. We don't have any family in New York." Stefano hails from Cleveland, where her parents already have multiple grandchildren. Greene, the eldest of four, had a mom still back home in El Dorado Hills yet to experience the pleasure of being called Grandma.
And thus it was, three months after Luca's birth in late January, that the trio moved west. In doing so, Jackie Greene had to come to grips with coming home.
*****
Sacramento is, quite literally, where Jackie Greene made his name. He was born Christopher Nelson on Nov. 27, 1980, in Salinas, California, to a first-generation Japanese-American mother and a Caucasian father from North Dakota. "My early life was like a bad country song," he says, "where my dad left my mom when I was 10. He left her by leaving a letter and he just disappeared and all he left behind was his guitar. And I learned on his guitar."
While playing local open mics in the late '90s, he took his current moniker from the first name of his favorite baseball player, Jackie Robinson, and the last name of his favorite novelist, Graham Greene. He was 18 at the time. "I thought it was a good stage name," he says. "Then I started getting checks. It's very difficult to cash a check to Jackie Greene when your license says Christopher Nelson. So, I marched down to Sacramento County Court, and it's quite easy to do. It's just like when you get married. It took me a day." And to this day, everyone calls him Jackie, even his wife and his mom.
Greene brings up the movie Lady Bird, Greta Gerwig's Oscar-nominated teen drama set in the Sacramento of 2002, the year his debut album was released. "I remember the vibe, what a lot of Sacramento kids felt: 'I got to get out of here,' " he says. "That's totally normal. I think it's a function of youth, realizing, 'I want to go to New York. I want to go to Los Angeles,' or whatever. And then you do those things. Now I look back fondly on Sacramento—[especially] if you're raising a family, it's a nice place to live."
*****
If you listen closely to Jackie Greene's 2017 EP, The Modern Lives Vol. 1 (praised for its "Vonnegut-like humor" by the roots-music publication No Depression), and to its new follow-up, The Modern Lives Vol. 2, you might hear a bit of Brooklyn noise in the background. "There are tracks on both of those albums that have car horns in them," says Greene.
The reason for the muffled sonic intrusions is that the pair of EPs, a dozen songs in total between them, were recorded entirely in a makeshift basement recording studio that Greene maintained in the building where he and Stefano lived together.
The music of The Modern Lives is intimate, due in part to the basement's close confines, to the tunes' folk-blues flavor, and to the fact that Greene ingeniously sang every vocal part himself, as well as played every single instrument: guitar, six-string banjo, bass, drums, and so on.
But only by understanding why Greene was in the New York City borough in the first place can you fully appreciate just how personal the recordings are. The music was recorded based on his living circumstances, and those circumstances were based on his focus on starting a family. He's still the roots musician he always was—allowing for occasional drifts toward pop or popular culture (his song "I Don't Live in a Dream" was featured on ABC's Private Practice in 2009)—but the new recordings are looser, and the humor more pointed, than ever.
"He moved to New York to get the girl" is the succinct phrasing of Joe Poletto, head of Blue Rose Music, the label behind the Modern Lives EPs. "He got the girl and he headed home."
Poletto and Greene met in 2016 through the Blue Rose Foundation, which focuses on early childhood education and provides preschool scholarships for underprivileged kids. Poletto, a Microsoft veteran, developed the label out of the foundation's annual concert fundraiser, the Blue Rose Ball. The two men became business partners in the process. "He's the cornerstone of Blue Rose Music," says Poletto of Greene. "The label wouldn't exist without him." Says Greene of the pair's complementary natures, "Joe is definitely more concerned with running the business, and I'm more concerned with finding artists."
Among the artists Greene has scouted is Shannon Sanders, a Grammy winner who has played with the likes of John Legend and Robert Randolph. He serves as the newly appointed music director of Greene's backing band, the first person ever to hold that position other than Greene himself. (The group is called the Modern Lives Band, a bit funny since the Modern Lives EPs are defined by being the work of one person.) The hire is yet another of the many major transitions Greene has initiated and experienced this year.
"He grew up in the black church," says Greene of Sanders. "His grandfather was the pastor. That's a different kind of organ playing than I play." He adds that when fans hear the new band in concert, the sound is going to be as new as the musicians: "There's a funkier side that I will definitely embrace."
The sound won't be the only new thing for fans of Greene, who has been playing live since his mid-teens, earning a reputation over the past two-plus decades for his roots music. Someday he wants to stage a stripped-down concert that's personal in nature, à la Bruce Springsteen's one-man Broadway show. "It's like a rap that he does. It's part confessional, part VH1 Storytellers," he says. "By the end of it, people are crying. I saw that show, and I was like, 'Man, I want to do something like that.' " His upcoming tour, however, will be decidedly more high concept than his previous down-home excursions.
Greene and Blue Rose hired the high-tech production team behind LCD Soundsystem's shows for the dates, a limited series of engagements that will take him to five U.S. cities throughout the fall, including New York, Nashville and San Francisco, his only NorCal stop. (Greene says he'll probably play his first new Sacramento gig next year.)
As such, the new concerts will be highly visual. Greene commissioned six Modern Lives song videos from animation legend Bill Plympton, along with additional footage by the artist that joins them into one linear 30-minute story. Plympton is known to pop fans for his work with Kanye West, Madonna and "Weird Al" Yankovic, and his experience dates back to the dawn of MTV.
Plympton first learned of Greene years before he was hired for the gig, when a cousin in Sacramento, Christian Vellanoweth, introduced him to Greene's music. Talking on the phone from his animation studio in Manhattan, Plympton says his and Greene's aesthetics are a natural match: "He plays banjo; I used to play banjo, though I don't anymore. He plays slide guitar; I love slide guitar. It really fit into my style." The animator explains that each Modern Lives video takes about 2,000 individual drawings and a month to complete. "It's a lot of work."
If this all sounds like a gamble, it is. "This is going to cost us a lot of money, a lot more money than we're going to take in in ticket sales," says Greene of the Modern Lives concerts. "But we're trying to up the ante a little bit, give people a better show." Met with a confused face at the prospect of losing money for this effort, Greene says it's all about planning for his future: "This investment on Blue Rose's part to allow me to do these kinds of things is because they believe in me, truly."
Asked what form Greene's artistic future may take, he defers to the planning of Blue Rose's Poletto: "Joe definitely has a vision, and his vision is very grand. I don't always understand it, but I also don't second-guess him. It's the kind of thing that a label used to do in the '90s—which used to be called artist development."
*****
Perhaps the biggest bet, though, was taking close to a year off touring to focus on parenting. Greene has been working on his Orangevale property, plotting out his new recording studio. Like his music, his passions have an old-fashioned vibe. He fixes vintage typewriters and collects cameras and guitars from the 1930s through the 1960s. "I'm into woodworking," says Greene, "so I'll be working in the garage. Like, I built a pitching mound out of plywood and some 2-by-10s for my backyard. Don't ask me why. Go ahead, ask me why. Because I want to join the men's league here in Sacramento." Greene would qualify for the 35-and-older division, and he has been waiting for the call to say a spot has opened up. "I've been to the games," he says, "but I haven't gotten to play. I have my cleats. I have everything I need. I'm ready. Put me in, Coach." (A few weeks after our conversation in early August, the Sacramento Phillies did call him up for a game in Davis. It was the first time he had played since high school, and he went one for two, noting that his second at-bat should have resulted in a base hit too, but the opposing player made a great catch. All of which is to say, he may have grown up, but some childhood enthusiasms are in Greene's DNA.)
Leisure time is soon to come to an end. The rest of the summer continues Greene and Stefano's nesting phase. Then he is off to Nashville—hence the Nashville Sounds baseball cap—for a month of rehearsals with his new band for their October tour dates. Music City is where the band members are based, excepting his longtime guitarist Nathan Dale, who lives in Sacramento.
"I couldn't imagine doing this when I was in my mid-20s," says Greene of parenthood. "I couldn't even imagine being married in my mid-20s. Now it seems like the perfect timing for me personally to dial it back, slow down a bit." He still plays "Gone Wanderin' " live in concert, of course. Fans wouldn't let him drop it. But what was once a young man's imagining of life on the road has become a father revisiting his postadolescence.
All that said, when the short fall tour is over, he's not going to just camp out in his under-construction personal studio and upload singles to the Internet. "I'm going to ramp it up again," says Greene, "because don't get me wrong, I get a little stir-crazy."