Downtown food hall The Bank announces newest purveyor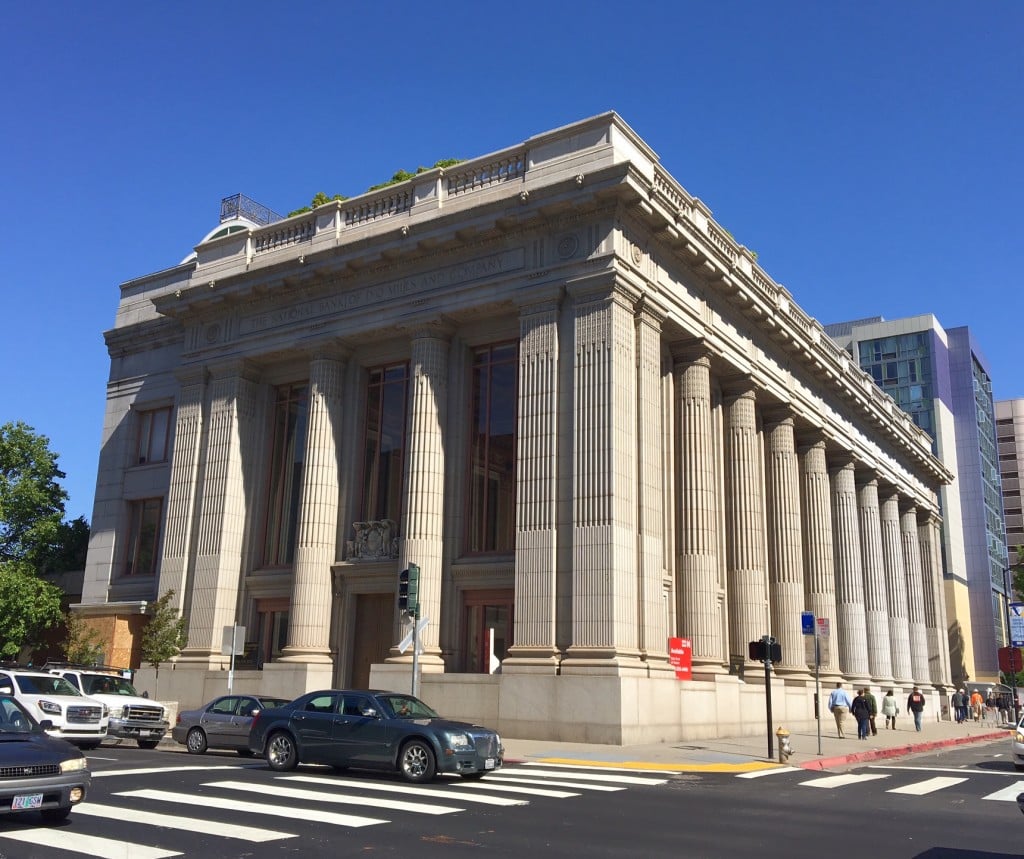 Earlier this year, The Bank announced its first tenant, Mama Kim Eats. Now downtown's buzzy new food hall—located inside the elegant 1912 D.O. Mills bank building at 6th and J streets—is bringing on board the popular midtown shop, Preservation & Co.
Proprietor Jason Poole says his company's stall at The Bank—decked out with reclaimed wood and shelves with gallon-sized jars of pickled goods—will occupy the space directly across from the food hall's first-floor bar and will also serve as a quick-service bistro and deli, offering daily lunch and dinner specials, with a limited breakfast menu.
Preservation & Co. will bring its lineup of homemade jarred products—including pickled local veggies like carrots and asparagus, and specialty condiments like sriracha salt and blackberry fig barbecue sauce—to the wooden shelves of its new stall at The Bank. The company's popular Bloody Mary mix, which is used in restaurants around town like La Cosecha and distributed in countries as far as Australia, will be used for the brunch beverage at The Bank's bar, and also sold on-site.
As far as Preservation's menu, patrons can expect a breakfast rye toast with house-cured lox and cream cheese, along with bites like house-cured olives and what Poole calls a "baseball-sized" meatball made with house-ground beef and pork served in a cast iron skillet smothered in Bloody Mary marinara sauce.
Poole is also planning a mouth-watering sandwich lineup with options like a Cubano with smoked pork and Preservation's bread-and-butter-pickles on house-made focaccia. An angled mirror above the food prep station will allow guests to watch their food being prepared and plated.
"Every condiment—sauerkraut, mustard, everything—will be made in-house and everything on the menu will have some sort of food preservation technique," Poole says.
In addition to Mama Kim's and Preservation & Co., The Bank's general manager Juliet House says the food hall will also feature gelato and ice cream from Gunther's and Conscious Creamery and baked goods from Sweet Dozen, among other local purveyors.
House says construction on the 105-year-old building has been challenging, but The Bank could open as soon as the end of 2017. Follow Sactown on Twitter, Facebook and Instagram for future updates.
557-9910. 629 J St. thebank629j.com
You Might Also Like
First purveyor announced for planned food hall, The Bank
Deschutes Brewery brings "World's Largest Pop-Up Pub" back to midtown
Bike Dog opens taproom on Broadway