Downtown Sacramento Partnership announces Calling All Dreamers 2017 winner: Milk House Shakes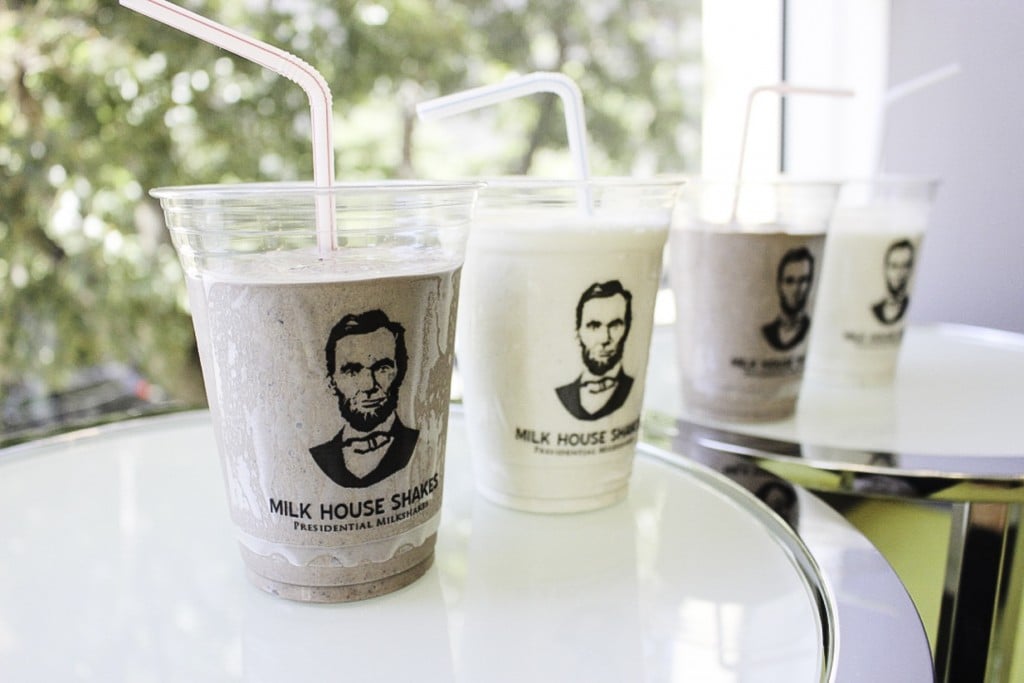 Milk House Shakes, a concept for a shop offering up milkshakes with a presidential theme, has won the Downtown Sacramento Partnership's 2017 Calling All Dreamers competition.
The shake shop founder, Kelly Boyles of Land Park, became one of the contest's 10 semifinalists in April, and then one of six finalists in May (watch her campaign video below). Other ideas included a churro and ice cream shop called the Churro Project; The Kitchen Table, a retail establishment selling kitchen tools crafted by local artisans; and Sacramento Whiskey Co., which would have been the first distillery to open in downtown Sacramento since Prohibition.
"I had come home from work and I got a phone call from Valerie [Mamone, DSP's senior manager of business development]," Boyles says. "It was so exciting. I still feel like it hasn't quite hit me yet."
Boyles wanted to combine her love of history with her love of milkshakes—she went to USC with the intention of becoming a history teacher, and loved the creative milkshakes at a cafe called Ground Zero (her favorite mixes: Oreos and coffee)—and initially wanted to launch a food truck. A candy-tasting experience at Andy's Candy Apothecary, which won the first Calling All Dreamers' contest, inspired her to enter the annual business competition instead.
Milk House Shakes will feature milkshakes named and themed after U.S. presidents, like Andrew Johnson, whose moniker graces a shake with peaches and vanilla ice cream in honor of his impeachment, and Theodore Roosevelt, whose love of coffee (he is said to have created the Maxwell House slogan, "Good to the last drop") inspires a shake with cold brew coffee and chocolate-covered espresso beans. The George Washington will feature apple pie filling and pie crust crumbs in vanilla ice cream with a cherry (yes, from a cherry tree) on top. Boyles intends to use as many locally produced ingredients as she can, including the ice cream for her shakes, as well as the coffee and espresso beverages she will also serve.
The storefront, which Boyles hopes to open by early 2018, will likely have a "modern Americana" theme, she says, with a crisp, white interior and red, white and blue accents. Boyles also hopes to engage customers with presidential trivia on the cups (she currently posts interesting tidbits weekly under the hashtag #funfactfriday on her Facebook and Instagram accounts), and she hopes to solicit customer input on new shake ingredients and flavors to reflect different aspects of the presidents' personalities or their time in office.
The Calling All Dreamers competition, started by the Downtown Sacramento Partnership in 2013, takes budding brick-and-mortar entrepreneurs and pairs them with a mentor to develop a business plan for a storefront in downtown Sacramento. Recent winners include The Allspicery and Oblivion Comics & Coffee. Several businesses that were incubated during the competition but did not win have also gone on to successful launches, like Whired Wine and Off the Chain Bike Bus Tours. As the winner of the contest, Boyles will be receiving up to $10,000 in matching funds to get her doors open in a downtown retail space, as well as help with marketing, brand development and design. Boyles is also launching an Indiegogo campaign to raise $25,000 to help with the start-up costs. The highest donation level offers the donor the chance to create and name the "Donald Trump" milkshake, among other incentives.
"I'm excited to have people come in and talk about history with strangers," Boyles says. "It's cool to know that you have this idea that's kind of quirky and other people like it, too."
For updates on Milk House Shakes, visit milkhouseshakes.com or downtownsac.org. To donate to Milk House Shakes' start-up fund, visit the shop's Indiegogo campaign.
You Might Also Like
Oblivion Comics & Coffee opens downtown
Four frozen, boozy drinks to put on your tab this summer
5 over-the-top foods to try at the California State Fair this year