Downtown Sacramento's renaissance continues with the extreme makeover of a key corner on K Street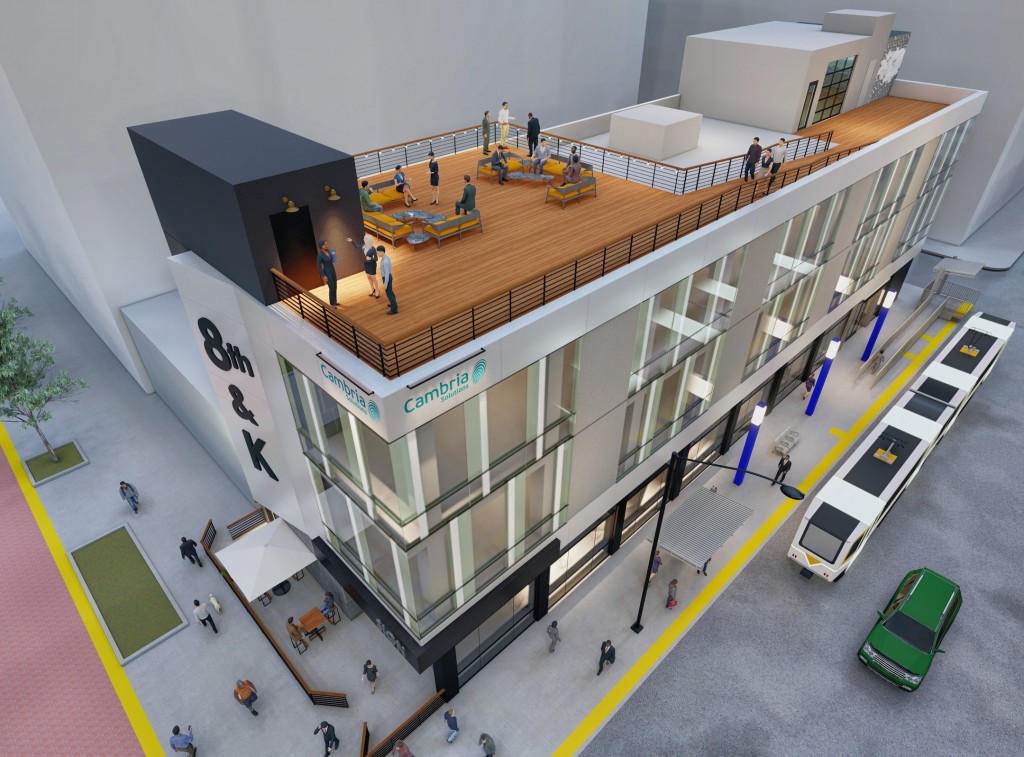 The ripple effect of Golden 1 Center continues to expand as one of downtown's most promising blocks is set to get another boost with the massive renovation of a long-neglected structure and the addition of a fast-growing local tech firm.
This afternoon, Sacramento-based real estate group Cassadyne Properties submitted plans to redevelop the former American Savings building at 8th and K streets. The three-story edifice, which has sat empty for about a decade, is being acquired from the city of Sacramento for $1.7 million.
Owned by husband-and-wife partners Robert Rodriguez and Grietje Reuter, Cassadyne already manages six residential buildings in midtown. Rodriguez plans to relocate his primary business, Cambria Solutions, from the MARRS complex to the new site in early 2019, giving the 15-year-old technology consulting firm—which currently has offices in seven cities throughout the country, including Los Angeles, Washington, D.C., and Atlanta—a prominent home base in the midst of downtown's resurgence. Cambria's growth has hovered at an average of 30 percent per year, landing it on Inc. magazine's Inc. 5000 list of the nation's fastest-growing companies seven times.
The 731 K Street venture is on a fast track. Even though the sale isn't scheduled to be finalized until later this month, Cassadyne tapped design/build firm MarketOne—whose projects include the nearby Downtown Commons and the new B Street Theatre—and DGA, a Bay Area-based architecture firm with a regional office along the R Street Corridor, to serve as partners on the endeavor soon after the city council approved the purchase last August.
The team's current plans allow for a ground-floor retail or restaurant space and room for other office tenants. "Another tech organization would be ideal," says Rodriguez. Renovations, which will cost upwards of $3 million, are estimated to begin in May.
Situated one block from Golden 1 Center, the property is directly across the street from the 700 block of K Street, which is being brought to life by the locally based D&S and CFY development firms. That project is nearing completion and will include 137 apartments, along with a host of high-profile tenants, including Solomon's Delicatessen and a new Ruhstaller taproom, as well as eateries by Kru's Billy Ngo and the folks behind The Red Rabbit Kitchen & Bar. CFY and the Sacramento Kings are also planning a 170-unit residential complex with ground-floor retail on the 800 block of K Street.
By overhauling their structure, Rodriguez and Reuter hope to contribute to the suddenly booming neighborhood. "Both my wife and I are inspired by design," says Rodriguez. "We're inspired by art and revitalization. We want to use modern materials and modern design, and yet keep the historic qualities of the building. It was built in the 1960s and has a little bit of that mid-century feel that we thought was a good jumping-off point for us. We want to bring it up to date by adding glass, wood and steel."
Taking advantage of this central location, Rodriguez says the couple's team is also seeking permits for a planned rooftop deck, which would be between 2,000 and 3,000 square feet and potentially serve as a spot for 731 K Street's tenants and the public to host special events, such as fundraisers, outdoor film festivals and intimate weddings.
"It's a really amazing view up there, but because you're only a few stories high, you still feel like you're part of the scene below," Rodriguez says. "Given the amazing weather we have in the spring and on summer evenings, I think the space has a chance to be unique. The more of these types of rooftop experiences we have in Sacramento, the more they will help continue to transform the downtown area and really make it a destination."
You Might Also Like
Fizz champagne bar to open in Downtown Commons
New cart-service restaurant and bar to open downtown
​Stunning nighttime time-lapse video shows "the sexiness of Sacramento"