Drake's Brewing Company comes to the Barn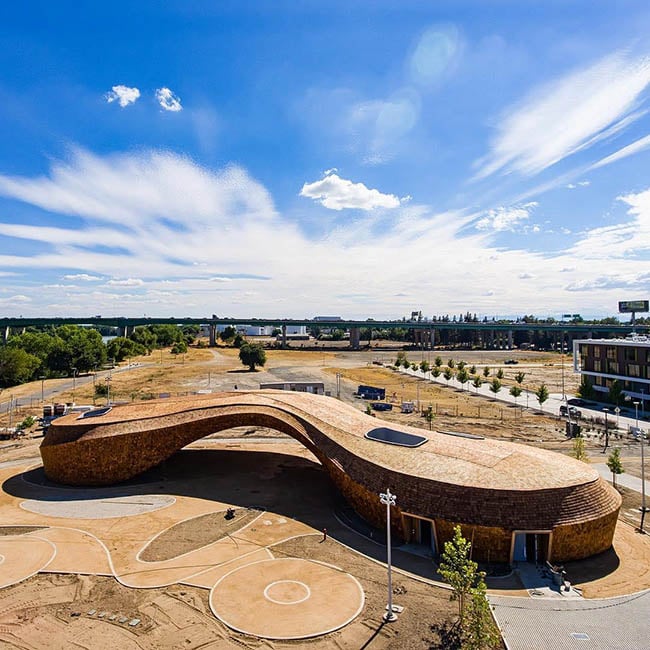 It's official: The Barn—that swoopy, undulating pavilion rising on West Sacramento's River Walk just past Raley Field—is opening to the public with a ribbon-cutting ceremony today (Friday, July 22), along with a long-awaited announcement: Drake's Brewing Company, owner of popular restaurants in Oakland and San Leandro, has been selected to operate a restaurant and bar at the Barn, with an as-yet-to-be-determined opening date in the first half of 2017. In the meantime you won't go hungry, as Off the Grid, an SF-based food-centric event producer, will be launching a weekly Friday night soirée with 12 food trucks and a full bar starting Aug. 5.
Stephen Jaycox, design director for Fulcrum Property, which developed the Barn in collaboration with the city of West Sacramento, expresses enthusiasm for the new partnership with Drake's: "They've won awards all over, they're passionate about their craft, and they're expert at creating approachable places for people to enjoy food and drink."
Drake's Brewing Company, a prominent name in Bay Area craft brewing (and named for the English explorer Sir Francis Drake), was founded in 1989 and taken over by current owners John Martin and Roy Kirkorian in 2008. The two opened Drake's Barrel House, a convivial indoor/outdoor tasting room, on the brewery's premises in San Leandro in 2011, then less than a year ago they opened Drake's Dealership in Oakland's insanely hip Hive complex, converting a former Dodge dealer's service department into a casual, rustic, kid- and dog-friendly outdoor space where patrons can sit in Adirondack chairs around fire pits, downing pints of Drake's locally famous brews. Or infamous, as in the case of the Denogginizer, a hoppy, malty Imperial India Pale Ale packing a heady punch at 9.75% alcohol by volume.
"We just kinda ripped the roof off, threw some gravel down, and went into business," Martin jokes. He's being modest (Jaycox praises the company's "design mindedness"). The Barn, Martin says, will be just as welcoming as Drake's Dealership: "We're going to have fire pits, Adirondack chairs, little picnic areas as well." It'll be kid- and dog-friendly, too, of course. And unlike most beer gardens, this one will open early to serve coffee to morning bikers and joggers along the River Walk.
As culinary destinations, the two Drake's locations are known for casual, beer-friendly cuisine—you might find fries and tots on the menu, but they'll be the elevated kind. At Drake's Dealership, executive chef Taylor A. Smith's menu is focused on "New Haven-style" wood-fired pizzas (thin, charred and chewy) that range from the traditional to the exotic—the 510, for instance, is a crafty take on the old-school Hawaiian, with harissa sausage, chili-pickled pineapple and serrano pepper. The restaurant also features burgers, small plates and specialty items like duck confit and fish 'n' chips. Martin says that Smith will serve as executive chef for the opening of the Barn restaurant (although Drake's will most likely be helmed by a local chef down the road), and while the partners haven't yet settled on the menu—or a name—for the new establishment yet, wood-fired pizza will almost certainly featured.
Lest you worry that an out-of-town restaurant group might not be hip to the locavore ethos that pervades Sacramento's culinary scene, be assured, Martin says, Drake's is going to be about as local as it gets. The Winters-based Center for Land-Based Learning, which has developed urban-agricultural sites in West Sacramento, is working on a plan for developing an urban farm project at the Barn. "I've kinda been calling it the Barn and Farm," Martin says, adding that the Center's executive director, Mary Kimball, is an old friend. "So that's perfect," he says. "It's right on the property. And she has a whole network of local farmers, so that's all part of the plan."
"Sacramento is a great town for Drake's," Martin says, noting that it's been listed as one of the top ten beer cities in the country. "I come up for Sacramento Beer Week every year, and other times as well. It's really been amazing [how] it's come out of nowhere. Six or seven years ago Sacramento wasn't known to be a craft beer town at all." Martin says half the beers on tap will be Drake's offerings, and half will be sourced from local brewers. "They're our friends, so we want to serve their stuff."
As for the Barn itself, which was profiled in Sactown's June/July issue, it's a new take on public space, the product of a close and harmonious collaboration between the city of West Sacramento and Fulcrum Property, the latter owned by prominent local developer Mark Friedman, who also developed the Park Moderns residential project adjacent to the Barn. Clad in cedar shake shingles to reference our area's agricultural heritage, its dramatic, modern silhouette was designed by New York-based Dutch landscape architect Jerry van Eyck, who also designed the first (and only) public park on the Las Vegas Strip. It's a visionary building, yet far from being imposing or grand. The Barn is an impressive sight to encounter on a stroll down the River Walk, an intimate, accessible structure that invites you to explore the shelter and vistas it provides. At the same time, it's built to accommodate crowds. Offering 6,000 square feet of shade, it's intended to serve as a public gathering space to anchor The Bridge District, the emergent neighborhood rising on the riverside between the Tower Bridge to the north and Highway 80 to the south.
While the Drake's team dreams up its menu and builds out its kitchen, Fulcrum has plans to bring a number of weekly and one-time events to the venue, starting with Off the Grid's Fridays at the Barn. The weekly event will take place beginning Friday, Aug. 5, from 5-10 p.m., with a dozen food trucks, music and dancing. Off the Grid founder Matt Cohen envisions "something that's a take on a modern barn dance. Aesthetically, we're trying to do something that feels like it matches the modern use of the Barn itself, something people will want to spend their Friday evenings at."
Capital Public Radio DJ Nick Brunner, host of the Saturday night program Blue Dog Jam, will curate the music, and artisan cocktail catering company Rye on the Road will provide a full bar with cocktails, beer and wine. "We're trying to make that area feel more lively and energized," Cohen says. "We're hoping that there's a combination of families coming to check it out earlier in the evening, people getting off work using it as a happy hour meeting place, and then people getting ready to go out stopping by as the live music gets started."
Jaycox is quick to point out that the Barn is a multifaceted venue. "The Barn is a lens through which we are able to examine ourselves, our experiences, and who we are." Fulcrum is working with TEDx to schedule an event, and talks are in the works for other lecture and discussion series. The city of West Sacramento also has some events up its sleeve, possibly including the dedication of a work of public art or two as The Bridge District continues to fill in.
Friday Nights at the Barn: 5-10 p.m. August through October. For more information, call 415-399-5888 or visit offthegrid.com
You Might Also Like
Free Art Friday Scavenger Hunt Launches in Sacramento
An Exclusive, Parisian-Inspired Pop-Up Event is About to Paint Our Town White
Off The Grid Food Festival Launches in Sacramento