Drawn From Life
Illustrator Pascal Campion turns ordinary moments into extraordinary works of art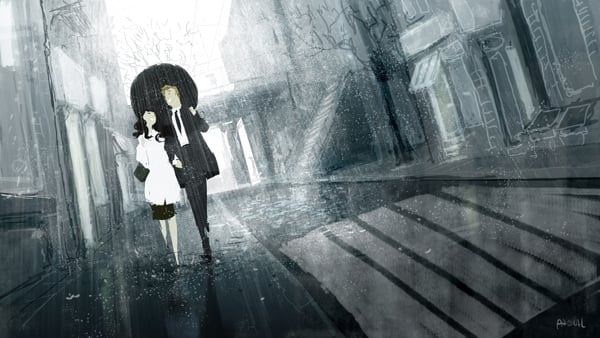 TThe hottest, most prolific art operation in Sacramento is run out of a converted two-car garage in Arden Park. Here, a 6-year-old consultant sits shotgun to the artist, offering creative advice and printing pieces to sell from her dinosaur of a PC. Twin 3-year-old boys and a butterscotch-colored Shih Tzu named Charlie (or maybe Charley—his owners say they never committed to spelling his name, just to speaking it) scurry in and out of the room with curiosity and cheer. At a desk on the other side of the room, the children's mother tracks orders from clients like Marvel Comics, Disney, DreamWorks Animation, Nickelodeon and other cultural monoliths while coordinating a self-published book release that will find the space clogged with 3,000 hardcover tomes in November.
This studio—like the volumes of sketches, concept drawings, animations and other art produced inside it—didn't even exist before June, when Pascal Campion and his family came to town. Today, though, with the French-American artist at its center, it alights and surges like a kind of chaotic dawn. It's fitting, since Campion usually rises before the sun to get to work on his customary "Sketch of the Day" that he'll post online for his fans and followers (including more than 180,000 Facebook devotees alone) around the world.
"My Sketch of the Day is very … instinctive," Campion says during a lull between assignments, his lanky frame coiled in a wingback chair at the center of the room. "I don't know what I'm going to draw. Sometimes I'll be drawing and I still don't know what I'm doing until I'm 15 minutes into it. I don't want them to be directed. It's my moment to be free—to do whatever I want."
Campion has accrued enough of these moments since 2005 to curate his favorites in his new book 3000 Moments That Happen When You Are Not Paying Attention. The sketches are stories, melding potent visions of whimsy, romance, tenderness, mystery and light into Campion's distinct world of color and emotion. His work belongs as much to the traditions of light-worshipping impressionists as those of French graphic novels (both of which he cites as influences), cinematically depicting frolicsome children, enthralled parents and couples, intoxicating cityscapes, animals pogoing across plains, and nascent courtships. You might have missed some of the moments even if you had been paying attention—say, a moody monkey smoking a cigarette by a window, or Spider-Man in the middle distance, dangling upside down at the end of a web—but that doesn't mean they didn't happen.
"People ask, 'Are these all experiences you've had?' " Campion explains. "I say, 'Yes, they are.' Even the animals, even the superheroes, because they represent an emotion I've had."
And now Campion's early-morning moments are coalescing into a more figurative, open-ended career moment, one that is seemingly about to overtake the actual world around him. For starters, there is the recent Kickstarter crowdfunding project that Campion launched to support the publication of 3000 Moments, which raised a total of $106,329 in a month—seven times its goal of $15,000—and still keeps Campion busy planning his shipping strategy to fans from Germany to India and Australia. Then there is the document from Paramount Pictures sitting on his desk, a top-secret story treatment awaiting Campion's concept art and other visualizations that the studio may adapt for an animated feature. There is the DVD on the shelf beside his desk, reminding him how Oscar-nominated animator Bill Plympton—an admirer—traded Campion for two of his prints at this year's San Diego Comic-Con. There is the growing collection of Campion's art commissioned by Marvel, including cover variants for famous titles like Iron Man and Guardians of the Galaxy and a poster for Marvel's TV series Agents of S.H.I.E.L.D.
"It's really just the thought that he puts into it," says George Beliard, a Marvel executive who invited Campion to contribute work to the comic book giant in 2012. "While a lot of it is in the execution, it comes before that. He just has such a knack for understanding the emotion of a situation and figuring out the best way to capture that as an image."
And then there are Campion's well-received gallery shows from Paris to Burbank, the periodic art workshops he leads and cherishes, and the prospect for opening a storefront and educational space in the heart of Sacramento—the city where the erstwhile Bay Area resident had barely settled in with his family this summer before the Internet further reinforced his phenomenon.
Then again, Pascal Campion is all about speed. He'll sketch world-class art within 90 minutes. He'll animate a music video in 72 hours. His Kickstarter reached its 30-day target in its first 24 hours. "The only reason I've had the career I've had is because of how fast I am," says Campion, who turns 41 on Oct. 13. "I have at least 50 friends who are better than me at the actual art itself. But in terms of speed, I'm definitely one of the fastest I know."
He certainly hasn't wasted time getting the lay of the Sacramento land, to which he relocated his family from the pricey confines of Foster City after exploring with his wife and business manager (and sometimes muse) Katrina Finnegan Campion. They had planned a move for a while; he didn't want to go south to Los Angeles, she didn't want to go north to Portland. So they turned to the expanses of the east, particularly the capital city where Finnegan Campion visited as a girl with her parents, where Campion could ride the American River Bike Trail, and where their children could receive the schooling that the Campions wanted for them. They could own a much larger home, and there might even be enough money left over for a family vacation to France.
And maybe a gallery on the grid.
"We're thinking of the idea of Studio Pascal," says Finnegan Campion, who foresees a hub of prints, workshops, lectures, events and more for her husband. "That's what we always had in our vision when we moved here. I just never thought it would happen that fast."
Campion learned the value of quick work early. Born in New Jersey and transplanted to the southern French village of Martigues at age 3 after his parents split (Campion's mother is French; his father, from Albany, N.Y., met her while working for the French maritime company Comex), Campion first undertook sketching at age 7 upon discovering comic books—and only then because his older brother withheld his editions of Iron Man and Wolverine from the boy until he'd assented to try drawing the characters. Those swift sketches soon inspired comics of Campion's own, epic tales of a nameless stick-figure superhero who rescued people from forest perils. "I wasn't interested so much in the drawing itself," Campion says. "I was interested in the storytelling with those drawings."
While other little kids drew well without seeming to try, Campion was in high school before he felt confident enough to admit he might have both the drive and talent for art. He loved perusing graphic novels, and decided to pursue a degree in narrative illustration at Arts Décoratifs in Strasbourg. Within a year, he was studying abroad in Boston at the School of the Museum of Fine Arts, where he picked up work as an animator with Tom Snyder Productions, the company behind TV series like Dr. Katz and Science Court.
There, Campion experimented with computer animation and illustration, picking up the tools and methods—and, yes, speed—that he still uses today. His movements are themselves a type of art: At his desk, his left hand stretches over his keyboard like a claw, long fingers jabbing software commands while his right hand pulls lines and strokes and swaths of color across a digital sketch pad. Campion's eyes dart and sweep across his monitor from behind black-rimmed reading glasses. Lines fill the white space. Color fills the lines. Light floods over the color. Watching him, it's staggering to think of the thousands of sketches and cartoons and videos that have evolved like this since he moved to the U.S. in 2002—first to Portland, then to Honolulu, where he worked for a producer of educational games and met his future wife.
"He's always about art and beauty—just a complete romantic," says Finnegan Campion, whose first extended conversation with Campion involved him phoning her during a long hike to Oahu's Diamond Head Crater. The couple dated until shortly after moving back to the mainland in 2002—she to her home turf of San Mateo County, and Campion back to Portland, where he worked for three years before rejoining Finnegan in California.
In 2005, while designing educational games and software for Leapfrog in Emeryville, a team of artists he oversaw returned from a journey to Comic-Con with stacks of sketchbooks from artists like Pixar veterans John Nevarez and Sanjay Patel. Thumbing through the books, Campion was blown away by the feature-quality art, the storytelling in the images and, not least of all, the business prospects. "I thought I'd do a sketch a day," he recalls. "And at the end of the year, I'd go to Comic-Con and sell a sketchbook, because that's what everyone is doing."
Two years later, the landscape of his life and career had completely changed. The simple sketches—a monster or robot here, a funny character or animal there—first circulated among Campion's friends. A video game producer who saw Campion's work soon asked to be included among the sketches' recipients, and so a Sketch of the Day email list was begun. More observers signed up after seeing and sharing Campion's sketches on his blog. Within two months, a producer from Disney TV called to enlist Campion for a series of shorts the company was developing.
"[Pascal] always manages to deliver such an emotional gut punch when it's needed," says Marvel exec George Beliard.
Campion made it to Comic-Con with his sketchbook in 2006 (as he has every year since) and also set up a studio in San Francisco, soon fielding a call from Nickelodeon for work on its series Bubble Guppies. Next, DreamWorks Animation rang in search of concept art for the feature project Me and My Shadow (which led to more collaborations, such as for this year's Mr. Peabody & Sherman and November's spinoff Penguins of Madagascar). In 2007, when the quirk-pop duo They Might Be Giants sought animated music videos to air on the Disney Channel for its kids' release Here Come the 123s, Campion knocked one out for the track "One Dozen Monkeys" in three days—just before his wedding to Katrina. (He says the video remains one of his most beloved projects.)
Fatherhood further rocked Campion's art, with daughter Lily arriving in 2008 and twin sons Colin and Max born in 2010. The kids like to join Campion at his computer, offering comments, thoughts and jokes; Lily often makes her own art at the workstation adjacent to her father's. ("She'll do books," Campion says. "For a while she wanted to come [to meetings] with me at Disney.") Family scenes and children's play heightened the inherent sweetness of the work, informing Campion favorites like Sleepy Head (depicting the artist delicately leaning over a crib's edge to kiss his slumbering daughter) or The Dance (featuring a young man dancing alone, then with a toddler, then a girl whom he sends off as a grown-up before dancing alone once again). In all of Campion's work, the real power comes through in the eyes: While his exaggerated bodies bend and twist in light that feels conjured from the movies, their eyebrows rise and fall and slope and levitate over simple black dots where a subject's passion—however subtle, unbridled or wounded—practically flows out of the page.
It's this knack for feeling and economy of storytelling that captivates ardent supporters like Marvel's Beliard, who stunned Campion in 2012 by commissioning a cover image of Wolverine—the artist's favorite comics character. "The thing that hit me with Pascal is the way he always manages to deliver such an emotional gut punch when it's needed," says Beliard, who has since published Campion cover variants featuring heroes from Captain America to Guardians' Rocket Raccon. "The Wolverine [illustration] has the gravity of a man who does not want to be the killer that he is. It's just a beautiful piece."
The 3000 Moments project, which attracted more than 1,600 backers to Kickstarter, comprises an even more feverish group of Campion fans. According to the artist, at least four of the 19 backers who are entitled to a personal sketch intend to use their Campion commissions as part of a wedding proposal. "I can handle the other parts," he says of the self-publishing, printing and shipping of the book and the project's other rewards. "But I want to make sure I get that emotional charge they remember—that they'll look at it in a few years and be like, 'That was it.' It's the same as when I do a big job. I want to give everybody exactly what they want."
Meanwhile, the Campions expect the book to be available at pascalcampion.com in late November, while their vision of a studio in the city continues to take shape as well. "We looked around midtown, we ate at LowBrau," Finnegan Campion says. "We thought, 'We could see a studio here.' That's not necessarily feasible in the Bay Area. It was something that was in both of our minds as part of the decision to come here—the ability to really breathe, stretch and grow."
Until then, the fast-working, perpetually sketching Campion has plenty to keep him busy, even if he can't yet pinpoint what the next task is. "I'm more interested in seeing the kids grow and what their next steps are," he says, leaning down to pet the ever-excited Charlie/ey from his perch on the wingback chair. "I'll find something. I always find something."