Drive-in double feature hosts "American Graffiti" and new documentary for classic film fans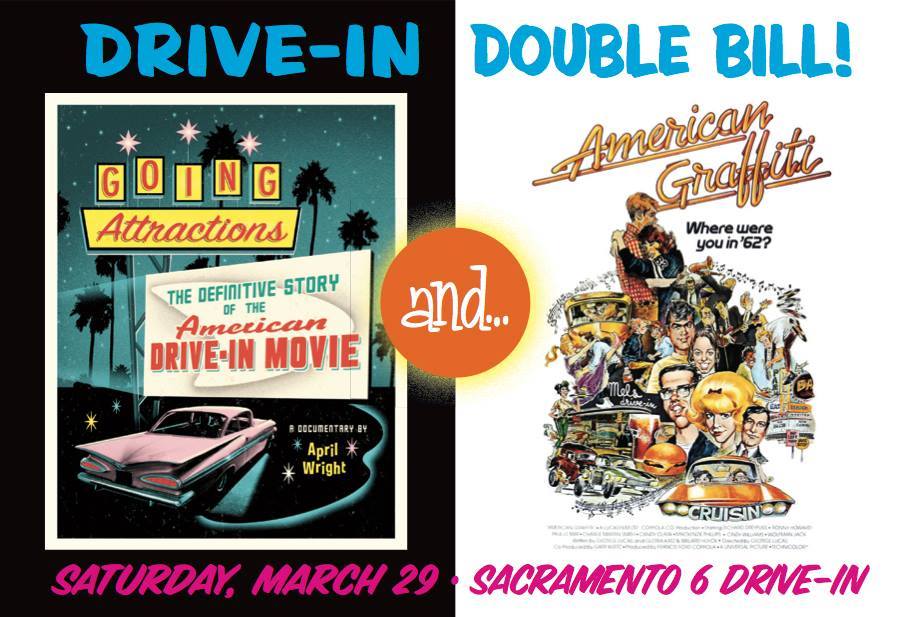 Instead of plopping down on the couch for another night of binge streaming, hop into the car for a drive-in Saturday when George Lucas' cruise-culture classic American Graffiti accompanies the 2013 documentary Going Attractions as part of a double feature this weekend at the West Wind Sacramento 6 theater.
Going Attractions, which opens the double feature at dusk, chronicles the mid-century heyday, late-century decline, and contemporary resurgence of America's iconic drive-in pastime. Lucas' 1973 hit and five-time Oscar nominee, about a night in the life of cruising teens in Modesto, will close the program. SacMod, a group striving to preserve and promote modern art in the Sacramento region, is hosting the event and will precede the screenings with a classic auto show featuring Sacramento-area car clubs.
Going Attractions director April Wright, who will be on hand Saturday to discuss her film with moviegoers, categorizes her film as a biography—"the life story of the drive-in," she tells Sactown. Unfortunately, she adds, this life has seen better days. Against the advent of both the multiplex and the Internet, drive-in business has slowed considerably since its mid-20th century peak. According to Wright, around 95 percent of drive-ins that thrived at the time have closed, meaning the West Wind Sacramento 6 (which opened in 1972) is one of the rare remaining survivors to provide this vintage open-air entertainment.
But, as Wright's movie shows us, all hope is not lost for the drive-in. "There has been a recent resurgence in the 2000s," she explains, "with more than 35 new drive-ins being build from scratch and another 35 old ones being restored and reopened."
So whether you're packing the kids into the SUV or picking up a poodle-skirted date, West Wind's double feature is just the ticket. Netflix, Hulu and HBO will be there when you get back.
Admission to the double feature is $7.25 per person. Gates open at 6 and the screening begins at sundown, rain or shine. West Wind Sacramento 6 Drive-in. 9616 Oates Dr. 363-6572.