The Heart of a Giant
When it comes to baseball, Dusty Baker plays to win. He's also living proof that the most important stats aren't measured in hits and runs, but in heart and soul.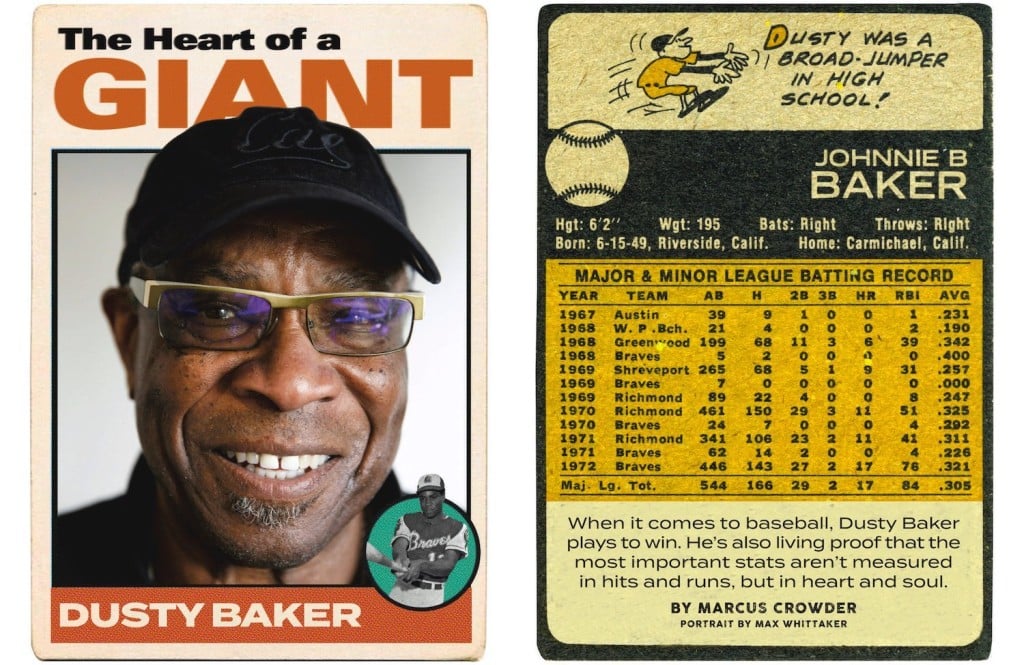 Without a second opinion, Dusty Baker might never have been the star athlete who morphed into one of baseball's winningest managers. As a teenager in 1966, a benign heart murmur was misdiagnosed as a significantly more serious condition. He was told to quit all strenuous activities—particularly football, which he loved. "They told me I'd never play sports again. I was 16," Baker says, sitting in the empty tasting room—closed due to the pandemic—of his West Sacramento winery, Baker Family Wines, in early January. His family had just moved to Carmichael from Riverside after his dad landed a job at McClellan Air Force Base, and he'd already made an impression as a touchdown maker at Del Campo High School in Fair Oaks. But his father, Johnnie B. Baker Sr. (Dusty is Johnnie B. Jr.) wasn't convinced that his oldest son's athletic career was over before it had really begun. The elder Baker took his son to be evaluated at the then-new Kaiser hospital in Oakland. The specialist there told them that Dusty's condition was not life-threatening—he said the lanky teen would simply grow out of it and that he could resume sports. So Dusty returned to his team just in time for the season's last game, joyously splashing through the rain and mud. "That was the most fun I ever had," he recalls.
That a brief cardiac issue would temporarily sideline Dusty Baker carries a poetic irony since, in many ways, his heart is one of his defining attributes.
"He made you feel like you could do anything on the field," says Kirk Rueter, who pitched seven of his 10 seasons with the San Francisco Giants while Baker was the manager. "He was always positive. You always felt like he was in your corner and he cared about you. He became a father figure when you were struggling because he wanted you to do so well."
And when Baker was tapped last year—at age 70—to revive the scandal-stained Houston Astros, it wasn't just for his lifetime of baseball acumen. "This team was going to need a leader and they were going to need someone that everybody loved," says sportswriter Chandler Rome, who covers the team for the Houston Chronicle. "And it's pretty obvious that everybody loves Dusty Baker."
A New York Times headline in October read, "Dusty Baker: The Beloved Manager Leading a Hated Team," and the story's subtitle stated that he had "earned unrivaled good will over five decades in the majors."
So yes, it seems everybody loves Dusty.
After all, it's hard not to, with the infectious smile that he's quick to flash and, for players, the nurturing approach he takes to managing them.
It was certainly a different approach than the one his dad took with him.
"My dad cut me from his Little League team three times," Baker says.
"He said I had a bad attitude," he adds. "I had a bad, horrible temper. I threw my bat up against the wall one time. He cut me. The next time, I threw my glove down, and he cut me." Once, after getting hit in the head by a pitch, Dusty wanted to quit playing baseball and get a paper route instead. His dad wasn't having it.
"My dad said that no son of his is going to quit. He said, 'If you want to quit at the end of the season, that's fine, but you ain't quitting even before we [really] get started,' " Baker recalls. Those lessons stuck with him. "He said if I could take that bad attitude and put it in a positive direction, that I could be something one day."
It turned out his dad was right.
More than a half-century after those lessons were learned, Baker has become the teacher now, and holds one of only 30 coveted Major League Baseball manager jobs in existence.
He's taken all five teams that he's managed—the San Francisco Giants, the Chicago Cubs, the Cincinnati Reds, the Washington Nationals and now the Houston Astros—to the playoffs, the only manager to have ever pulled off such a feat. He's also a three-time National League Manager of the Year.
So what drives Baker, now 71, to keep going?
First, he'd really like to get to 2,000 wins (he's at 1,892 now), which would likely take two more years barring an extraordinary 2021 season from his Astros. In fact, two more seasons would also likely land him in the list of the top 10 winningest managers in baseball history. (Baker currently sits at No. 15.)
Second, he wants to win a championship as a manager. He won in 1981 as a player with the Los Angeles Dodgers, but as a manager, it's the one elusive element for the likely future Hall of Famer.
Come April 1, Baker gets another shot at it as he starts his second season managing the Astros, which he took to the seventh game of the American League Championship Series last season—only one game shy of the World Series.
And he did it as the eldest manager in professional baseball last year, shattering perceptions that he was too old for today's game.
"I don't want to sound cocky, but I think I'm one of the best at doing my job," Baker says. "For a long period of time, I didn't say it, but I think I'm one of the best. I spend a lot of time and energy thinking about what I do."
Perhaps some of his reticence to acknowledge what is obvious to so many around him is that his father taught him to let his effort speak for itself. As a young Black kid in a mostly white Little League, his dad told him he had to be "twice as good [as everybody else] to accomplish the same thing."
Baker remembers helping his dad with his part-time job doing lawn work in Riverside, where he was born, when a rich classmate told Dusty to pick up a piece of trash on his family's lawn.
"I wanted to go beat his ass," says Baker. "But my dad said, 'Go get the piece of paper, son. I need this job. But when you get to school, and you're playing flag football, you play tackle.' " Dusty picked up the trash. "The next time we played, I ran over him," he recounts with a laugh.
*********
To fully appreciate the depth of Baker's competitive spirit, look no further than his years at Del Campo, during which time, according to The Sacramento Bee, he was "the first Sacramento athlete to ever attain first-team all-city honors in three sports."
Amazingly, baseball wasn't one of them.
Baker played the game, of course, but most of the attention he garnered was due to his exploits in other sports. The teenage phenom was then a star athlete in football, basketball and track. He was, in fact, considered Sacramento's best broad jumper. He also excelled at the long jump and 100-yard dash. One Bee article called him "the lad with the golden touch" on the basketball court, while a post-football-game recap gushed, "Dusty Baker whipped up a delectable confection, which spelled the sweetest victory in Del Campo High School athletic history last night."
But despite the avalanche of accolades for his prowess in each of these three sports, it was the one he was least known for that made the headlines one warm Sacramento day.
On June 15, 1967—Baker's 18th birthday—the Bee announced that he'd been drafted by the Atlanta Braves.
"I prayed that the only team that I wouldn't get drafted by was the Atlanta Braves," Baker says. "Because I didn't want to go to the South."
When the family moved to Sacramento in 1966, Dusty and his brother Rob were the only two Black students at Del Campo. His other younger siblings were the only Black kids at their schools too. The Carmichael neighborhood where the Bakers bought a home actually held a vote to decide whether to let his family move in.
"I had come from all-white Carmichael, where I wasn't really accepted," he recalls. "And then I went to the South, and I wasn't accepted there either."
"My first day of pro ball, I had a manager who said, 'Hey, who all here is from California? Raise your hand.' I raised mine with about six other guys. He goes, 'I want all you weirdos to get in a corner and dress together so you don't screw up the rest of my team.' "
After a slow start in the minors, he was demoted to Single-A ball in West Palm Beach, Florida, and Greenwood, South Carolina. "I couldn't eat where the white players ate," recalls Baker. "I couldn't live where they lived."
But it was in Greenwood where he found his footing.
In an August 1968 Bee article—which also cited Baker's high batting average (.324)—the Greenwood Braves manager was quoted as saying, "Dusty's very popular with the players and the fans. They cheer him every time he comes to bat—and I guess you could say that's a little unusual in the South, the fans cheering a Negro boy."
The manager also said he had a nickname for Baker: "The Little Hammer," in reference to "Hammerin' Hank Aaron." The same story noted that Baker was being called up to the Atlanta Braves later that week.
If there was a silver lining to being drafted by the Braves, it was that it brought the great Hank Aaron into his life.
*********
It was the summer of 1967 and Baker had just graduated from Del Campo. He was about a week away from committing to Santa Clara University on a basketball scholarship when the Braves offered to fly Baker and his mother Christine down to Los Angeles to meet members of the team, who were in town to play the Dodgers.
That was where he first met Aaron. "He told the Braves I had more ability than he had seen before in the organization," says Baker. "That's one of the reasons they pushed for me so much, because he liked my ability."
Baker's parents had recently gotten divorced, and as the oldest of five kids, he felt like he needed to provide for his family.
"I said, 'Well, I gotta do what I gotta do,' " he remembers. And he signed the contract on the hood of a car in the Dodger Stadium parking lot.
It was his father's dream that he go to college, and Baker's dad attempted to nullify the contract with the Braves. Baker and his father stopped speaking for three years.
But Aaron, who was 15 years older than Baker, assured Christine that he'd look after Dusty when the rookie got to Atlanta. "Hank promised my mother he'd take care of me as if I were his son," Baker says. "He made me go to church. I ate with him every night."
When Baker was growing up, his mom, who taught Black studies at Sacramento City College, encouraged him to read works by civil rights leaders like Malcolm X and Martin Luther King Jr. Now Baker was accompanying Aaron—who was very involved with the civil rights movement and the Atlanta NAACP—to the homes of King's contemporaries who were playing significant roles in the changes sweeping through the South, including the Rev. Jesse Jackson and former Atlanta Mayor Andrew Young, both of whom were standing with King when he was assassinated.
As fate would have it, Baker—as the next batter up—was also by his mentor's side, almost literally, on April 8, 1974, when Aaron hit his 715th home run, which broke Babe Ruth's record for most career home runs.
"It was a relief for him," says Baker. Aaron was under intense scrutiny by many who didn't want to see a Black man beat Babe's record. "[In hotels], he had two rooms that he booked," says Baker. "One was a dummy room, because he got a lot of death threats. The worst in people came out. We saw a lot of what we're seeing now. It was a tough period of time for him."
Baker and Aaron played together for seven seasons until Aaron left for the Milwaukee Brewers in 1976, but the two stayed close.
The following year, Baker was traded to the L.A. Dodgers. In all, Baker played 19 seasons in Major League Baseball, retiring from the Oakland A's in 1986 with a career .278 batting average, 242 home runs and 1,013 runs batted in. He was a two-time AllStar and the MVP of the 1977 National League Championship Series. The outfielder earned a Gold Glove in 1981, the same year he won the World Series with the Dodgers.
Baker is also credited with being one half of what is believed to be the first-ever high five in history. On Oct. 2, 1977, after he hit a home run for the Dodgers in the last game of the regular season, the on-deck batter Glenn Burke greeted him with his right hand raised high in the air. Not sure what to do, Baker jumped up and slapped Burke's hand. The high five was, it appears, born in that moment. Baker gives all the credit to Burke, while others insist that it obviously took two to make it happen. As Baker later told ESPN about his instinctive reaction, "It seemed like the thing to do."
Nine years and countless high fives later, he hung up his cleats at the age of 37. But Baker's career in the sport was just getting started, and it was his next chapter that would catapult him into the biggest leadership role of his career, and one that would eventually bring him back home.
*********
In the 1990s, Marcos Breton was a Bee reporter who was new to sportswriting, and one of his first beats was covering the San Francisco Giants. The team's manager was Baker.
Baker wasn't new to the Giants, however. Not only had he spent a year with the organization as an outfielder, but he became the team's first base coach in 1988—two years after retiring as a player—and spent five years working his way up to manager in 1993.
For Breton, covering sports was "a culture shock." Accustomed to interviewing politicians, Breton soon found that pro sports figures were far less friendly to the press. "Some of these folks, they make so much money that they treat the media like absolute dirt. They don't feel any compulsion to respond if they don't want to and they see you as a lower form of life," he says.
But, he's quick to add, "Dusty was not that way. From the outset, you could tell that he's just different from anybody in sports in that he takes the time to get to know you as a person. He's really great at what he does, but he's an even better human being."
While Baker has many qualities that prepared him for a leadership position in the major leagues—his intellect, his drive, his passion, to name a few—it's his nurturing nature that has set him apart, in terms of longevity and success. He has earned a reputation not just for developing players as athletes, but also growing and guiding them as people, much the way his parents, Hank Aaron and many others did for him.
And it didn't take long for Baker to capture the attention of the sports world when, in his first year as manager of the Giants, he led the team to a 103-win season. He went on to spend nine more years with the team, his tenure culminating in the franchise's first National League pennant in 13 years.
He then spent four years managing the Chicago Cubs and six years managing the Cincinnati Reds. In 2016, after a three-year break from baseball, Baker returned to the dugout to helm the Washington Nationals, which he did for two seasons.
It was during an earlier hiatus that Baker decided to return home to be closer to family. "When my dad was ill, I came back to help take care of him," says Baker, who decamped to Granite Bay from the Bay Area in 2007. "He had dementia. I was here that year and it's one of the best things I ever did in my life."
The following year, Johnnie B. Baker Sr. sufffered a stroke and passed away in 2009. "The toughest thing that people do in life is to forgive each other," Baker says of his famously rocky relationship with his dad. "And I can hold a grudge, man. But you've got to work on yourself." Last year, in tribute to his late father, Dusty even changed the way his name appeared on the back of his jersey, adding the suffix 'Jr.' for the first time in his career.
In 2012, Baker, then 63 and managing the Reds, faced his own health battle. It was his heart again, this time in the form of an irregular heartbeat. He was admitted to the hospital, then released, but suffered a ministroke as he was being discharged. He made a full recovery and returned to the team shortly thereafter.
Just a year later, Baker would launch a new passion project that would come to consume him almost as much as his beloved baseball.
*********
Due to a fortunate series of unlikely events throughout his career, Dusty Baker developed a passion for wine—first drinking it, but then making it.
"Willie got me into it," says Baker, referring to his friend Willie Stargell, the late, great first baseman of the Pittsburgh Pirates. "I'd go over to his house and he'd start talking about wine, this year and that year."
Then when Baker was the Giants manager in the '90s, one of the team's owners, Phil Greer, introduced him to Robert Mondavi's son Michael, and Dusty's exposure to quality wine increased exponentially. Baker was invited to join the advisory board of the Robert Mondavi Winery and even had it written into his contract that he and his coaches would receive cases of wine as part of their reimbursement from the team.
When Baker relocated to Granite Bay in the late aughts, he bought a 5-acre spread in the area. An avid outdoorsman (he and Mondavi would take hunting trips together), he initially wanted to add a bass pond on his property, but his insurance agent told him it might flood out his neighbors.
So instead, Baker pivoted to growing grapes and making wine from his "gentleman's vineyard." A friend at the Mondavi company hooked him up with Chik Brenneman, a respected winemaker who was working at UC Davis' Department of Viticulture and Enology. Brenneman picked out the rootstock (syrah) and the two designed and planted the vineyard in Dusty's backyard together.
At the time, Brenneman was happily situated at UCD, where he was helping plan and build the state-of-the-art winery at the school's Robert Mondavi Institute for Wine and Food Science.
"One thing led to another and we started bottling some of my juice," Baker says. He started bringing bottles of "Dusty's Vineyard Syrah" to various Sacramento events, and the wine began to gain a following.
Encouraged by that first taste of success, Baker wanted to turn his hobby into a commercial enterprise, and he approached Brenneman multiple times about joining him, but Brenneman politely resisted. Eventually, however, the veteran winemaker and his wife Polly ("Mrs. Winemaker") figured out an arrangement that would appeal to them. Brenneman told Baker he wanted to form a partnership.
"I didn't really want to go to work for somebody else. I really wanted to go to work for us, as a team," Brenneman says. He had reached a point in his career where he wanted to exert more independence over the kinds of wine he produced.
A deal was struck, and Baker Family Wines launched in 2013 under the newly formed B & B Wine Company.
That Baker would embark on this venture wasn't surprising to his daughter Natosha Baker Smith. "He's a hunter, he's a fisherman, he's a survivalist," she says. "He's a very eclectic man and a lover of music and the arts. He farms. This was only natural." Smith, a graphic designer, created the website and managed the social media pages, while her husband Tim, also a designer, created the bottle labels with the graphic featuring a close-up of the red stitching on a baseball.
To make a go of it, they needed somewhere to produce, bottle and store the wine. Brenneman found a winemaking co-op at Treasure Island in the middle of the San Francisco Bay, securing a coveted spot for their operation. Their first bottling—which produced about 130 cases—took place there.
But after years of sharing their production facility and commuting to the Bay, they knew they needed a space of their own and one that was closer to home to fully realize their evolving vision of a working winery and tasting room. So they moved operations to West Sacramento in 2019 and set up shop at an industrial park in the city's port district.
Baker Family Wines offers reds like zinfandel and syrah, blends of those, and a proprietary red blend of barbera, sangiovese and petite sirah. The whites are a sauvignon blanc and a sauvignon-sémillon blend. Most of the grapes are sourced from growers in the Sierra foothills and Sonoma County, but one of the syrahs, the aptly named Dusty's Vineyard, still comes from Baker's Granite Bay homestead. And if you think this is simply a vanity project for Baker, think again.
"Today, my buddy and I were out pruning," he says. "When I was here during the summers, Chik put me in charge of pruning, pinching and irrigation. He used to be gone during summers, taking Davis students to Italy and France to study abroad and he'd leave me in charge, and I'd be out there every day. That was my way to relax. I enjoy farming. I can grow anything, and I enjoy it. That's as close to God as I can get." In fact, Baker's nickname comes from his mom, who called him "Dusty" because he played in his father's garden so often as a boy. (Another fun fact: His middle initial, B, isn't short for a name; it's simply a letter.)
Last year, the team added a cabernet sauvignon—the label's first—because, as Baker casually mentions, they brought on a new investor who wanted a "bold cab."
The new investor in the upstart winery? Hank Aaron.
Baker explains that about two years ago, he took Aaron to a tasting at Opus One Winery in Oakville, where they served, among other varietals, a cabernet that instantly caught Aaron's attention.
He turned to Baker and asked, "Do you make a cab?"
"I said, 'No, we make a zinfandel,' " Baker recalls. "Hank said, 'I want a bold cab.' So I went to Chik and said, 'Hank wants a bold cab—whatever that means.' "
"Mr. Aaron wanted a cabernet, so I had to deliver," Brenneman says. He used cabernet grapes from a vineyard in Fair Play, an El Dorado County town with a fortuitously sports-related name, where they already sourced some zinfandel. "It's unique in itself because it's not Napa. It's a testament to growing the right vines on the right site, because not all cabernets do very well in the foothills."
The finished product was named Hammerin' Hank Cabernet Sauvignon. It was a departure for a winery that focused on medium-bodied styles.
Other 2020 launches included the first wine club release last August and a new taproom—which Baker Family Wines shares with Bike Dog Brewing Company—that opened last September. (The winery's tasting room was completed in late 2019.)
"We're growing, but we're trying to grow smartly as well. Moving to West Sacramento has given us a really wonderful opportunity to identify ourselves," says Brenneman, who predicts that they'll make over 1,000 cases of vino this year and notes that locations all throughout the region—such as the Amador 360 winery collective in Plymouth, Ikeda's market in Auburn, Sheldon Wine Shop in Elk Grove and the East Sacramento wine mecca Corti Brothers—carry their wines.
But back at home base, if wine drinkers will be allowed to gather inside the winery's tasting room this summer, Baker won't be there to greet them or sign bottles. He'll be managing the Houston Astros—which was the unlikeliest of scenarios just a couple years ago.
*********
In January 2020, the Astros were desperately in need of some good news. Major League Baseball had determined that the team cheated during its 2017 World Series-winning season and into part of the following year. The Astros had illegally employed a camera in center field to observe signs sent from opposing catchers to their pitchers and then used the information to signal to their own hitters about which pitches were coming by whistling or banging on a trash can.
It was time to clean house. Manager A.J. Hinch and general manager Jeff Luhnow were suspended by MLB, then fired by the Astros. The team was also issued a $5 million fine (the maximum amount that can be levied by the league) and forced to forfeit their first- and second-round draft picks for the next two seasons. The Astros were vilified inside and outside the game.
Astros' owner Jim Crane needed to win back the hearts of the fans and the respect of the league. It was a tall—some thought impossible—order.
"They were seeking someone who could come in here and be a good crisis manager for a team no one really respected after what happened—a guy who could deflect a little bit, but who also had the respect of the industry," says Chandler Rome, the Astros sportswriter.
"My thought was this," says Breton. "There's only one person who can come in and try to rectify this toxic situation, and that's Dusty Baker."
That said, Baker wasn't expecting the call. After the 2017 season, he wasn't re-signed by the Nationals, even though he had led them to 97 wins. Anything over 90 is considered a good year, but they lost in the first round of the playoffs, and that was it.
Years had passed, and some thought Baker's sports career might be over. It didn't help that baseball had been undergoing a major cultural shift. Knowledge of the game and relationships with players were taking a back seat to sabermetrics—statistical analysis popularized in the book-turned-film Moneyball about the Oakland A's 2002 season.
With sabermetrics, players are evaluated on a set of complex formulations. Printouts outweigh instincts and experience. And that's been especially true in recent years in Houston, where these statistical tactics have been so heavily employed that former Sports Illustrated writer Ben Reiter wrote a book called Astroball: The New Way to Win It All.
As a result, Major League Baseball has put younger, less experienced managers in play. Baker says he has always used statistics, but he relies on his gut and what he sees on the field as much as what's in a binder filled with computational analysis.
Could Baker still manage a team in the current climate?
"I think that was the one question that all the fans had," Rome says. "Dusty Baker, who had the reputation of being an old-school manager, came into the most new-school, analytically advanced organization in sports."
Baker was hired at the end of January 2020, just two weeks before spring training began. Covid-19 was declared a public health emergency in the U.S. only days after that. So not only did he have the challenge of overcoming stereotypes (in this case regarding his "old-school" methods), but he was also taking over the most hated team in baseball—and doing so amid a global pandemic as a septuagenarian with heart issues and a past bout with prostate cancer.
"Dusty Baker is probably in every high-risk category you can be in for [Covid]," Rome says. "For him to even manage was pretty unbelievable." Baker always wore his mask (Rome calls him the "PPE King"), modeling behavior many fans in Texas did not support. (Even those who did support his mask-wearing populated Twitter with speculation about whether or not he still gnawed on his signature toothpick underneath; he didn't.)
When Rome interviewed the then-newly hired manager and asked him how he might fit in with the team's cutting-edge system, Baker responded that he had been doing statistical analysis since his first job as manager of the Giants in 1993. He just did it with a pencil instead of a computer. "First-batter efficiency out of the bullpen, left-right matchups, who hits into double plays, who is prone to a strikeout," Baker told him. "This isn't really new. We just put a name on it."
Baker ended up proving himself more adaptable than many anticipated. "You saw him do a little bit of both," says Rome. "He was a lot more open-minded and a lot more amenable to analytics, maybe more than I thought he would be."
As a result, the Astros picked up the second-year option in Baker's contract, and so his next test starts April 1 in Oakland, when the Astros take on the last team Baker ever played for.
The upcoming season will be significant in another way too: This will be Baker's first year in baseball without one of his most important mentors and best friends.
*********
On Jan. 22, 2021, Henry Louis "Hank" Aaron, one of the greatest to ever play the game, died at age 86.
Reached by phone the week after, Baker says it's too soon to fully process his feelings. "I just got back from his funeral yesterday," he explains. "It was as close to my dad passing [about] 10 years ago and my brother Vic passing two years ago, as far as the hurt. In terms of what he did for people's lives outside of baseball and what he did for mine, it really makes me want to do more for people. I really want to try and win this year in his honor."
"He meant everything to me," he continues. "He chastised me when I needed it. He liked to laugh. He was a heck of a man. Between him and my dad, they taught me how to be a man."
And while his mother is still alive at 89, Baker is without two of his primary role models for the first time in his life.
But their lessons live in him every day. He has learned from their failures and their successes. And he has carved out a place in history that they both lived to see.
Today, Baker is the second-oldest manager in baseball (behind the White Sox's Tony La Russa, who is 76) and one of only two Black managers in the league, along with Dave Roberts of the reigning champion Dodgers.
Off the field, Baker now also has a sense of place that had evaded him for so long. "I'm proud to be in Sacramento," he says. "One of the best things that happened to me was moving to Sacramento because it taught me how to deal with all races." He cites that ability as one of his reasons for succeeding in the multicultural world of baseball.
And while he is still as competitive as ever, he also looks forward to the day when his time is not as divided as it is now between sports and family. (In addition to Natosha—who welcomed a baby boy named Nova a year ago—Baker and his wife Melissa have a son, Darren, who is a senior at UC Berkeley and following in his dad's footsteps as a second baseman for the school's baseball team.)
"Now that I'm getting close to 2,000 [wins], I think about how I'd be the first African American manager to get there, but up until a few years ago, I didn't think about how many victories I had," he says. "I tell people that the only thing that I missed in life was the love of my grandparents because they died before I was born. So if I get 2,000, fine, but if not, I don't want it to kill me, so that I can enjoy my grandson and go see my son play in the big leagues."
Whether or not he reaches the milestone, it's going to be a winning year for Baker. He's still thriving in the game that he has loved for over 50 years, he's nurturing a new business that he is deeply passionate about, and he's watching his family blossom before his eyes.
It makes you think back to that 16-year-old Sacramento kid who was told his heart would hold him back.
As it turns out, it's always been his heart that has pushed him forward.