East Meets Best: Chef Mai Pham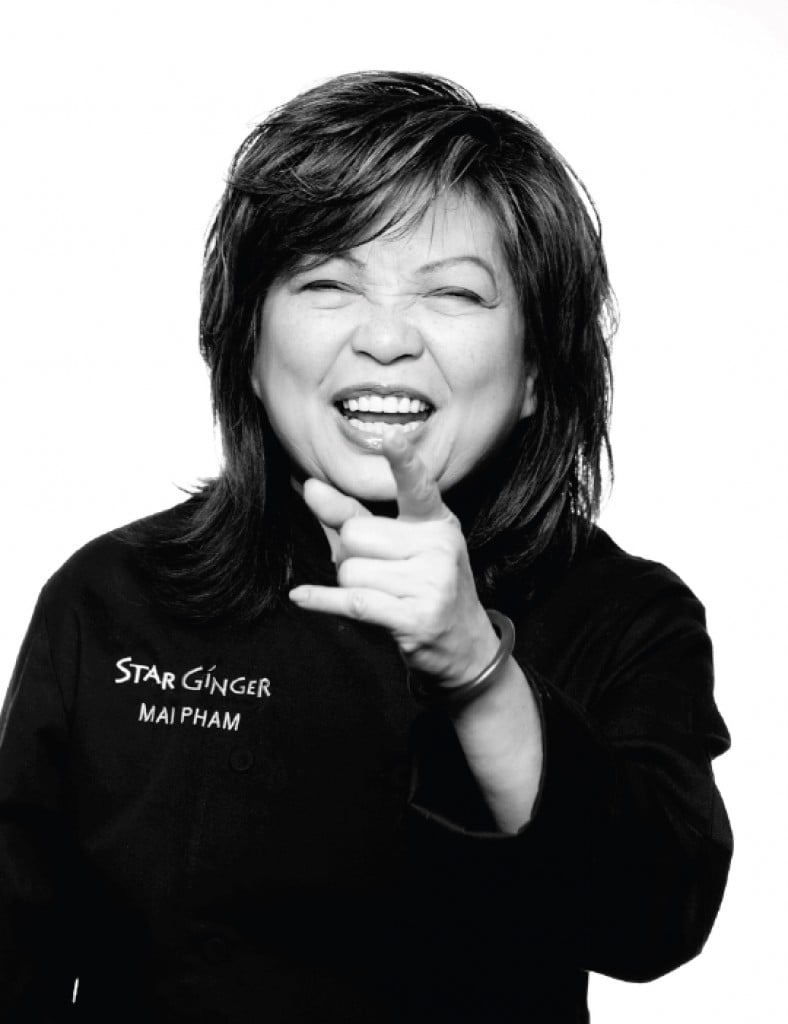 She runs the nationally renowned Lemon Grass Restaurant. Her Star Ginger Asian Grill & Noodle Bar concept has been cloned for college campuses, casinos and office parks across the country. She's the author of three cookbooks, has a line of soups with Campbell's, as well as her own brand of sauces and marinades.
And did we mention the new food truck?
So what's Mai Pham's secret ingredient for turning a love of fresh and flavorful Southeast Asian cooking into an ever-evolving culinary empire?
"I am always feeling fearful," she says frankly. "That's part of who I am."
The anxiety that it can all evaporate overnight manifested itself in an uncompromising need to succeed, she says, and was born of a traumatic childhood. Raised in Vietnam and Thailand, Pham immigrated to the U.S. as a girl after the fall of Saigon in 1975, a move she remembers as both abrupt and frightening.
"I came here after the war with my parents and saw them lose everything," she says of the experience that led to a cultural and personal identity crisis. "Cooking helped to heal all of that."
A desire to assimilate and a love of writing first pushed Pham toward a career in journalism, which allowed her to "learn about the country." She earned a degree from the University of Maryland and later moved to Sacramento to work as an on-air reporter for News10. But while she enjoyed reporting, her soul longed for something else, and in 1989, she opened Lemon Grass Restaurant, which features traditional dishes from her past. "I knew nothing about professional kitchens and restaurants, but I felt I knew food," she says. "A lot of it was based on gut feeling and watching my mom cook."
A hard-driving perfectionist, Pham spent 16-hour days in the kitchen and was "always reading books and going to conferences, trying to emulate what the great chefs were doing." Her "head down" approach paid off, and soon Lemon Grass earned a reputation for its authentically herbaceous and elegantly aromatic fare.
Then in 1994, while attending a cooking conference, Pham found herself seated next to none other than Julia Child. The two struck up a conversation about food and writing, with Pham explaining that she had goals beyond the restaurant.
"[Child] said something like, 'If it's your dream to write a cookbook, follow your dreams and go do it,' " Pham says. Sixteen months later, Pham had penned The Best of Vietnamese & Thai Cooking: Favorite Recipes from Lemon Grass Restaurant and Cafes. It was featured on National Public Radio's Fresh Air and not long after, Martha Stewart picked up a copy, with the recipe for "Mom's Catfish in Clay Pot" catching her eye.
"She made that dish and the next thing I knew she was calling me," Pham says. "Then she came out here. Two weeks later, the whole Martha Stewart Living crew came out and did a story here, a seven-page [magazine] spread on Vietnamese cuisine. It was major."
Though not as major as what was to come. Like Child, Pham has attained celebrity chef status. Her Lemon Grass has spawned two Lemon Grass Grills, and last year Pham opened Star Ginger in East Sacramento, based on Asian "street foods." She also has a deal with Campbell's Soup, and her Mai Pham's Lemon Grass Kitchen sauces and marinades are sold at Corti Brothers, Whole Foods and Nugget. And in a licensing deal with a national company, her Star Ginger concept is now on college campuses from Stanford and UC Berkeley all the way to Connecticut.
And even though her entrepreneurial endeavors often take her out of Sacramento, she still finds the time to don the apron and hit the range at the original Lemon Grass, because those are the moments that fear can go up in flames.
"It's still fun to play around with fire," she says.