Eat, drink and bike as a group with new Pedal to Plate tours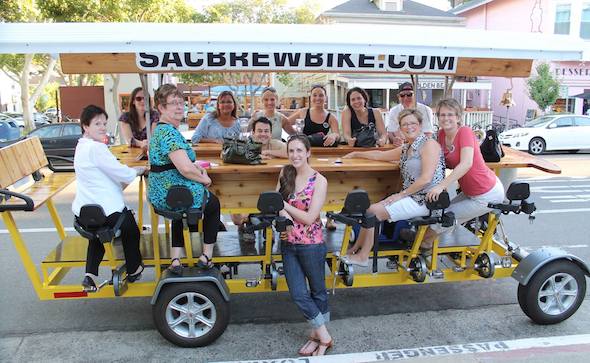 For a wheel good way to spend an evening, hop aboard a 15-seater bicycle for one of Sacramento's new Pedal to Plate expeditions, which debut Aug. 28 and will take passengers on three-hour-long bike-powered cruises to midtown food and drink establishments.
The outings are a partnership between Local Roots Food Tours, which guides popular culinary journeys in and around Sacramento, and the new Sac Brew Bike, whose customized, eco-friendly bike—which normally operates trips to local breweries—will provide transportation.
"We've been getting feedback that it would be cool to do something via bike, because this is such a biking community, [and] when Sac Brew Bike came along, I thought we could match up together and make a wonderful tour," says Local Roots founder Lisa Armstrong, who will lead the excursions while Sac Brew Bike's Chris Ferren-Cirino steers and pedals with help from the passengers. "It is a leisurely way to exercise—[participants won't be left] tired, but full and happy."
The first stop on the roughly two-and-a-half-mile jaunt is Sun & Soil Juice Company, a new juicery in midtown that will offer samples of its organic cold-pressed juices. Then, the crew will cruise to Preservation & Co. to meet owner Jason Poole, who will show off his recently opened preserved-goods store, where he'll offer tastes of brined veggies and whip up Bloody Marys using his famed drink mixer.
The three other stops on the itinerary will be Shady Lady Saloon, where guests will indulge in seasonally inspired cocktails, portobello sliders and cheddar-onion hush puppies; Hook & Ladder, which will roll out farm-to-fork libations, handmade sausage and carrot hummas; and Hot Italian, where the group can dig into piping-hot pizzas and creamy gelato.
Overall, Armstrong believes the tours will be just as enthralling for locals as out-of-towners. "It's [about] seeing what's outside your door and where you can go to support local businesses that are supporting our local agriculture," says Armstrong. "This is going to be special because there are some new establishments that are making waves in Sacramento, and I think it's fantastic to expose them and what they are doing."
Tours run weekly on Thursdays starting Aug. 28. Outings begin at 6 p.m. at Sun & Soil Juice Company (1912 P St.) and cost $60 per person. Visit local-roots-food-tours.com or call 800-407-8918 to book a tour.
Related Links