Egg-ceptional Easter brunches in and around Sacramento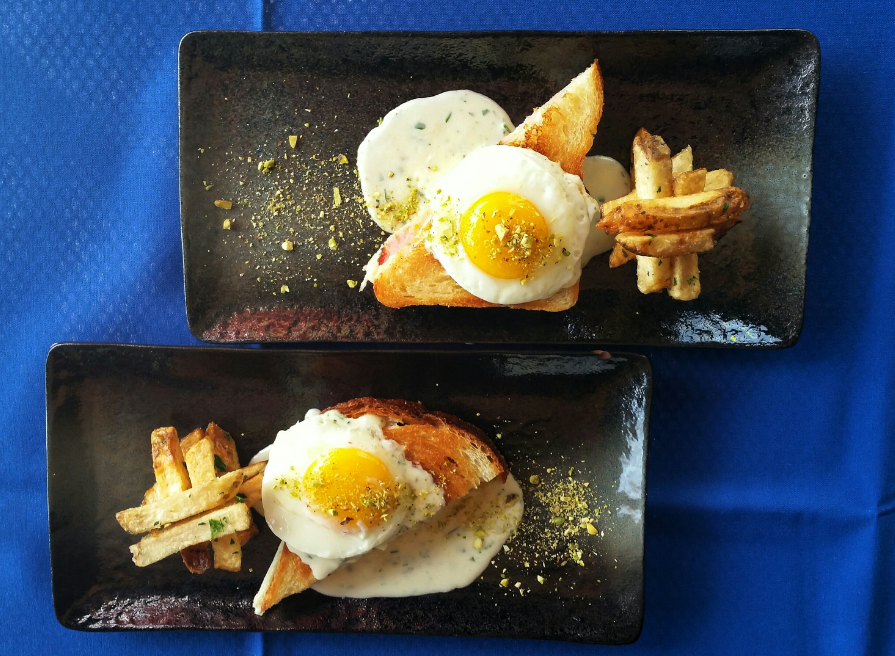 Planning to gather the family and friends for Easter brunch? From croque Suzannes to French toast pies, we've got nine egg-cellent ways to celebrate the holiday on April 5.
Fabian's Italian Bistro
Savor an Italian-inspired brunch at this Fair Oaks bistro serving such decadent dishes as an egg frittata with spaghetti or an organic mushroom medley and sage derby cheese, as well as more American-inflected dishes such as the bistro's N.Y. dip with shaved Angus New York strip steak, scrambled eggs and horseradish au jus or a crab and avocado Benedict. Prices vary. 9 a.m.-2:15 p.m. Fabian's Italian Bistro. 11755 Fair Oaks Blvd. Fair Oaks. 536-9891. fabiansitalianbistro.com
The Firehouse
For a refined Easter brunch experience, head to The Firehouse in Old Sacramento, where executive chef Deneb Williams will present a menu that starts with an assortment of house-made pastries, such as lemon poppy seed scones and cinnamon raisin Danish. Entrées includes a choice of the smoked salmon Benedict (with house-smoked salmon cakes and Delta asparagus, pictured below), the pork cheek hash and scrambled eggs (with house-made green chili and avocado pico de gallo) or the vegetarian Napoleon (a layered extravaganza of eggplant, roasted red bell peppers, baby artichokes, grilled polenta and burrata cheese). Luckily, dessert will comprise tiramisu and a mixed berry tart, so you can have your cake and eat your tart too. $43.95; $14.95 for ages 12 and under (reservations required). 9:30 a.m.-3:30 p.m. 1112 2nd St. 442-4772. firehouseoldsac.com
Formoli's Bistro
Easter and Mother's Day are the only times during the year brunch can be found at this East Sacramento haunt, and this time around, chef-owner Aimal Formoli's compact but diverse menu ranges from signature items (like the medjool dates stuffed with goat cheese and pancetta, and the whiskey-glazed burger with cheddar cheese, habanero aioli and mixed greens held together by a toasty ciabatta bun) to inventive renditions of traditional dishes like the "croque Suzanne," a twist on the classic French dish croque-madame, featuring ham and brie cheese on grilled bread topped with a sunny-side-up egg and ladled with mornay sauce (béchamel with cheese) in honor of chef Formoli's wife and restaurant co-owner Suzanne Ricci's love for the creamy mixture. Prices vary (reservations recommended). 10:30 a.m.-2:30 p.m. 3839 J St. 448-5699. Formoli's Facebook page.
Grand Island Mansion
Refuel after a morning of egg hunting at this picturesque Delta location that will offer a holiday brunch buffet with dishes like slow-roasted boneless leg of lamb with a house-made almond mint pesto, and glazed ham with grilled pineapple and cardamom sauce. Lighter options include as a baby greens and shaved fennel salad with English peas and walnuts, or a warm green bean salad with caramelized red onion, and roasted corn and garlic. $40 (reservation required). 10:30 a.m.-2 p.m. Grand Island Mansion. 13415 Grand Island Rd. Walnut Grove. 775-1705. grandislandmansion.com
Grange
The three-course brunch at the Citizen Hotel's acclaimed restaurant crafted by executive chef Oliver Ridgeway (who will be co-heading the annual Tower Bridge dinner for Farm-to-Fork Week in September) will begin with a choice of chilled spring pea soup with mascarpone and mint or a salad like the Delta asparagus with Serrano ham, arugula, dry jack cheese and a soft-boiled six-minute egg drizzled with pickled mustard vinaigrette. Try Ridgeway's twist on the traditional Easter leg of lamb—a lamb burger topped with feta cheese, harissa-spiced aioli and cucumber tzatziki, which will be served with rosemary fries—or his coffee-rubbed hangar steak with wilted spinach and poached eggs before heading over to the dessert bar. $48 (reservations recommended). 8 a.m.-2 p.m. 926 J St. 492-4450. grangesacramento.com
Hawks
This celebrated Granite Bay eatery typically only serves brunch every second Sunday of the month, but this Easter, Hawks will treat its loyal locavores to a holiday feast until 4:30 p.m. Chef-owners Molly Hawks and Michael Fagnoni continue their tradition of thoughtful food culled from local sources with menu items like a plate of bacon with eggs from Penryn's Sinclair Farm served with potato rosti (akin to a large latke that is cut into pizza-like slices), or a rack of lamb from Dixon with fava beans, roasted artichokes and fennel. The Easter bunny would be all over the decadent carrot cake dessert garnished with candied carrots and peanut brittle and served with carrot gelato. $50 (reservations recommended). 9:30 a.m.-4:30 p.m. 791-6200. 5530 Douglas Blvd. Granite Bay. hawksrestaurant.com
Hyatt Sacramento
This egg-xtra special breakfast buffet in downtown Sacramento offers a made-to-order omelet bar, traditional eggs Benedict and deviled free-range eggs. If eggs are not your thing, you'll still have plenty of gourmet food to indulge in, including marinated mussels and crab claws from the iced seafood display and a smoked fish platter (consisting of smoked salmon, local trout and bay scallops), as well as maple glazed country ham, IPA-brined rib and wild mushroom bread pudding served at the chef carving station. $56 per adult; $28 per child (reservations required). 9:30 a.m.-3 p.m. Hyatt Regency Sacramento. 1209 L St. 443-1234. sacramento.hyatt.com
Original Pancake House
For Easter Sunday at this Roseville breakfast haven, co-owner Linda Smith is working on creating springtime crepes stuffed with the likes of fresh vegetables, asparagus and tender roast beef. Or you can choose from griddled favorites like the sourdough pancakes served with warm maple syrup, or the enormous, crepe-like 49'er flapjacks, plus signature oven-baked delicacies like the Dutch Baby (which rises as it bakes and deflates, leaving high, crispy edges and a moist, soft center) or the apple pancake topped with Granny Smith apples and a cinnamon glaze. Also, patrons with gluten sensitivity will feel equally at home here: its pancakes, French toast and waffles can all be made gluten free. Prices vary. 7 a.m.-3 p.m. 10000 Fairway Dr. Roseville. 788-3040. originalpancakehouse.com
Ten22
At this Old Sacramento favorite, executive chef Jay Veregge has assembled a three-course menu boasting sweet starters and a hearty array of main courses (including a Grand Marnier French toast pie made with pressed brioche, eggs, vanilla and clover honey, or a mac and cheese made with house-cured bacon, roasted cauliflower and a red crab and three-cheese sauce). Dessert alone is worth hopping downtown for, with options like a lemon champagne chiffon cake and a strawberry rhubarb cobbler. $28; $9 for ages 10 and under (reservations recommended). 10 a.m.-4 p.m. 1022 2nd St. 441-2211. ten22oldsac.com
Related Links
Sacramento to attempt world's largest Easter egg hunt
7 festive events to check out this Easter
Beloved Auburn breakfast spot Awful Annie's prepares for big move
Jackrabbit Brewing Co. opens a shiny new taproom in West Sacramento