Electric Avenue
Sacramento is painfully light on parades, even though we threw one of the best ones in history. Here's one bright idea.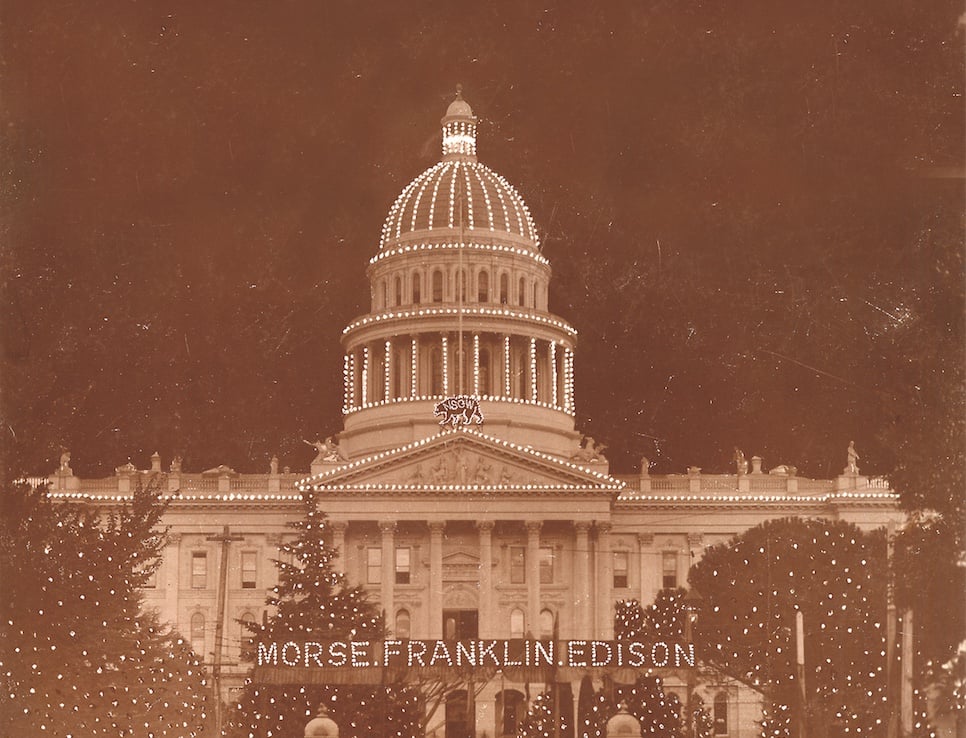 In 1895, Sacramento staged the world's first electrical parade. After hearing about ours, Paris threw one in 1898. In 1972, Disneyland launched their own version based on, yes, ours, and now it's one of their biggest attractions. Why not bring it back to where it all started?
The Background
On September 9, 1895, Sacramento threw the parade of the century. Then the home of the world's longest transmission line (22 miles from Folsom), Sacramento was the Silicon Valley of electricity. A dozen floats were decorated with thousands of bulbs powered by the trolley cables. The Capitol was covered in lights. An estimated 60,000 people attended (at a time when the county's population was less than 40,000), and the Sacramento Union hailed it as "the grandest display of electricity ever witnessed on Earth." Years later, on a 1950's trip to Sacramento to acquire drawings that led to the creation of the Disneyland Railroad (yep, that has Sacramento roots, too), Ward Kimball, then head of animation for Disney Studios, read accounts of Sacramento's parade and took the concept to Walt Disney. "What got him was the excitement people felt seeing this electric light parade, " says Sacramento historian Jim Henley, who had lunch with Kimball in the early '80s. "So he took it back and showed it around."
The Idea
Bring it back, but with a 21st century spin. Power it with green energy—solar, fuel cells, whatever. The city is trying to position itself as a clean energy leader. What better way to promote that, as our forefathers did, than with a little civic pizzazz? It keeps one foot in history and places the other in the future. Run the parade up Capitol Mall and around a lighted Capitol Park. Have it on Thanksgiving weekend to kick off the holidays. And for the floats? Disney may have Cinderella and Peter Pan, but ours could combine timeless fables (someone call Fairytale Town, please), trains, riverboats and other historically-representative concepts (East Peoria, Illinois, which hosts a 40-float electrical parade every year has everything from blue whales to Star Trek's Enterprise).
The Players
SMUD would be a no-brainer to help. Jim Henley could consult. The Downtown Sacramento Partnership and the City would need to chip in. Disneyland's version is sponsored by Sylvania, a division of Siemens, the latter of which just happens to make light rail cars in South Sacramento. Local business institutions like Raley's or Wells Fargo (which was already servicing Sacramento back in 1895) would make great sponsors. West Sacramento's California Fuel Cell Partnership could help, too. And don't forget LED Effects, a Rancho Cordova-based LED lighting company that is one of the biggest in the world (they created, among other projects, the fire effects in Disneyland's Pirates of the Caribbean ride).
The Bottom Line
The major costs are the floats, plus bulbs or LED's (LED's are brighter and last longer). In East Peoria, volunteers build the floats, and the city is budgeting $80,000 this year for the parade. Illinois also kicks in tourism grant money. And businesses pay $500-$5,000 to sponsor a float, depending on its size. So trust us, if it plays in Peoria, it'll definitely play here.