Elevating Art
Public art is surging in Sacramento, but some of our greatest potential canvases are hidden right below our feet.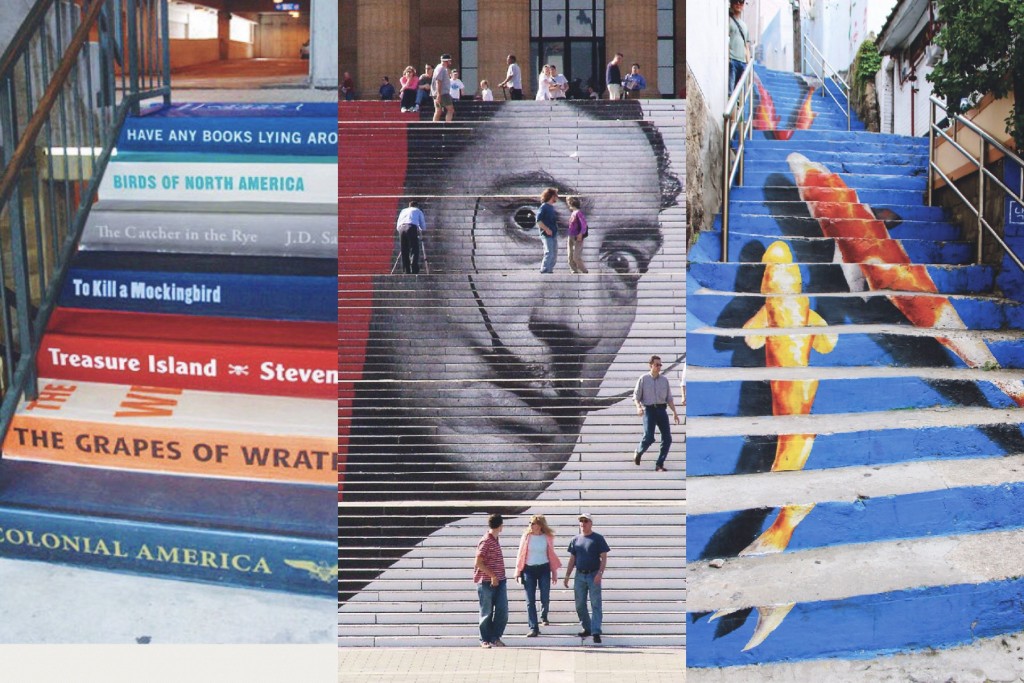 The Idea
In August, artists from near and far gathered in Sacramento to create more than 40 new murals on building façades as part of the Wide Open Walls festival. But increasingly in cities across the world, stairs are the new canvases.
Type #stairart into Instagram and you'll find hundreds of eye-catching examples of vertical masterpieces. You'll see a giant portrait of artist Salvador Dalí gracing the "Rocky Steps" in front of the Philadelphia Museum of Art, beautiful koi fish swimming "upstream" in Seoul, and a colorful "stack" of books in Greenville, South Carolina. These are just a handful of examples of stunning art found in the unlikeliest of places— underfoot on stairways everywhere.
It's true that our region doesn't offer much in the way of natural elevation (Sacramento is "very flat, flatter than most people can imagine," Joan Didion told The Paris Review), but there are more than enough stairs around to help elevate our art scene with clever works that double as three-dimensional delights.
Imagine a stack of books—perhaps the works of Ms. Didion—at one of our libraries (those pictured above were vinyl decals that lasted a few months to promote book donations) or images of great artists—Wayne Thiebaud, for starters—covering the steps of the Crocker Art Museum. River Walk Park in West Sacramento, facing Old Sacramento across the river, also has dozens of steps begging for a painter's brush.
The Players
The Sacramento Metropolitan Arts Commission could orchestrate an organized effort. So could the Wide Open Walls mural festival, which should incorporate stair art into its 2019 program. The Crocker has lot of stairs inside, and the ones in front of its Victorian wing make a perfect blank canvas.
The Bottom Line
We love art on any surface, but put it somewhere unexpected and it becomes something more. It becomes a whimsical urban surprise that is, by its very nature, interactive. You can stand on the artwork, sit on it and inhabit it as it surrounds you. It's an inspired way to beautify a city, one step at a time.