Elk Grove animator hits it big with 'Weird Al' Yankovic video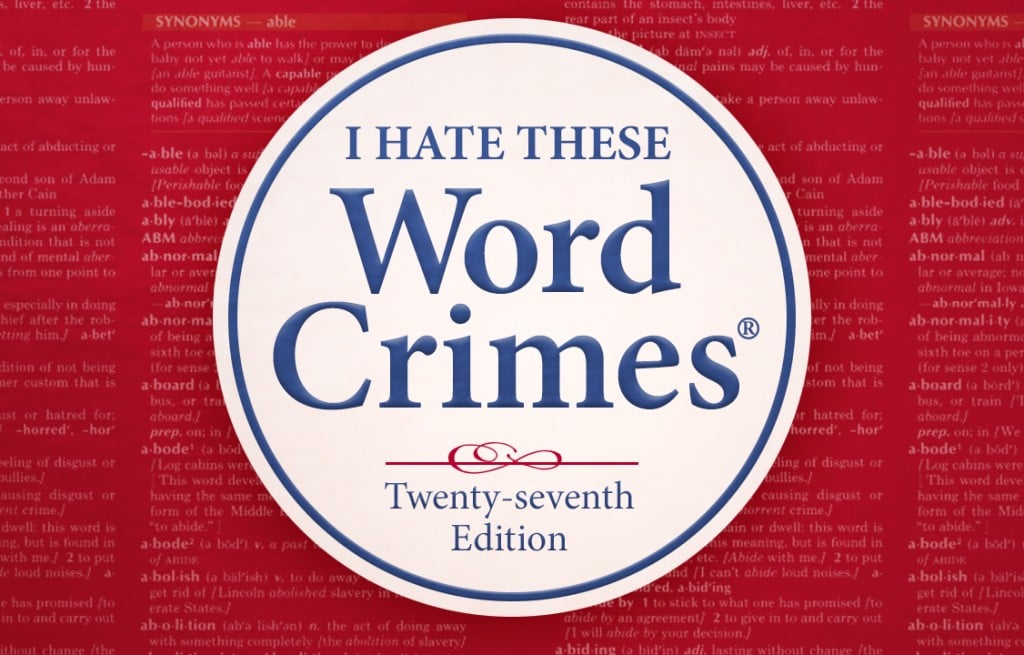 "Hi, Jarrett!" the email began. "'Weird Al' Yankovic here."
It was around lunchtime for Jarrett Heather, a software developer for the state's Dept. of Food and Agriculture, and he was not expecting correspondence from the world's foremost pop music parodist. Heather read on: "I'm looking for someone to create a kinetic typography video for a song on my next album," Yankovic wrote. "Based on your fine work on 'Shop Vac' [for singer-songwriter Jonathan Coulton], you're my first choice."
"The first thing I did," Heather recalls eight months later, "was I picked my jaw up off the floor, told my wife what had happened, and then I immediately replied and told him it was a dream project and I'd be honored to participate."
So began Heather's adventures with "Word Crimes," the new video for Yankovic's send-up of the Robin Thicke smash "Blurred Lines." The Elk Grove-based animator worked 500 hours over mornings, nights and weekends to create the lightning round of language no-nos—complete with dancing letters and whirling, rocketing cascades of grammar rules. The video, part of Yankovic's campaign to release eight videos in eight days in support of his new album Mandatory Fun, has accrued more than 6.3 million views on YouTube since its release on Tuesday.
Heather, 37, has some experience with viral hits: His video for "Shop Vac" has nabbed more than 1.1 million views since it debuted at the end of 2010. He has even more experience with Yankovic's music, of which he'd been a devotee since he was 7. "I can't exaggerate how big a fan I was," Heather says. "This really was a dream come true."
But Heather had made only two animations totaling less than six minutes before Yankovic's email last November, and he had never even heard "Blurred Lines" prior to Yankovic approaching him about his parody. "He didn't tell me what the song was about until I talked to his manager and worked out all the details," Heather recalls. "Actually his manager told me what the parody was going to be, and that's when I realized that he had Internet gold on his hands."
Heather set about crafting "Word Crimes" in January, when Yankovic sent him the song demo and a list of ideas for visual gags. Heather built an animatic—a rough draft of the animation (part of which is available for viewing at his website's "Word Crimes" page)—and began an exchange with Yankovic to refine the visuals and jokes. Every few days the duo would trade thoughts, painstakingly developing such sequences as a rapid-fire chalkboard animation set to a rap about word usage and syntax.
Meanwhile, Heather's 7-year-old son Ethan drew the illustration for a sequence that forbids substituting letters and words with numbers "unless you're 7" ("If you freeze-frame it quick enough, you can see his signature in the bottom of the drawing," Heather says), and Heather sprinkled in a variety of Sacramento call-outs as well: There's the meme-inspired Twitter user "MuchDoge916," for instance, or the "Care-O-Meter" built by J.M. Heather Enterprises in Sacramento, complete with a seal of approval from the state Division of Measurement Standards located at Heather's office.
Heather's work on the video began in his home studio at 5 every morning, continued until 8 a.m. (when he would take Ethan to school and head to the office), and resumed at night after returning home. Yankovic sent creative notes and messages of encouragement throughout their collaboration; Heather and his wife, Danielle, eventually met Yankovic in February during a visit to Southern California.
"It was amazing," Heather says. "He's just a totally laid-back, regular guy. My wife said that his nickname should be 'Normal Al.' They always say you should never meet your heroes, but if Al Yankovic is your hero, then you can totally ignore that advice."
Heather delivered the finished video by April 1, for which he says Yankovic emailed his thanks and praise soon after. The song itself was completed in May, around which time Heather gave the video a private, unofficial Sacramento premiere at his office. "Because I work in IT, it's not difficult to find other Weird Al fans around the office," he says. "It was the first time I saw an audience laugh at the jokes, and that was all the feedback I needed to hear."