Empty Bowls event dishes it up for a good cause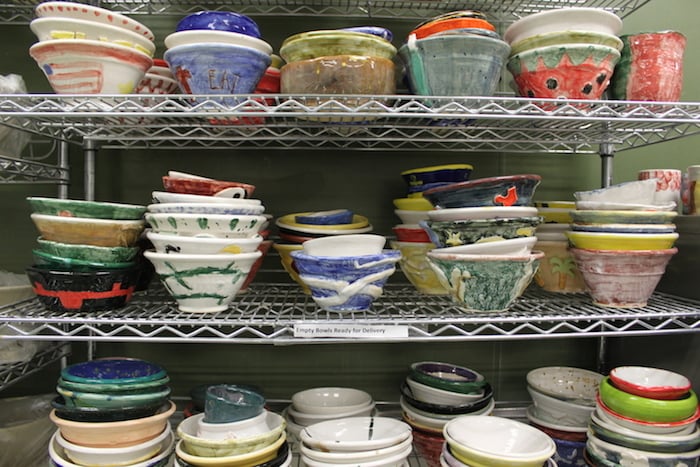 Some of Sacramento's best restaurants will help soup up the city next week at Empty Bowls, the two-day fundraiser for the River City Food Bank.
Grange, Zocalo, Lucca, Cafe Bernardo and more than a half-dozen other area eateries will contribute soup to the 11th annual event at the Sacramento Convention Center, where an estimated 1,300 participants will attend a dinner seating on Mar. 10 and/or a luncheon on Mar. 11. The gathering raised over $100,000 for the Food Bank in 2013; organizers hope to exceed $125,000 this year.
"It has definitely grown over the last few years, to a point where we really do need to hold it at a place like the Convention Center to make sure that everyone who wants to come can come," says Eileen Thomas, the River City Food Bank executive director who recalls when the first Empty Bowls fundraiser in 2004 drew 350 attendees to Westminster Presbyterian Church. "We just like people to enjoy being a community—people who want to be a part of our awareness and help towards preventing hunger and malnutrition in Sacramento."
Offerings include a cream of spring onion and green garlic soup by Grange chef Oliver Ridgeway, a roasted red bell pepper soup from Café Bernardo, Zocalo's house chicken tortilla soup spiced with Morita chili, and Lucca's twin bill of mushroom soup and potato and green garlic soup. Other participating restaurants include Capital Dime, Chops, Evan's Kitchen, Cafe Europa and Scott's Seafood Grill & Bar. Classique Catering will present the dinner servings on Monday night, while a variety of local restaurants will share lunch duties on Tuesday afternoon.
Upon arriving, attendees select a handcrafted bowl from the more than 1,400 dishes created for this year's event. Contributors include professional ceramic artists like Chris Efstratis and John Reiger, the Nor-Cal Woodturners (who donated 250 bowls alone), and scores of students Christian Brothers, St. Francis, Del Campo, Sacramento Country Day, Twin Lakes Elementary, and numerous other area schools.
After waiting on a soup line staffed by city leaders (including Sacramento City Council members Steve Hansen, Steve Cohn and Angelique Ashby, and Sacramento Metro Chamber of Commerce chief Roger Niello) and state dignitaries (like California state food and agriculture secretary Karen Ross), among other servers, guests will fill up their bowls, which they can keep at the end of the meal.
"That is their takeaway from the event," Thomas says. "It's to symbolize the hunger that is in our community. There are 243,000 people in Sacramento County who don't really know where their next meal is coming from."
Monday's dinner event takes place from 5:30 p.m. to 7:30 p.m. and includes wine and hors d'oeuvres. Tuesday's luncheon, from 11:30 a.m. to 1:30 p.m., includes soup, bread and dessert. Tickets for each event remain available for $60 and $30 respectively via the River City Food Bank's website.