Enotria serves up grand reopening party tonight in North Sacramento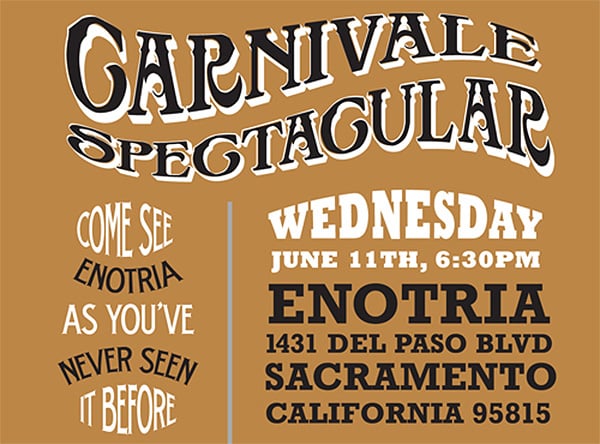 After a nearly five-month hiatus, Enotria is cooking once again.
The North Sacramento wine destination revives its food menu with tonight's "Carnivale Spectacular" party—a grand reopening celebration complete with wine bottle toss games, a hall of mirrors, and tents full of food prepared by chef Gabriel Glasier, former executive chef of Fair Oaks' Slocum House.
Sacramento's dining scene was jolted when owner David Hardie announced the closing of the restaurant, then helmed by executive chef Pajo Bruich, back in January. Hardie maintained ownership of Enotria, adopting a less formal concept for the space while embarking on a partnership with wine education company WineCentric and Glasier's catering company Chef and Baker.
"I want to do comfort foods and tone down the wine bar from being this ultra fine dining place to a more casual atmosphere," Glasier says. "It will be a totally laid-back place where people in the neighborhood can come kick back."
The menu for the new wine bar, which is open to the public on Thursdays and Fridays, includes Glasier's small plates like a farmers' market beet and plum salad as well as hearty selections like a cheeseburger with three different types of meat, caramelized onions, Del Rio Botanical greens and house-smoked cheddar on a Grateful Bread bun. Guests can order a la carte or enjoy a three-course tasting menu that includes wine for $35 per person.
The remainder of Enotria's space, like its main dining room and expansive patio, will host private events or the restaurant's own "sommelier series" with WineCentric's sommelier Matthew Lewis. Glasier also says he is toying with the idea of doing a monthly supper club series in which guest chefs could come create a special menu for the night.
"The sky is the limit," he says.
The public is invited to tonight's grand reopening celebration, which begins at 6:30 p.m. (Attendees are encouraged to RSVP at 922-6792.) Enotria's wine bar is open on Thursdays and Fridays beginning at 4:30 p.m.
1431 Del Paso Blvd. 922-6792. enotria.com