Everything you need to know about the new performing arts center opening at UC Davis in September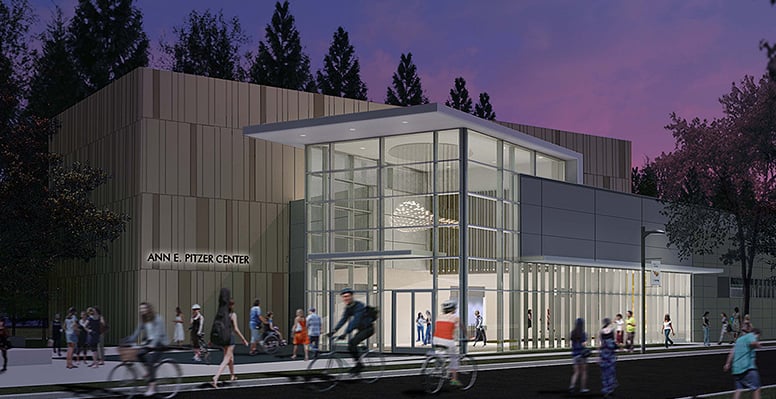 A new performing arts center will open at UC Davis over the weekend of Sept. 23-25 with an appearance by renowned composer Philip Glass and a performance by the UC Davis Symphony Orchestra.
The Ann E. Pitzer Center, a project 20 years in the making, is designed to accommodate both university music groups and outside acts by offering a performance space on a more intimate scale than the nearby Mondavi Center.
Located on the eastern outskirts of the UC Davis campus near downtown Davis, the new center is named for Ann E. Pitzer, a UC Davis alumna from the class of 1958 who donated $5 million toward the project. At 17,500 square feet, the center contains a recital hall with 399 seats that will double as a lecture hall, along with a lobby and soundproof practice rooms for students and faculty.
David Kahn, founder and principal of the specialty design firm Acoustic Distinctions—which has engineered spaces like the Apollo Theater in New York and Ryman Auditorium in Nashville—helped bring the Pitzer Center's sound quality to a world-class level.
Kahn says the acoustic design for the space was complicated, due to the fact that the space was made for mid-size bands and ensembles, but would also need to accommodate louder percussion ensembles and jazz bands.
"That is why we have designed a tremendous range of adjustability into the liveness of the hall," Kahn says.
A system of motorized curtains and risers that can be adjusted to be flush with the performance platform allow the recital hall's acoustics to be tuned for different uses. He and his team also worked with project engineers on the building's design to diminish distracting noises from electrical equipment and the exterior lobby, creating a setting in which audience members and musicians can be immersed in the music experience, no matter the subtlety of the performance.
Those sound qualities will be put to the test during the Pitzer Center's three-day opening ceremony in September, which will include a screening of the 1982 Academy Award-nominated experimental documentary Koyaanisqatsi, with music composed by Philip Glass. Afterward, Glass will discuss his experience working on the film in a talk facilitated by Pablo Ortiz, a UC Davis professor of composition.
The enhanced recital and practice spaces will also allow national and international artists to spend terms in residence at UC Davis to train music students.
​"We will be giving our students a professional level experience when they're performing, along with providing concerts for the community," says Carol Hess, a professor and chair for the Department of Music. "It's such a step up from what we have been doing before this."
The opening weekend will also offer performances by the UC Davis symphony choir and the Anderson-Roe piano duo (graduates of the Juilliard School of Music known for creative piano renderings of popular music). Other upcoming shows at the venue include The Mana Quartet, a saxophone ensemble founded in 2007 and free concerts every Thursday at noon featuring jazz ensembles, African drumming groups and other acts.
144 Hutchison Dr. Davis. 530-754-2787. Tickets and more information available at arts.ucdavis.edu/pitzer.
You Might Also Like
The Brutalist Truth: changing the fate of the Sacramento Community Center Theater
Here He Builds: meet our city's newest game-changer
E. Claire Raley Studios for the Performing Arts opens in midtown