Exclusive: Launch festival changes name to TBD Fest, moves to West Sacramento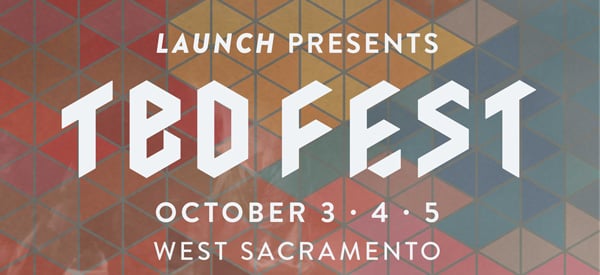 The downtown arts and music festival known as Launch is getting ready for a makeover—and a new name—this fall in West Sacramento.
Organizers Michael Hargis and Clay Nutting have rechristened the gathering TBD Fest, where they'll welcome a collection of international and local acts (including Dillon Francis, Explosions in the Sky, War on Drugs, Goldroom, Yacht and Com Truise) to a new riverside performance venue from Oct. 3-5.
TBD Fest tickets go on sale this morning at the festival's new website, tbdfest.com. A limited amount of three-day passes will be available for $99; the price will go to $129 once those are sold out, and then $159 once TBD Fest's headliners and remaining lineup are announced in the days ahead. A $250 VIP package includes preferred seating, private air-conditioned bathrooms, access to private bars, and other perks.
The festival's eventual location, a pocket of land just southwest of the Tower Bridge, is the future home to an indoor-outdoor cultural destination known as The Barn. Nutting and Hargis say they hope to inaugurate the facility with their expanded and reimagined event this fall, which will integrate new themes like regional food with Launch's traditional emphases on art, design, music, architecture and fashion.
TBD Fest replaces Launch as the official name of the annual event, which last year brought in nearly 15,000 attendees over two days at Cesar Chavez park. The partners say they will repurpose Launch as a production and promotion brand for TBD Fest and other events.
They add that TBD's various interpretations—it could stand for anything from "The Bridge District" (the budding community under development around the Barn site) to the more commonly recognized acronym "To Be Determined"—reflects both their city's and their own wide-open future.
"We took [the Launch festival] as far as it could possibly go, to the point where Mike and I had several conversations saying, 'Maybe the best way to move forward is to just take everything that we've built and deconstruct it,' " Nutting says. "And that's where the realization for what was possible this year started to come out—maybe we needed to go back to our roots. Maybe we just need to take a left turn."
That turn led the pair over the Tower Bridge and to the site of The Barn, the undulating 182-foot wooden structure currently in the works from Sacramento developer Mark Friedman. The $5.6 million project, green-lit last month by the West Sacramento City Council, would host three days of music against the backdrop of the Sacramento skyline.
"We can't imagine a better architectural centerpiece," Hargis says. "I mean, short of Burning Man, I don't see there being another festival that has a greater, more iconic centerpiece to it. Then, the aspect of being on the river with Sacramento's cityscape in the backdrop? It's almost like Sacramento's version of Austin City Limits."
In keeping with that show's celebrated pedigree, Hargis and Nutting (also the brain trust behind midtown hotspots LowBrau and Block Butcher Bar) sought to curate an artist lineup of boldfaced names. The pair intend to announce the full lineup in the coming days, but Nutting names the electro-dance star Dillon Francis, Philadelphia indie-rock quartet War on Drugs, the LA-based electro act Goldroom, the Texas guitar instrumentalists Explosions in the Sky, the Portland ensemble Yacht, New York producer and DJ Com Truise, and Sacramento hip-hop veterans Blackalicious among TBD's confirmed acts.
The festival's origins trace back to 2008, when a one-day gathering called Movement of Design blossomed over the next year into what would become Launch.
In summer 2012, Nutting and Hargis expanded to a full week at multiple venues, which culminated in a full-fledged music festival attended by more than 5,000 people in Cesar Chavez park.
Launch's music component returned to the park in 2013 for a two-day downtown run hosting Imagine Dragons, Girl Talk, Rocket From the Crypt, Blonde Redhead and other major acts at the park.
Soon afterward, Hargis and Nutting were contemplating their place in the booming festival landscape amid happenings like Coachella and the San Francisco-based Outside Lands, coming up in August.
While they say Launch's transition to TBD augurs new attendance heights (the organizers are targeting 10,000 festival-goers per day for October's event) and a growing industry profile for Sacramento, the partners aren't in any rush to match the massive scale of other festivals around California. Hargis and Nutting both cite their festival's heritage as a curated cultural showcase when visualizing its future.
"We're really starting to get this momentum now," Hargis says, "with a group of people coming together that are saying, 'Wait a minute. Coachella lost its intimacy.' There's still room in the festival market to do something amazing and get good crowds of people, but do something that's more organic, homegrown and right in our backyard."
"What we hold to the heart most is authenticity," Nutting adds. "There's no substitution for that. And there's curation. We never want to be in a position to just buy talent because we want to have the biggest names. We want to create an experience that's relevant to who we are, and where we're going and where we've been—all those things we try and take very seriously when we're putting this festival together."
Visit tbdfest.com for TBD Fest ticket information, and stay tuned to sactownmag.com for additional TBD Fest news as more artists, events and other details are announced in the days and weeks ahead.