Exclusive: New cart-service restaurant and bar to open downtown this spring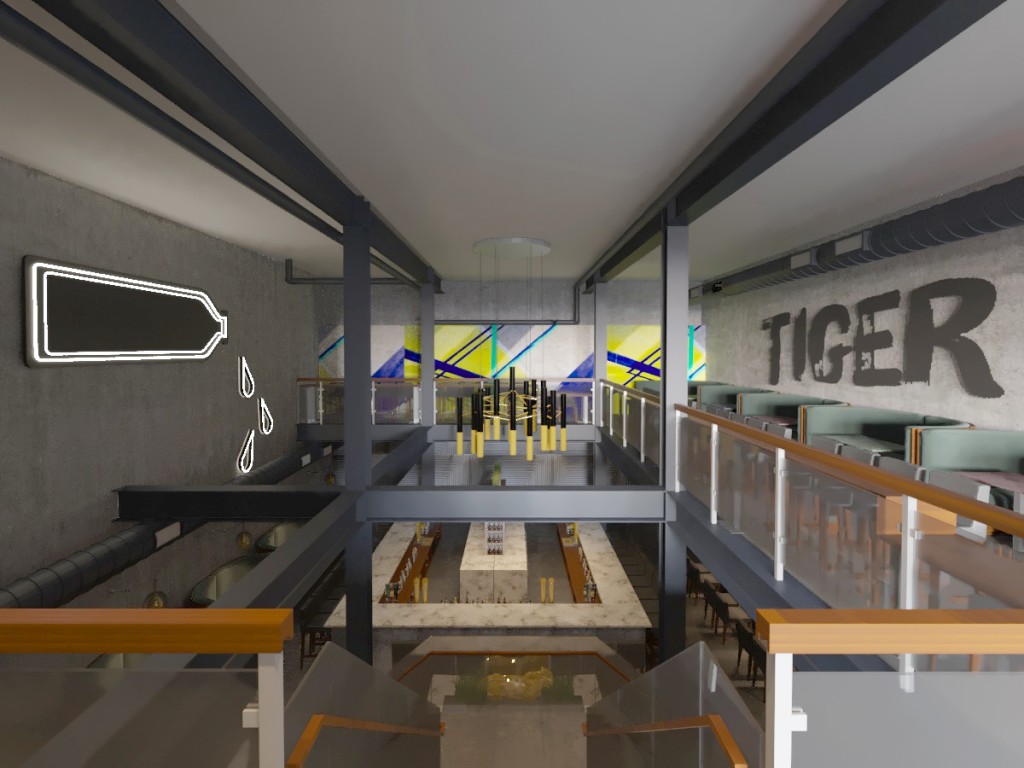 "It has this approachable sexiness to it, but also this tinge of urban danger," says Sonny Mayugba of Tiger, the new dining concept taking shape in the 700 block of K Street just east of Golden 1 Center. Picture soaring raw concrete walls, exposed steel I-beams and perhaps even glimpses of the colorful grafitti that accumulated on the walls of the long-neglected space over the years since it opened as a W. T. Grant 25 Cent Store in 1933.
Mayugba hopes to open Tiger by March 1st, along with fellow members of the team behind The Red Rabbit Kitchen & Bar: chef John Bays, bar manager Matt Nurge and investor Dave Pringle. All four native Sacramentans have personal memories of their new restaurant's site—Nurge even sports ink on his arm that he acquired when the space was occupied by a tattoo parlor. (The four are also partners, along with Hot Italian's Andrea Lepore, in Solomon's Deli, scheduled to open next door to Tiger around the same time.)
The twist? Tiger's customers will pluck their craft beverages and New American noshes off of a series of wheeled carts, dim sum-style. Be it game day at Golden 1 or just another Tuesday, a bar cart stocked with wine, craft beer and cocktails built to travel should rumble up to greet you within minutes of your arrival—welcome news whether your plan is to fuel up and bounce or linger with friends over half-a-dozen desultory plates of food. But just because the food and drinks come fast, don't expect to get the bum's rush: this is a stylish dining experience with all the farm-to-fork trappings you've come to expect, and edgy, dramatic décor to match.
Whitney Johnson of Miles Treaster & Associates, the designer behind such hot spots as Shady Lady Saloon and Hook & Ladder Manufacturing Co., is collaborating with the team to design the space, featuring industrial-chic fixtures and furnishings, and large-scale colorful works by local artists.
A grand staircase will lead to the main basement-level bar beneath a dramatic two-story atrium, providing diners plenty of opportunity to snag a designer stool to see and be seen—and nab that plate of beet chips with green pea hummus rolling by. When it opens, Tiger will have no printed menu. You'll order by flagging down whichever carts catch your fancy. "We've got a plethora of dishes we're narrowing down," says Bays, "bruschetta-like things, pâtés in bowls, charcuterie."
"It's choose your own adventure," explains Pringle.
"I spent some time in Spain and fell in love with tapas," Bays says. "Then Sonny started talking about the dim sum concept he grew up with. It became dim sum and then some."
The then some? Tiger does away with front-of-the-house/back-of-the-house distinctions. Want to know just what local, fresh ingredients went into the kimchi fried rice bowl or wedge salad on a skewer? Just ask, because the person wheeling it past your perch is the one whose hands prepared it for you. "The cooks will also be your servers," Bays says.
Nurge has been secretly practicing cart-friendly cocktail formulas at Red Rabbit for months now, including work on a signature punch called Tiger's Milk, which, he says, "was once a slang term for gin." The sweet, frozen concoction will be made with vegan milk and served in vintage-style milk bottles. In addition to the house special drink, the cart will feature what Nurge calls "spirit-forward cocktails, [like] Boulevardiers and Old Fashioneds."
"It will be like a massive cocktail party—perpetual happy hour," Mayugba says.
To which we say, cheers.
722 K St. tiger700block.com
You Might Also Like
Exclusive sneak peek at K Street's new Jewish deli
Raise a glass at these spirited Sacramento Cocktail Week events
First Look: Oak Park's new Bavarian-inspired Oakhaus