Exclusive: TBD Fest announces Justice, Blondie, other acts among 2014 lineup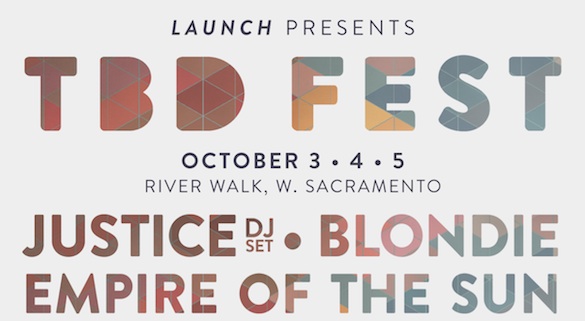 TBD Fest, the three-day arts and music blowout that recently announced its new home in West Sacramento, has unveiled more of its jam-packed lineup for the festival this October.
The French electronic dance duo Justice will make a rare U.S. appearance to for a DJ set at TBD Fest. Justice will be joined by new wave icons Blondie, Austalian duo Empire of the Sun, rocker Kurt Vile, hip hop ensemble Deltron 3030, electro act Gramatik, the Brooklyn band DIIV, and numerous other artists and bands including RAC, Cherub, Keys N Krates, Beach Fossils, Metz, The Drums, Skaters and Carousel.
TBD Fest's previously announced acts include War on Drugs (Kurt Vile's former band), the Texas guitar instrumentalists Explosions in the Sky, electro star Dillon Francis, the Portland group Yacht, Goldroom, Com Truise and Sacramento's own Blackalicious.
The festival, formerly known as Launch, will be hosted at the new West Sacramento arts and performance venue The Barn (adjacent to the River Walk) from Oct. 3-5.
In keeping with the spirit of Launch, event organizers Michael Hargis and Clay Nutting (also the brain trust behind midtown hotspots LowBrau and Block Butcher Bar) say they sought to carefully curate and build a narrative with the boldfaced names that compose the TBD lineup.
"These are the bands that make sense together," Hargis says. "For different reasons, whether they're tastemakers in their own genres or creators of their own genre—from hip hop to rock to electronic music—there's a story that unfolds where all of these bands speak to each other. I think more than anything else, that's what we have the capacity to deliver."
High on their wish list was Justice, the French electronic dance duo that sells out arena shows in their native Europe but rarely makes it to America.
"They just have this incredible cult following," Nutting says. "They just have this incredible relationship with their audience, and when you're a genre-defining band, people have a connection to you as an artist that transcends your casual relationship with music. They are a bona fide legend in the dance world. We got really lucky. They only have a few shows in the United States this year. They weren't planning on being here."
"Their agent is actually getting married on that Saturday," Hargis adds. "That's the reason they're going to be in the United States. A random phone call resulted in, 'Wow. They're going to be in Los Angeles.' "
In addition to 2006 Rock and Roll Hall of Fame inductees Blondie, the partners single out the Australian duo Empire of the Sun as a huge addition as well.
"Really, when we were building the lineup this year, they were the first act that came up," Hargis says of the electro act. "They transcend a lot of different cultures with their performance—it takes you on a space odyssey. The visuals are amazing, too. I can't think of another band that's more creative and fun and more engaging."
"We wanted to focus on live, fun performances," Nutting adds, pausing to imagine the scene unfolding across the river. "The city is just gonna be flipped upside down."
Standard three-day passes for the festival are priced at $159, while VIP passes—which include preferred seating, private air-conditioned bathrooms, access to private bars and other perks—are available for $250.
Visit tbdfest.com for more ticket information, and keep an eye on sactownmag.com for additional TBD Fest news as more events, performances and other details are announced in the weeks ahead.