Family Portrait
With the world premiere of "When We Were Colored" at the Sacramento Theatre Company, former Bee editor Ginger Rutland brings her mother's memoir from the page to the stage.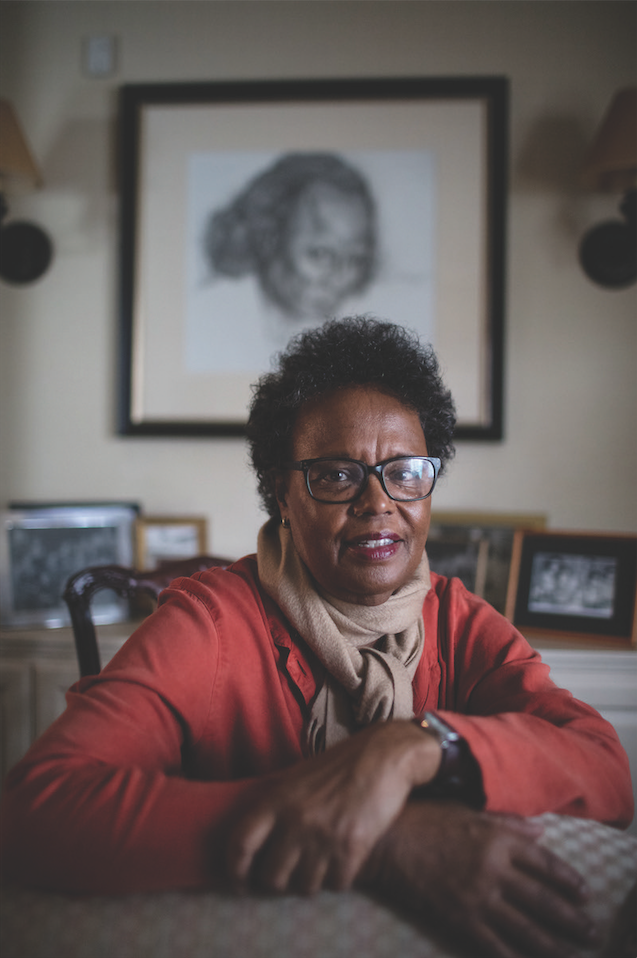 February 2020 update: When We Were Colored will return to the stage for a run at the Guild Theater in Oak Park from Feb. 14-March 14. Tickets cost $30. Visit whenwewerecolored-theplay.com for more information.
* * * * * *
"Where's the tension?" Ginger Rutland kept being asked. The novice playwright was sitting at a table reading of her play When We Were Colored last year. All around her were professional actors and experienced theater-makers. They were looking for some action on the page.
Rutland, a former associate editor at The Sacramento Bee, had crafted a new drama around her family's experiences in the River City based on a memoir of the same name that her mother, Eva, wrote and first published in 1964 (then titled The Trouble with Being a Mama), which is the story of how a Georgia-born, college-educated Black woman from the segregated South came to be the mother of four in California at the turn of the mid-century.
"What my mother was trying to do was reframe the Black narrative, which has been so uniformly negative, angry and violent," Rutland says. "There's this swath of Black America that's middle class, that survived slavery and the Jim Crow South and all of these things and did OK."
The play—which will make its debut at the Sacramento Theatre Company on March 20 and also includes material from an unpublished sequel to the memoir and a semiautobiographical novel No Crystal Stair, both written by Rutland's mother—unfolds through a series of flashbacks skipping through the lives of their striving family from the 1930s to the present. "It goes from the segregated South through not-quite-integrated California in the '50s, the Civil Rights era, to the Black Power [movement], then to the blended families of today," Rutland says.
The most difficult part of the process was turning narrative into action. "How to show, rather than just tell," she says. "My daughter's suggestion to make the frame a book [tour] event, which [my mother and I] had done so often, solved that problem."
While her three siblings are mentioned throughout the play, two of its main characters and narrators are her father, William Rutland Sr., who was a high-ranking civilian at McClellan Air Force Base when he retired in 1985, and Eva, who authored more than 20 books (mostly Harlequin romance novels), as well as articles for Redbook, Woman's Day and Ladies' Home Journal, and continued to write even after contracting retinitis pigmentosa in her 50s, which eventually led to blindness.
The other lead is a Ginger character, who appears as both a child and an adult and also narrates. When Rutland penned new lines for her younger self in the play, the tension the story needed suddenly appeared in the form of a generation gap between baby boomers and their parents. In one scene, Ginger defends the 1968 sit-ins at Howard University, where she is enrolled, to her less-than-supportive mother and father who wonder just what they're paying tuition for if all she does is protest.
This true tale of her family navigating the upheavals of the mid-20th century is engaging in its nuances, but Rutland will tell you it's not exceptional—there were many such African-American families. Yet they're nearly invisible in the theater landscape. Not enough tension, perhaps.
Rutland herself describes her childhood in Sacramento during the late '50s and early '60s as Leave It to Beaver-ish. But while drama in the lives of middle-class African Americans during that time was usually subtle, it was no less palpable. In one scene, Bill Sr. and Eva confront a school counselor after the gifted Ginger has been placed in a remedial class because that's where all the Black kids were sent. In another scene, Bill is denied an earned promotion because the new job would require extensive oversight of other employees (he is told, "You see, we don't have Negroes in this capacity, supervising so many whites"). In one of the play's more pointed moments, Bill meets with a prospective Air Force contractor in a Kentucky restaurant but Bill can't get served, so no deal is made.
Still, it was a story that hit less close to home that compelled Rutland to pen her stage adaptation. In 2010, after seeing Lynn Nottage's brutal drama Ruined at the Oregon Shakespeare Festival, as well as August Wilson's tragic Ma Rainey's Black Bottom five years earlier there, she asked festival staff why their productions featuring African Americans were so bleak. "I told them, 'Your Black plays are unremittingly sad. I've been Black all my life, and it just ain't all that sad. There is another Black America,' " Rutland recalls.
They agreed, but said that's how most drama is. When she suggested that OSF turn her mother's memoir into a play, they basically replied, "Why don't you?"
So she did.
Rutland first recognized the resonance of her family's story when she read a short passage of her mother's memoir at her father's funeral (Bill passed away in 2005 and Eva in 2012). "It went over really well," she says. "Everybody wanted a copy of the book, but it had been out of print for years. So I republished it." To do so, she created her own imprint, IWP (Isaac Westmoreland Press), named after her great-grandfather who was born into slavery, but sent nine children to college. Rutland added family photos to the memoir and reissued the book in 2007, changing the title from The Trouble with Being a Mama to When We Were Colored. "I always liked the term 'colored,' " Rutland explains. "I thought it was more descriptive, and for me it harkened back to a more genteel America."
More genteel, perhaps, but certainly less equitable. Among the events that the new play chronicles are the Rutland family's various housing travails. "I didn't know this as a kid, but Black people were not allowed to buy homes south of 2nd Avenue then," Rutland says of 1950s Curtis Park. "We lived on 27th Street—my father bought a house right off of Broadway." Years later, her mother asked one of her father's white colleagues to buy a lot for a new family home in South Land Park because Blacks couldn't build there either. "Now as I watch my friends inherit these lovely million-dollar homes, I think about the accumulation of wealth that was denied us along with everything else," Rutland says.
Still, she maintains a strong affection for her hometown. "I live around the corner from where my parents lived when they came here in '52—in Curtis Park, on the other side of 2nd Avenue, where I would not have been allowed to buy a house then," Rutland says. "I look at my block, and half the people are mixed couples—[my neighbors are] Black, white, Asian and gay. It's a much more integrated world and I celebrate that."
The poignancy in that contrast between then and now may not rise to the level of dramatic tension that one might find in an August Wilson play, but for Rutland, of course, that's exactly the point.