Farm-to-Fork Week's Tower Bridge dinner menu revealed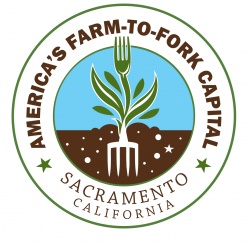 On Sunday, Sept. 29, more than 600 people will sit down at a series of table stretched the length of the Tower Bridge for a dinner that represents the highlight of the upcoming Farm-to-Fork week celebrating local food. The dinner, for which details were announced in June, sold out within hours of going on sale on July 1.
Chef Patrick Mulvaney of Mulvaney's B&L in midtown Sacramento has taken a leading role in the preparations for the evening, along with other top chefs from around the region, and is revealing the widely anticipated menu for the event.
Mulvaney says the evening will start with about 10 restaurants serving appetizers, and then continue with four main dishes, which will arrive throughout the meal. He's quick to note that the dishes are all subject to some level of change depending on "what the farmers bring us."
First up will be a simple tomato, cucumber and melon salad, perhaps with basil and lemon verbena. Mulvaney says as many as six regional farms may be providing the tomatoes.
The second course will be a lamb sausage dish grilled on-site over hardwood and served on top of summer vegetables, likely including squash, peppers and eggplant.
The third course will likely be roasted pork with a green sauce and blistered peppers and onions over rice.
The fourth course will be a whole smoked sturgeon (likely from Passmore Ranch and Sterling) served at each table, with runner beans, pears and endive.
After dinner, guests will relocate to the patio of the Embassy Suites where desserts from Karen's Bakery, Ginger Elizabeth, Ettore's and others will be served.
Mulvaney says the menu will likely be very simple without detailed descriptions, but that he and other chefs will be roaming the bridge throughout the evening, serving as ambassadors of sorts, answering questions and explaining dishes.
"The minimalism becomes the opening for a conversation," he says. Among the chefs he expects to see on the bridge are Randall Selland, Kurt Spataro, Rick Mahan, Molly Hawks, Lina Fat, Deneb Williams and many others. And he expects there to be nearly 100 cooks preparing the dishes.
Mulvaney says among the attendees will likely be Gov. Brown, Mayor Johnson and California Secretary of Food and Agriculture Karen Ross.
"Everybody wants to be involved," says Mulvaney. "Everybody sees the value of celebrating the unique characteristics of Sacramento. This dinner helps put a cherry on it."