Fat's Incredible
As Sacramento's first family of Chinese food celebrates its flagship restaurant's 75th anniversary, delicious—and bittersweet—changes are in the air.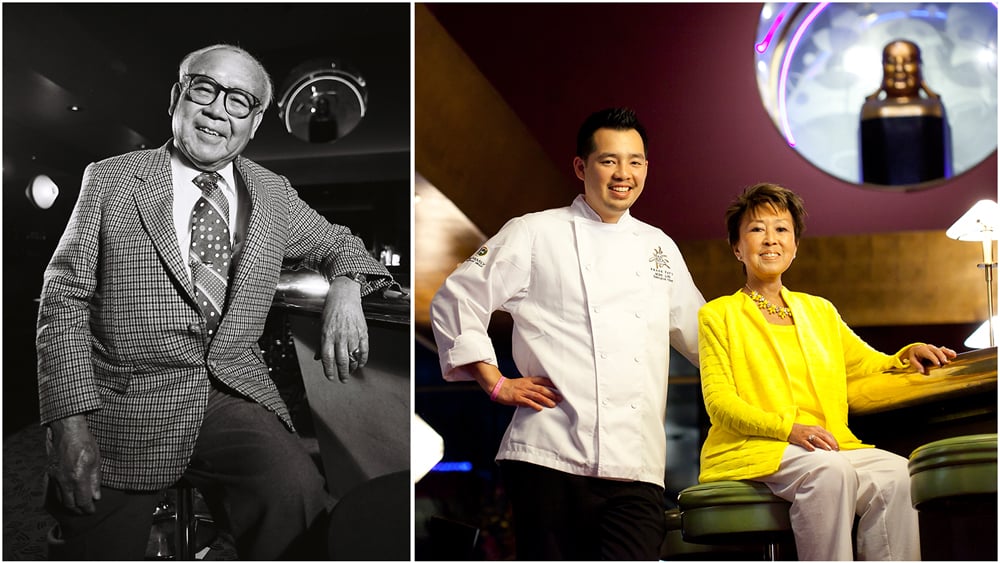 OOne summer night 50 years ago in Sacramento, a pharmacist walked into a Chinese restaurant on L Street. Behind the unassuming façade, she saw a bar and dining room thrumming with life. The city's social animals prowled the long cave of the interior—legislators, lobbyists, lawyers, politicos, paramours and every species in between, all customarily welcomed by 60-year-old proprietor Frank Fat, a onetime dishwasher at the Sutter Club in the middle of his 25th year in business as a restaurant owner. The pharmacist, from Hong Kong by way of San Francisco, took in the surroundings with her husband, Ken.
"Let me say it this way: I was not as impressed as the local people were," recalls Lina Fat, 76, laughing inside the Fat's restaurant empire's headquarters in Old Sacramento. "I didn't know or have any association with [local politics]. I thought it was a good restaurant. That's about it."
A wry smile accompanies this memory, one of hundreds that Lina Fat has amassed since her first visit to Frank Fat's, her late father-in-law's legendary downtown institution. That "good" restaurant would come to inspire the pharmacist-turned-chef whose culinary vision has only grown and burnished Fat's legend in the intervening half-century. Encompassing four restaurants, a catering enterprise and three generations of Fats, the family business has grown into the region's preeminent dining dynasty.
Frank Fat's
806 L St.
442-7092
fatsrestaurants.com
R
Yet even with Fat's eateries thriving in Roseville, Folsom and Old Sacramento, it's the L Street flagship that continues to captivate the imagination of Capitol habitués (Gov. Brown is a regular) with its mystery, mythology and menu built over 75 years—an unbroken stretch that makes Frank Fat's the oldest fine-dining restaurant in the city. The establishment, which was originally named Frank's 806 for its street address, will officially celebrate the milestone this fall, at the end of an 18-month stretch that has also seen the hot spot welcome a talented new executive chef and become the first Sacramento restaurant to earn a prestigious James Beard Award. (Widely considered the Oscars of the food world, the awards in 2013 recognized Frank Fat's as an "American Classic.") Throughout, Fat's has intriguingly absorbed and refined the seasonal flavors for which Sacramento is becoming internationally known.
"One phrase I always like to use is, 'Elevate the cuisine,' " says Mike Lim, who joined the Frank Fat's kitchen as executive chef last December. "Some of the subtle, important adjustments were the quality of ingredients. They're fresher. It's really simple: You can stir-fry a dish and just upgrade the ingredients. That's one simple way to do it."
A native Sacramentan who was born and raised in the Greenhaven neighborhood, Lim has reaped the benefits of the region's agricultural bounty since launching himself into a culinary career right out of Kennedy High School. (He was referred to the Fats by Russell Okubo, a former Fat City executive chef who is now chef-owner of Aji Japanese Bistro in El Dorado Hills, for whom Lim worked as a teen.) After earning a degree at the California Culinary Academy in San Francisco, Lim's trajectory took him to Del Frisco's in Manhattan and Victoria & Albert's in Orlando (an acclaimed fine-dining outpost within the Walt Disney World Resort) before looping back to NorCal to serve as sous-chef at Martin Yan's M.Y. China in San Francisco.
Lim says he had been looking for a professional route back to Sacramento when the Frank Fat's opportunity arose. His regard for the restaurant's heritage matched his eagerness for the challenge posed by the Fat family, led by Lina and her son Kevin, vice president and chief operating officer of the Fat Family Restaurant Group. (Frank Fat's youngest son, Jerry, the company's CEO, predominantly oversees the sizable real estate portfolio collected under the Frank Fat Properties banner.)
"We all know what Frank Fat's was in the 1950s and the 1980s—those glorious times—and how it evolved," Lim says. "For me, it was the menu. How did the menu change? How did the city change? How did downtown change? We spoke a lot about now. It's very competitive. There are a lot of restaurants out there. You have to keep up with the times. They really wanted someone like myself to come in and reenergize the kitchen and the menu a little bit."
For Lim and the Fats alike, that renaissance meant striking a tricky balance between adventurous new offerings and enduring Fat's classics like yu kwok (a fried dumpling appetizer featuring a savory, peppery blend of minced pork and beef), the legendary honey walnut prawns dish, which stands out as a crispier, lighter alternative to the more mayonnaise-centric recipes at conventional Chinese restaurants, and the onion-smothered Frank's Style New York Steak (which, along with the yu kwok, is a favorite dish of Gov. Brown).
"We've basically said [to Lim], 'Maintain the signature items or improve them,' " explains Kevin Fat, 46. He bears a striking resemblance to his grandfather Frank as a young man—piercing dark eyes set in a broad face, and soft-spoken between warm smiles. "After that, we want him to show us what he can do. Let's be creative and reinvent ourselves, in a way."
Strange or even heretical as it might sound, keep in mind: Reinvention is practically as much a part of Fat's heritage as its banana cream pie, the iconic dessert that Frank Fat and his original chef introduced in the 1940s. (The pie, among other dishes, emerged as the runaway hit among early Frank Fat's acolytes who requested a few Western-style additions to the menu.) After all, this was an old Italian joint that its new owner turned into a Chinese institution in 1939. Once a penniless Cantonese immigrant scraping by in kitchens around the United States, Frank Fat (he dropped his given name, Dong Sai-Fat, in the mid-'30s) quickly became one of Sacramento's most successful restaurateurs through mastering the arts of food and discretion for the state's most powerful leaders. One of the few noteworthy breaches came in the 1940s, when Fat brought his young children to work with him and told them not to approach the once-curtained booths in the back of the restaurant.
"So of course we did that, right?" recalls Fat's son Ken, 75. "I remember one time we pulled the curtains open and saw a couple floundering around. That was the old days—the legislators, and the women they brought in. We were surprised. Of course, they were surprised."
Legislators also stayed busy working with lobbyists and even with each other. The legend goes that for decades, legislative deals were as likely (if not more likely) to be cinched over drinks at Frank Fat's as they were over desks at the Capitol. (Insiders came to regard the restaurant as the "Third House," after the Senate and the Assembly; the lobby still boasts a framed image of a napkin on which former Assembly Speaker and avowed Frank Fat's devotee Willie Brown engineered a new law in 1987.) That symbiosis between downtown neighbors was never more evident than on June 18, 1984, when the Fats closed down the restaurant's block of L Street to welcome more than 4,000 guests to a party honoring the family patriarch's 80th birthday and yet another reinvention: the full-scale remodel of Frank Fat's by famed interior designer Anthony Machado, whose work had been featured on the cover of Architectural Digest and who, in 1990, would be named by that magazine as one of the top 100 designers in the world.
"I think that it's about time for the young people to go for it," Lina Fat says of her forthcoming retirement from the Fat's empire. "It's time for the next generation to take over."
A U.S. District Judge served as the event's emcee; the Reagans sent their best wishes. (Frank Fat's collected correspondence, also featuring letters from Bill Clinton and former governors Pete Wilson and George Deukmejian, is housed at Sacramento State; every California governor since 1939 has dined at the eatery.) The electricity went out just before dark, but Lina Fat—the reinvented pharmacist who helped develop the menus at new Fat's restaurants in the '70s before taking classes at the Culinary Institute of America in the '80s—swiftly saved the day with a generator. "Good thing I had a good relationship with the city manager," she says, telling the story today with charming nonchalance. When Frank Fat passed away in 1997 at age 93, condolences poured in from the upper echelons of American power. "There was a grace and dignity and decency in the man that I sensed even as a child," wrote Supreme Court Justice Anthony Kennedy, a Sacramento native. "There was stability, too, coming from the confidence and humanity he used to bridge time and generations and to arch two civilizations."
With goodwill and juice like that, there was no inherent imperative for the family to tinker with anything at Frank Fat's, let alone bring in a dynamic young chef like Lim to punch up a 75-year-old Sacramento tradition. The restaurant has more than enough fine menu standards to thrive for at least another generation, including such less-heralded gems as the mango ginger chicken (in which chunks of fresh fruit and pickled ginger duet in spicy-sweet harmony) and the chili beef chow fun that layers bracing bolts of heat on a bed of rich, comforting noodles.
Yet there's Lim at work on new delights like vegetable hakka noodle, which derives from a 16th-century mainland cooking style that Lim likens to the "soul food of Chinese cuisine." The dish marries a chilled wheat noodle with Chinese pesto (which trades such traditional pesto elements as sweet basil, pine nuts and olive oil for Thai basil, peanuts and sesame oil), topped with stir-fried mushrooms and a traditional sauce fusing garlic, oyster sauce and ginger. There's also the surprisingly light dried scallop fried rice, or the steamed Prince Edward mussels stir-fried with onions, peppers, Thai basil and decidedly untraditional black-bean butter sauce. "It's a little more rich," Lim says. "The Chinese don't usually use butter, but the flavor's there. It's great; it's different—a little more unique. You probably won't find that in China."
You won't find banana cream pie in China, either, but so what? Fat's is deeply Sacramento, from its Capitol connections to its farm-to-fork forerunning—the latter a part of the Fat's ethos since the days Frank and Mary Fat raised six children among chickens, fruit trees and vegetable crops on an acre near Auburn Boulevard and Watt Avenue. "[My mother] grew all the Chinese vegetables, and it only came seasonally," says Ken Fat. "She would be harvesting corn and bok choy and gai lan, all that. Bitter melon, squashes—which you can only serve at certain times. That's when you have it. So this farm-to-fork [concept], it's nice that more people are aware of it, but we had it at Frank Fat's even way back then."
Lim, meanwhile, draws ingredients from all over the bountiful region; he recently showcased stone fruit from Newcastle-based Twin Peaks Orchards in his sweet and sour pork dish, and plans to integrate winter squash from West Sacramento's Del Rio Botanical across the menu. He participated in the city's Farm-to-Fork Restaurant Weeks in September with items like stuffed quail (featuring sticky rice, Chinese pears from O'Connell Ranch in Colusa and Fuji apples from Apple Hill) and a Szechuan heirloom tomato soup deriving tomatoes from West Sacramento's Yeung Farms and utilizing Lim's signature ingredient—the Szechuan peppercorn. "It tingles and numbs your palate. When paired with the right ingredients—chilis, hot peppers—you get that combination of a spicy, tingly, numbing kind of sensation when you eat it," the chef says. "That is true Szechuan flavor from the Szechuan region, as opposed to just making something spicy and saying, 'Oh, it's Szechuan.' It's more authentic."
Inarguably the biggest change at Frank Fat's, however, is off the menu.
"I think that it's about time for the young people to go for it," Lina Fat says of her forthcoming retirement from the Fat's empire, where she has overseen kitchens in one role or another for 40 years. "Like Kevin. It's time for the next generation to take over."
There is no set timetable for her departure, only a gradual handing of the torch to the chain's incoming corporate executive chef Curt Conant, a 25-year veteran of major restaurants from House of Blues in Los Angeles to Jimmy Buffett's in Honolulu who'll start at Fat's restaurants this fall. "I don't want to be too hands-on," Lina Fat says of the succession. "Once you give up the position, you have to relinquish it. You can't just stick around. That's not good. I won't be doing that. I just want to make sure that if he has any questions, to just ask."
In the meantime, the Fat's matriarch has developed a set of general guidelines—her working title is "The Fat Family Motto on Good Food"—that she hopes her successors will follow, a four-point kitchen mission statement about safety, technique, ingredients and flavor. "That's what the legacy of our family and our restaurant is, right?" she says. "Food, and the food business. To define what good food is, and how to adhere to the principles."
And whether it's the brass "Frank Fat's" overhang that now stands where the old neon "Frank's 806" sign once did, or the new faces teeming around the tables, or the young woman who entered a good restaurant in 1964 only to leave a great one half a century later, the changes reflect the confidence and perennially open heart of a founder who inspired a capital city to follow his path.
"I think that's probably the success of Frank Fat's," says Lina Fat. "Frank always thought that the restaurant was really like a family. He treated the customers like family. He treated the employees like family. He instilled that idea." After 75 years, no other recipe in town has held up better.