Federalist beer garden and restaurant opens in midtown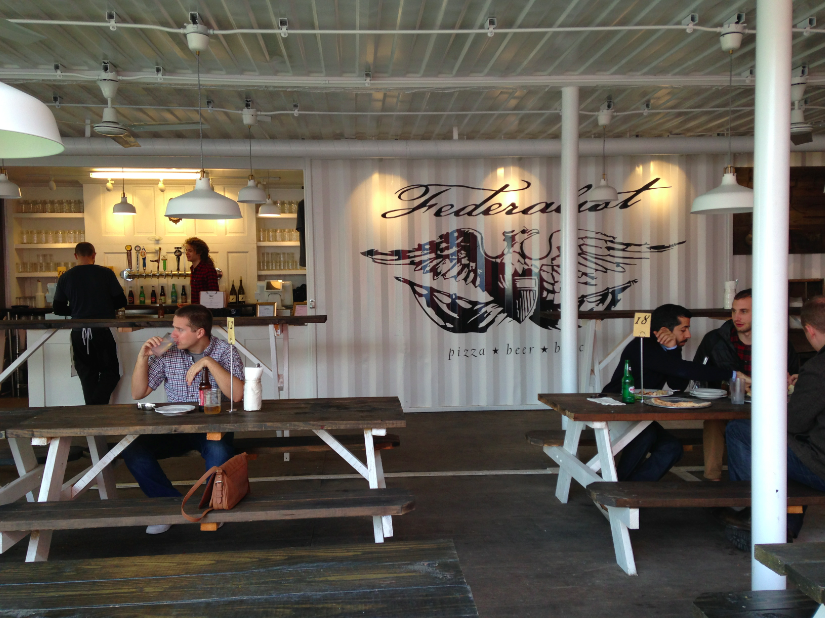 Get ready for pizza, beer and bocce, Sacramento. Following months of delays, The Federalist Public House & Beer Garden opened Friday in midtown, on N Street between 20th and 21st streets, inside seven 40-foot-long welded-together shipping containers.
Originally scheduled to open in October, the structure—the second in Sacramento to utilize shipping containers and the first to use them to create an indoor space that shields diners from the elements—was designed by locally based architect Marvin Maldonado, who lives with his family in the nearby Federalist-style house after which the project was named.
"We really want to celebrate the container for what it is. It is a beautiful piece of engineering, but it is also a really cool environment to sit in," Maldonado says. "You'll be dining literally inside a 40-foot container, so you can still see the inside and the bones of it. It's pretty cool!"
The interior has a bright, white finish with hooded lamps, deer antlers mounted above the kitchen and long, communal-style picnic tables. Diners will notice whimsical elements like an artificial turf bocce court running alongside the back end of the restaurant, as well as quotes from Thomas Jefferson on the wall and American history facts written on menu cards.
Federalist is currently operating with a soft-opening menu of four Neapolitan-style pizza options churned out in a wood-fired oven. Don't miss the signature Southside pie, with roasted pork chorizo, Yukon gold potatoes, fontina and a farm-fresh egg in the center; or the Capitol, with crushed San Marzano tomatoes, organic cremini mushrooms and smoked pancetta. A few seasonal salads, like a kale and apple mix, round out the current menu, but Maldonado plans to add charcuterie and use the wood-fired oven to roast lamb and chicken for wrap sandwiches in the future.
The food incorporates a farm-to-fork emphasis, thanks to the expertise of executive chef Shannon McElroy (an alum of Masullo pizza restaurant who also used to work at Feeding Crane Farms in North Natomas), while the beer and wine program will be run by beverage manager Tyler Stacey, formerly a sommelier at Enotria.
At the bar, which is backed with mason-jar-lined shelves, look for local brews on tap from the likes of Bike Dog Brewing Co. and Ruhstaller, as well as nonalcoholic options like bottled ginger beer and apple beer.
2009 N St. 203-4208. federalistpublichouse.com