Federalist brings new beer, bocce and food destination to midtown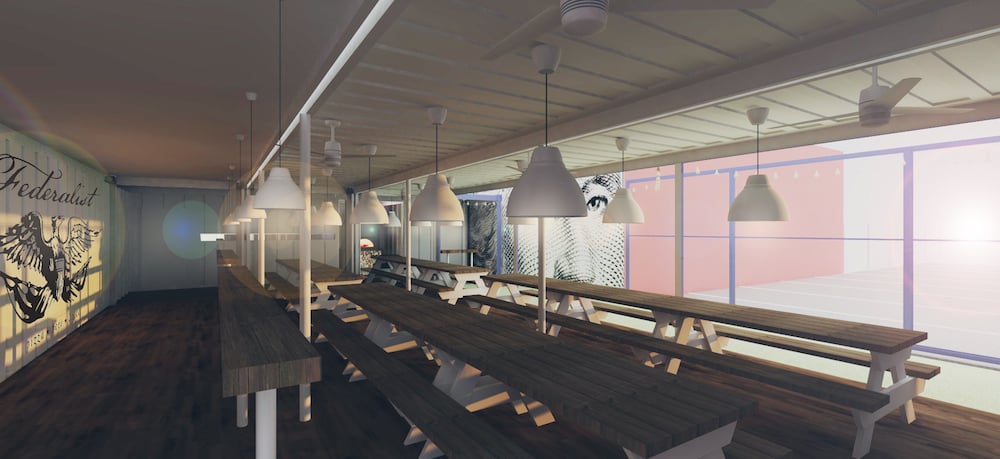 Midtown will soon have a new source for craft beer and farm-to-fork fare when Federalist, a beer garden and restaurant, opens its doors on N Street between 20th and 21st streets, inside seven 40-foot-long welded-together shipping containers.
Owner and architect Marvin Maldonado says that after months of delays, he's now confident that the new venue will be open in early October, hopefully in time for Second Saturday on Oct. 11. While there's still plenty of construction to be completed in the next several weeks, he plans to host a preview event of the space this Saturday for members of his Founder's Club, a $250 membership that includes discounts and invitations to special events. "I'm super excited," he says. "This is where all the hard work begins."
The structure—the second in Sacramento to utilize shipping containers and the first using them to create an indoor space that shields diners from the elements—was designed by locally based architect Marvin Maldonado, who lives with his family in the nearby Federalist-style house after which the project was named.
Maldonado says he first conceived of creating a restaurant with shipping containers after his inFORM design firm utilized them in plans to create low-cost housing in Crescent City.
"We really want to celebrate the container for what it is. It is a beautiful piece of engineering, but it is also a really cool environment to sit in," Maldonado says. "We are going to have a restaurant where you'll be dining literally inside a 40-foot-container, so you can still see the inside and the bones of it. It's pretty cool!"
The containers were supplied and modified by Santa Barbara-based CubeDepot, a company that specializes in shipping container projects like pop-up retail spaces and housing projects in cities like Washington, D.C. This will be the company's first time working in Sacramento, as well as their first-ever restaurant project, says CubeDepot's Matthew Hetrick.
"The restaurant is unique in that a lot of times, developers may not use shipping containers for an entire restaurant, but in this one, shipping containers were used for the entire structure," explains Hetrick, who worked closely with Maldonado and Capitol Paint & Construction's Shawn and Jodie Eldredge to bring Federalist to fruition. "I don't think there's anywhere in the United States, and certainly not in California, that has containers for the entire restaurant." (Der Biergarten, the outdoor beer destination that opened last winter at 24th and K streets, employs covered shipping containers for its tap space and kitchen.)
The containers will house a kitchen area with a wood-fired oven, which will churn out everything from Neapolitan-style pizzas to roasted lamb and chicken for wrap sandwiches (other menu items include charcuterie, seasonal salads and other small plates).
The food will incorporate a farm-to-fork emphasis thanks to the expertise of executive chef Shannon McElroy (an alum of Masullo Pizza who also used to work for Feeding Crane Farms in North Natomas) while the beer and wine program will be run by beverage manager Tyler Stacey, once a sommelier at Enotria.
Diners will notice fun elements like a bocce court, as well as decor details that link Federalist to the 18th-century architectural period after which it's named, such as quotes from Thomas Jefferson on the wall and American history facts that are written on menu cards, all of which Maldonado says tell a story and aspire to a warm, comfortable environment.
"Our tagline is pizza, beer and bocce," he says. "Think summertime and warm activities, where you have a nice glass of wine while you are lounging around, playing bocce on a Sunday afternoon. In terms of what we are trying to do, it is a very casual approach [with] really good food."
Federalist will be located at 2009 N St. Visit federalistpublichouse.com or the restaurant's Facebook page for more information.