Field of Screams
By day, they are nurses, schoolteachers, lawyers, students and auto mechanics. By game night, they are the beating heart of the Sacramento Republic FC. Meet the 800-strong Tower Bridge Battalion, a whomping, stomping, self-organized army of men and women whose bond with their team is uniquely fierce. Fair-weather fans, they are not. With the new soccer season starting in March, the fever pitch is already rising. Hear them roar.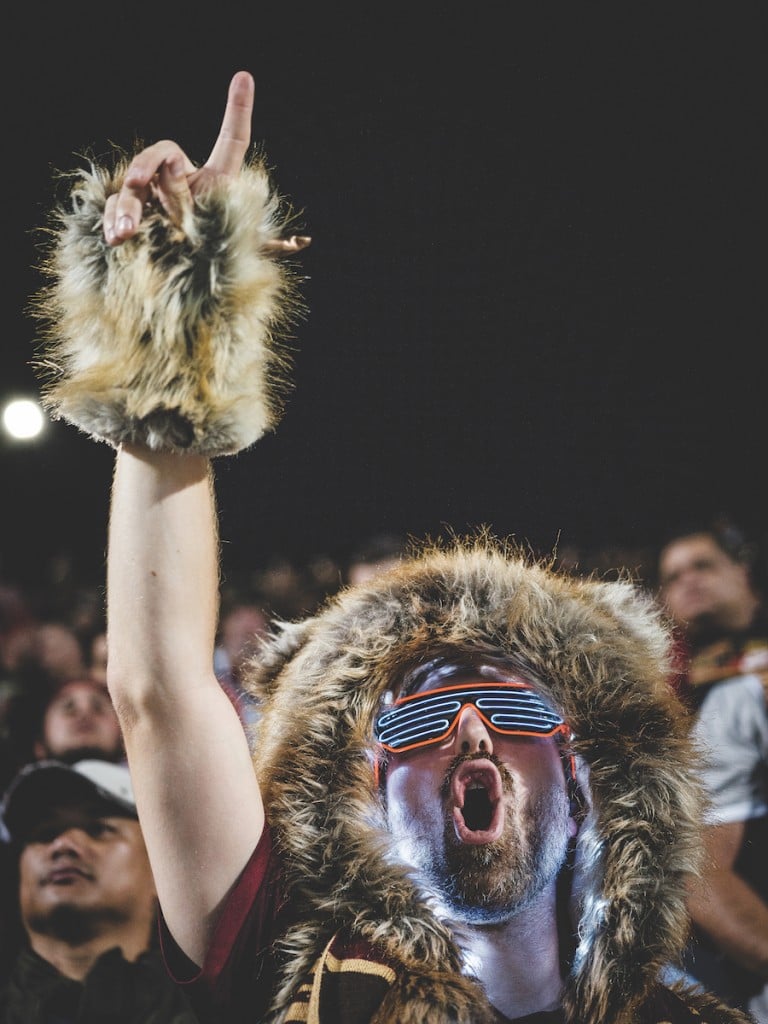 G
Goal! Hometown hero Cameron Iwasa smashes in his 17th goal of the season against the Las Vegas Lights Oct. 13, clinching the second seed playoff position for the Sacramento Republic Football Club.
In the stands just behind the north goalie box, rockets of Republic red smoke jet into the air above a pogoing sea of raised fists, while crepe paper streamers arch overhead. Banners and flags careen back and forth in time to the stomping of over 300 pairs of feet—riotously loud on the aluminum bleacher stands, like 600 cymbals clashing over and over again. The baseline thrum-thrum-thrum of giant snare drums rises through the clamor, seeming to replace your heartbeat as you become one with the crowd, chanting along in unison: We are the Battalion. We are the Battalion.
When you are the Battalion, you stand through the entire 90 minutes of game play, in a specially reserved section, while caped capos—that's soccer-speak for yell leader—armed with megaphones lead you in a series of elaborate chants. Half a dozen drummers keep that beat going—many never stop, even throughout the 15-minute halftime.
Meet the Tower Bridge Battalion, the mighty, monolithic block of about 800 superfans, nearly half of whom turn out every game to support the Republic. Yes, every game. The Battalion marches en masse into Papa Murphy's Park (née Bonney Field) at Cal Expo for home games, beating, chanting and whistling. But busloads of club members also show up in Reno, Fresno, Portland, Seattle, Phoenix and Orange County for away games against bitter rivals in the United Soccer League, formed in 2011 as a minor league feeder for Major League Soccer.
During the mid-October bout against Vegas, grade school PE teacher Krissie Goetz, 42, wears a pair of bear ears sprouting from her head (bears are a running theme at Republic games, as the team's crest includes the grizzly bear from the California flag) and a bright blue monkey, which she won at Circus Circus before a recent game in Reno, around her neck. "It just became a funny haha. Why not bring him and have some fun?" says Goetz, a season ticket holder who lives in Natomas. Her parents in Los Angeles thought she had turned into a crazy person to hear of her newfound passion—until they streamed a match and saw her in the stands, jumping and shouting in a state of utter glee. "So maybe their daughter is a little crazy. They saw that I was having a blast," she says.
Goetz' students at Rosa Parks elementary school in South Sacramento have been warned, however. "They know that if they see me at a game, let me be," she says. "Do not bug me. Do not talk to me. It is me, myself and I time."
Battalion members can come from afar as well. Jared Slaff, outfitted in a hard hat, multiple scarves and a bandanna printed with a death's head grin, came all the way from Phoenix for only his second home game at Papa Murphy's Park, and was swept away. "I always knew that the power of the Battalion was major," says the 39-year-old call center specialist and Sacramento native. "But just to finally see it full on? It just shook me to my core."
That shaking is in part due to the efforts of diehards like Eddie De Anda and Rodolfo Barrera, both of South Sacramento, who are two of the drummers who keep the beat. Barrera, 22, estimates that his drum weighs "70 or 80 pounds." De Anda, 36, an auto mechanic, carries an even bigger drum, and says his knees have been blown for years, but that's OK. "I just go for it," he says. "Adrenaline takes over, endorphins kick in, and I just go at it." He's more addicted to the catharsis than he is bothered by the pain. "It's a way to release all this inner energy that you have to get out," De Anda says, "and then you just go home nice and calm."
Visit a Republic game at Papa Murphy's Park (the 2019 season begins with a home game March 9) and the show is part sporting event and part fan-created pageant, a call-and-response in which everyone present plays an equal role. Heather Sims, a nurse at UC Davis Medical Center and a fan since the first season in 2014, puts it succinctly: "If you're not in your section chanting and cheering and doing your job, then you're not helping the team. Those of us who've been into it a while, if we are not at a game and they lose, we feel like it's partly our fault."
Sims, 56, is utterly serious, and according to members of the team, she isn't necessarily wrong. Fan favorite Wilson Kneeshaw, a forward who came up through England's Northern Premiere League before signing with the Republic in 2016, concurs. "It gives us so much energy knowing that we're going to play at home," he says. "This is our fortress."
While sidelined with an injury in 2017, Kneeshaw chose to sometimes forgo the team bench in favor of watching the games standing arm in arm with the Battalion. "Your heart starts pounding like a drum and everybody's jumping up and down. You don't know if the stands are going to come down," he says in the lilting Yorkshire accent that made him a cult sensation in a series of Facebook videos last year for which he appeared as the team's weatherman. ("It went on all season," he says, shaking his head in modest bemusement. "I don't know how many times you can tell people in California that it's sunny again.") For Kneeshaw, who grew up playing soccer in Europe, this level of enthusiasm was unprecedented. "I've never felt anything like it," he says.
"It's crazy from the field," agrees Iwasa, who grew up in Carmichael (his mom comes to every game, but opts for the regular stands, where sitting down isn't frowned upon). "You look up and it's a wall of people chanting, singing and yelling. It's hard not to be fired up."
There are other subcultures among Republic fans: If you're a bicyclist set on riding to the game, you might join the Levee Patrol, a group that cycles to Cal Expo, stopping their bikes for a moment to pose dramatically atop the levee behind the stadium like riders in a Western poised to swoop into town six-guns blazing. If you're a member of the Sacramento Adult Soccer League, you may sit with your fellow players. But the Tower Bridge Battalion is the largest and most influential fan organization.
"Everything we do is to support those 11 guys on the pitch," says TBB co-leader Matteo Cascio, 42, who invested in professional grade earplugs when he realized his ears were ringing for a week after home games, where he often stands amid the drummers blowing on a whistle to signal the beginning of new chants.
One of Cascio's other jobs has been to sew together multiple sheets of cloth to form the vast banners known as tifos, which are unfurled hand to hand during games and can span whole sections. One creation for a 2017 match against the Portland Timbers 2 depicted a bear with bloody teeth standing over a lumberjack's helmet and read, "Save a forest. Eat a hipster." The Battalion holds painting parties between games to create their tifos. A great deal of time is invested in learning the chants too, lyrics for which can be found on the club's website, where you can also join up for $20 per year (membership gets you a scarf, as well as other team swag, and access to a secret code you need to buy a $16 ticket in the stadium's Battalion-only section).
"There are increasingly fewer opportunities for people of different persuasions to get together and agree on anything," Cascio says. "So I think that's pretty cool. We can argue passionately about everything else, and we do, but when it comes to those guys on the field, we all want the same thing."
And it's true that for all their solidarity, the individual members of the TBB have very little in common other than their love of their team and their club. They come from different walks of life, different ethnic backgrounds, different economic strata. Some of them didn't even think they liked the game of soccer—until the Battalion hooked them.
Just ask Sims. "My kids played it, and I hated watching [the games]," she says with a sigh. "But it was my kids, so I watched them." Sims warmed to the sport a bit when she reluctantly attended a professional league game in 2005 while on a date. "So when Sac Republic was coming to town [in 2014] I saw a table out in front of UC Davis hospital with information," she says. She suggested to her boyfriend, Melvin Stewart, that they go to some games. He surprised her with season tickets. "The soccer team is the only team we agree on," says Sims. "We both like sports, but we root for different teams. He's a Lakers fan, I'm a Kings fan. He's a Raiders fan, I'm a Packers fan. But we both love the Republic."
Stewart eventually popped the question with an assist from the entire Battalion. "He actually took one of the chants that we were doing at the time and turned it into a marriage proposal," Sims says. On Aug. 1, 2015, Sims and Stewart said their "I do's" in the goalie box before a home game against Seattle, she in a wedding gown and soccer cleats, her bridesmaids sporting team colors, the officiant dressed as a referee, their friends and family joining a hundred-odd Battalion members to cheer on the happy couple.
"Then afterward we had the game," says Sims. "And we won!"
**********
Y
You might expect this kind of passion at, say, a Yankees game, where third- and fourth-generation fans uphold traditions that began with the donning of their first team onesie shortly after birth; or a Seattle Seahawks game, where the stomping and cheering have been known to move the needle on the Richter scale, as reported by local seismologists; or a Kings game at the Golden 1 Center, the crowning achievement of a famously rabid fan base that banded together to save a franchise and helped revitalize the core of the city along the way.
But just how did a start-up club in a chronically underappreciated sport (in America, at least) develop such a phenomenally fanatical group of supporters in only five short years? It turns out the Republic and the Battalion were born at the same moment in time.
In 2012, Warren Smith, who had brought the River Cats to Sacramento in 2000, and Joe Wagoner, who had managed the now-defunct Mountain Lions, a minor league football team, decided to found a local soccer franchise. During the following year's World Cup qualifying round, they found out which sports bars were hosting viewing parties and went on a scouting mission. "We just started showing up and buying beers," Wagoner says. "I went up to a guy and I was like, 'Can I buy you a beer and pick your brain about soccer?' "
Those fans Smith and Wagoner first approached, members of a supporters' club of the U.S. men's and women's teams, went on to become the earliest members of the Battalion, which is how the group came to exist even before the first player was signed. "The [Battalion] helped to develop the DNA of the Republic from the very beginning, from the moment we first approached them," says Smith, "even before they were a supporters' group."
For all their solidarity, the individual members of the Tower Bridge Battalion have little in common other than their love of their team and their club. They come from different walks of life, different ethnic backgrounds, different economic strata. Some of them didn't even think they liked the game of soccer—until the Battalion hooked them.
As it turned out, the Sacramento Republic FC's first-ever game was an away game, against the Los Angeles Galaxy II. "A bunch of [the Battalion] traveled down, and it also happened to be my 50th birthday," Smith says. A bunch? Try 50 cheering maniacs. The Battalion outnumbered its Galaxy II counterpart more than two to one that day, according to Smith. "We ended up tying the match against LA, a great first effort, really exciting," Smith says. "Then we went out together and absolutely had a blast. They made me do shots upside down for the first time."
The Battalion topped that when they made a dramatic entrance to the inaugural home game at Sacramento City College's Hughes Stadium, which hosted four matches before the Republic relocated to Cal Expo. They gathered at a nearby Track 7 taproom, then swarmed over a railway overpass and poured into the park en masse, over 100 strong. "Everyone's just, 'Oh my God, what's going on here?' " Smith remembers. "From that moment, they really created an atmosphere, a sense of place, a sense of belonging, a sense of being that really helped turn people's heads who weren't even soccer fans—they wanted to engage because they saw how much fun these people were having."
When the team made that year's finals—the clincher was a game now known as the "Miracle at Bonney," when the Republic was down 2-0 late in a match against the LA Galaxy II and star midfielder Rodrigo "RoRo" Lopez scored two penalty kicks and a free kick in rapid succession, securing an unlikely come-from-behind victory—the Tower Bridge Battalion offered tickets to anyone who got a Battalion tattoo, and half a dozen members took them up on it (tattoos are common enough now that multiple TBB gatherings have ended up with arm-baring group shots on Instagram). Buoyed by the phenomenal fan response, the newly minted Republic won the USL championship in its first season.
Such spectacular results have eluded the team since, but many smaller positive experiences keep fans going. Battalion capo and OG Scott Brewer (the one, Smith says, who instigated those upside-down birthday shots, after the inaugural game) was walking across the Cal Expo grounds toward the stadium in his Battalion regalia before a match one day in season two when a car stopped. It was Brewer's favorite player, RoRo Lopez—the miracle maker himself. "He stopped and offered me a ride," Brewer marvels. Such was the respect the players had for the Battalion, and vice versa. Brewer figured he had time for just one question, so he asked what Lopez thought of new coach Paul Buckle. "It was neat to be able to sit in my favorite player's car for the length of a parking lot," he says. But that's the relationship between this team and its fans, in a nutshell: they carry each other, and often to victory.
On game days, Brewer, 40, may resemble a marauding Viking, with a long beard, multiple scarves and a flag draped over his shoulders as a cape (you'd never suspect that this mild-mannered family man's other hobby is swing dancing), but in real life he is a full-time caregiver for his autistic son, Andrew. Brewer became a soccer fan quite by accident, although he'd played as a kid. "It wasn't comfortable being a soccer player in high school," he explains. "They called me a communist."
"I happened to be moving into a new house in 2008, and I had a new cable package, and I was like, 'Oh, look, there's soccer on here, let me take a look at this,' " Brewer says. Today you can spot him leading chants at matches. "It's very much like full, live-action karaoke," he says.
Inspired by his experience with the Battalion, Brewer tried to get a supporter's club started for the Kings. "It was very difficult to do," he says. With the programmed chants of "Defense! Defense!" and prompts for cheers after every basket, Brewer says, there simply wasn't any silence to work with. "It made it very difficult for us to get any chants going, because all that extra noise meant that barely anyone could hear us. It failed. It's near impossible to have a supporters' section in most American sports."
Wagoner notes the differences between varieties of fandom. "Let's take baseball," he says. "You go to a baseball game and you're going to hear the organ player, you're going to get a hot dog, you're going to get a beer. If you're with your family, you're going to have nine innings to be social with each other and catch up. There might be an exciting moment here and there. At an NFL or NBA game, there might be a little bit more lights, camera, action." He pauses for effect. "That's not what soccer's like."
A soccer game is an exercise in intensity and focus. Amid all of that cheering, stomping and chanting surrounding you on all sides in the slanted mosh pit that is the TBB zone, you dare not take your eyes off the field, not even for a nanosecond. Don't look at your phone, don't turn to your neighbor, above all do not, as one young woman in a Republic scarf and sweatshirt did, dart out of the stands on a beer run, or you might just miss the only scoring shot of the game. It takes a special breed of fan to handle the level of frenzy and fervor in this designated area at Papa Murphy's Park. In fact, the Battalion's own website offers these helpful tips: "If you want to sit, have an assigned seat, or do not want to be exposed to adult language or drinking, our section is probably not the spot for you."
Which isn't to say that TBB members aren't approachable, so long as you time your move. "I'm always up for a selfie," says Rave Bear, aka Don Gibson, 30. There may be no mascots in soccer, but Rave Bear comes close—he's one of the group's most fan-photographed members in his furry, flashing suit. Gibson has never thought of soccer merely as a spectator sport. "It's actually a lot like a rave," he says. "People are singing, they're dancing, they're partying—it's just that sports is on. Instead of music, you've got sports."
A graduate student in plant biology at UC Davis who lives in Natomas, Rave Bear played soccer his whole life but rarely watched it, until some friends from a pickup game brought him into the Battalion. The getup came about in season three, when he was looking to upcycle a Halloween costume from the year he'd gone out on the town dressed as Cecil, the African lion famously shot by a Minnesota dentist. Most people who approach Rave Bear want a selfie, but some just want to know if it's hot and sweaty in that outfit, which, incidentally, Rave Bear says is not an issue. "The costume was made to go dancing, so it's surprisingly breathable," he says. "I definitely would not have expected I'd be wearing an LED-infused bear costume at [soccer] games. You never know where the world takes ya."
**********
O
One question on every Battalion member's mind is: When, oh when—and lately if, oh if—the club and its fan base will someday be rewarded with a Major League Soccer franchise. In 2017 the team was acquired by an investor group led by Kings minority owner Kevin Nagle, and a bid was submitted to MLS, but so far, no franchise.
In December of that year, Matteo Cascio and a handful of other Battalion members, along with dozens of other Republic fans, even flew to New York to show support at an MLS meeting, making a grueling round-trip so as not to miss work. "We flew out on a red-eye, showed up at the MLS offices to show support for our bid and then got back on a plane at 5 that night and were home by 10:30 or 11," Cascio says. Needless to say, fan support is not what's keeping the Republic out of the league (the unresolved issue is, reportedly, with the bean counters, not the flag-wavers, and the Republic's back office swears the bid is still alive and kicking).
But when MLS announced last year that Cincinnati, a team formed in 2016, had leapfrogged over Sacramento to secure a spot, some felt embittered. "They pretty much promised it to us," says Heather Sims about Major League Soccer. "So if they don't give us the franchise, they're total liars."
The Battalion will be just as loud, either way. "I see that there are pros and cons," Cascio says. "There are fun things about being in the USL." Like the Battalion's frequent road trips to away games at cities a day's drive away, like Fresno, Reno, Los Angeles, Portland—and of course that sibling-like intimacy with the team itself. Cascio and others in the Battalion can't help but wonder: Would that level of intimacy change with a move to the majors?
Rave Bear, for one, recognizes that it's possible some of the magic might be lost. "We marched in the gay pride parade back in June," he says, "and [the Republic's] goalkeeper marched with us and was carrying our supporters' group sign." He wonders if Major League Soccer stars would remain that accessible. Players also turned out to help the Battalion plant 47 trees in November—one for every goal the team scored in the 2018 season. "You can really appreciate the intimate nature when you're still small," Rave Bear says.
For now, it's live to fight another day. Despite Cameron Iwasa's big goal before the playoffs, the Republic's 2018 season went down in the first round of sudden-death playoffs against his former team, the Swope Park Rangers from Kansas City. But when the visiting team scored, the Battalion literally didn't miss a beat or dim in volume. It's unconditional love, and maybe that's the point of it all: strangers coming together to experience that uplifting emotion—win or lose, major league or minor.
Wilson Kneeshaw was let go in the off-season. Announcing his departure Oct. 28 via Twitter, the only shout-out by name he made was to the Battalion: "To the TBB keep doing what you do best, supporting the team like no other fans can and keep pushing the team towards success you will always have a member in me."
And the chant goes on: Republic 'til I die! Republic 'til I die! I know I am, I'm sure I am, Republic 'til I die!