Fields of Gold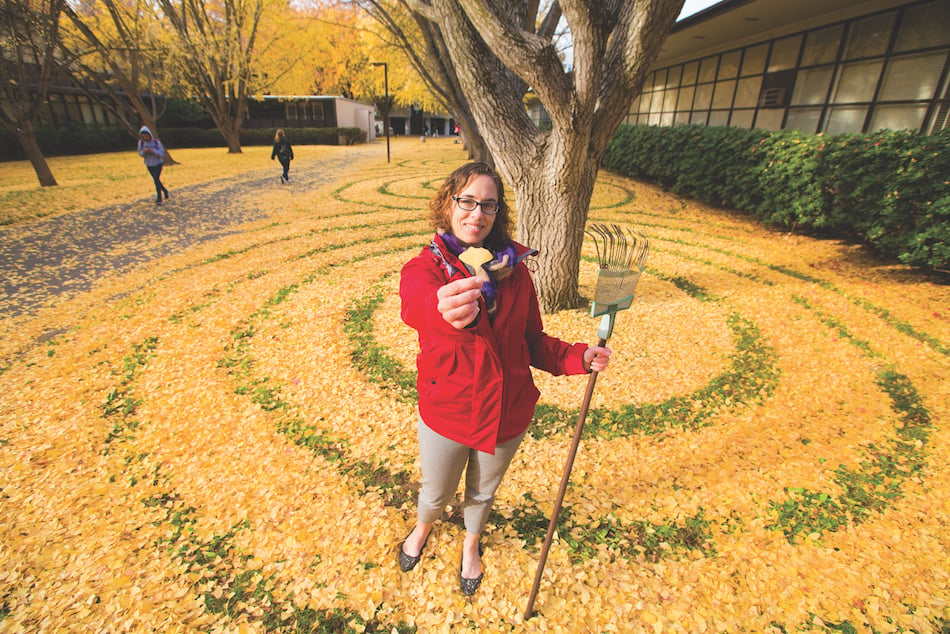 EEach fall, the sound of gas-powered leaf blowers becomes part of the city soundtrack (and with good reason—last year, researchers at MIT declared Sacramento's tree canopy the densest in the U.S.), but the droning whirr doesn't only cue visions of tidy little lawns.
For Joanna Hedrick, a counselor at Sacramento State University who uses the campus's seasonal blanket of fallen ginkgo leaves as a canvas for her elaborate compositions—spirals, labyrinths and Greek keys all etched into the landscape with a single rake—the noise warns of possible destruction. But even then, she's able to chalk up such inevitabilities—not just at the hands of the maintenance crew, but also from general foot traffic and the prerogative of nature, with its temperamental wind and rain—to the essential beauty of her art.
"I love the idea of non-permanence," says Hedrick. "I know the leaf designs can't last forever, so it really forces me to enjoy the finished work while I can." Also an amateur photographer, she says that she started creating the leaf designs five years ago purely for aesthetics—that is, to provide more interesting backgrounds for pictures of her two young children, daughter Sagan and son Emil. But Hedrick realized early on that a permanent capture of an impermanent work is never as sublime as it is at present, in its earthly element.
The remnants of those quiet Sunday photo shoots—concentric circles were Hedrick's "starter" motif, requiring a kid-friendly one hour or less to create—soon began to attract attention from the Monday morning rush of students and faculty, who would post photos of the designs to Instagram with the hashtags #sacstateginkgoart and #fallingforsacstate, among others. "I can only imagine being totally unaware of the existence of a piece [of art], only to stumble upon it on campus," says Hedrick's husband Alex Bohl, also an artist. "The thoughts that would go through your head!"
Wonder no more: Comments on social media are a candid log of such spontaneous reactions. "This radiates brilliance," posted @ramzzzyphotography, who was punning on a sun design, its golden glow beautifully expressed through the bright yellow ginkgo leaves. "It's already destroyed by the wind," was @moneill2072's wistful reaction to the weather's toll on a painstaking seven-circuit labyrinth from late last year, underscoring the ephemeral nature of the work. And "I prefer our alien invasion theory" was a humorous quip by @aaoeoe about a series of spirals connecting the row of trees between Calaveras and Alpine halls. The basis of the latter witticism is not unfounded, considering the crop circles that have been mysteriously embossed into Europe's wheat and barley fields since the 17th century, their mathematically intricate designs and overnight debut leaving baffled scientists to speculate about the existence of extraterrestrial life forms. (Incidentally, Bohl's preferred term is "tinker fairy," at least it is for his wife and her covert operations, which aren't limited to campus leaf art, but also include DIY Halloween costumes, Christmas stockings and elaborate birthday cakes that seem to magically appear overnight at the couple's Tahoe Park home. "I like surprises," says Hedrick.)
Sheree Meyer, Sacramento State's dean of arts and letters, likens Hedrick's work to "the ways in which you can see designs in fields as you fly over them, or sand castles built near the ocean that will also disappear with incoming tides, or chalk art that will be washed away with the next rains." Once again, the topic effortlessly returns to the fleeting essence of the leaf art, which also remarkably embodies its most deeply rooted message. "Given the medium in which [Joanna] works, the seasonal and temporary nature of her art, we can neither anticipate nor sustain the experience," says Meyer. "It must be appreciated in the moment."
Such a simple and profound intention is the bedrock of Eastern philosophies, and it's no surprise that over the last two decades, Hedrick, 42, has discovered her strongest affinity for nature in Northern California's Asian-inspired gardens. Among her most frequented include San Francisco's famous Japanese Tea Garden in Golden Gate Park, with its tranquil koi ponds and cherry blossom trees, and the Vedanta Society's Garden of Saints in Carmichael, where an abundance of lotus flowers signifies rebirth and awakening—in Hinduism, anyway, the house doctrine. (Hedrick enjoyed coffee breaks there while working at Fair Oaks Boulevard Nursery, a job that helped her gain experience with plants while taking horticulture courses at Cosumnes River College in the early aughts.) But perhaps her most treasured retreat is one she visited often in 2001—a private bonsai garden in South Land Park.
"I love the idea of non-permanence," says artist Joanna Hedrick. "I know the leaf designs can't last forever, so it really forces me to enjoy the finished work while I can," adds Dean Sheree Meyer, "Given the medium in which she works, we can neither anticipate nor sustain the experience. It must be appreciated in the moment."
Here Hedrick's voice breaks softly, and a moment of silence passes before she speaks again. "I would go to the bonsai garden and care for the trees as a break from taking care of my dad, who was in hospice at our family home," explains Hedrick, who discovered that quietly tending to the miniature specimens (the Japanese tradition manifests the peaceful essence of a tree through mindful pruning) was a nourishing, soulful experience. Almost 20 years later, a deeper significance comes into focus: Plants, after all, are familiar symbols of the cycle of life, and helping them thrive can lighten the burden of death. "Wow, I never made that connection until now," she says.
The large population of native Chinese ginkgo trees that Hedrick has to work with on the Sacramento State campus seems to be fortuitous. (She also practices her craft at a few other places around town like William Land Park and Seymour Park.) The prehistoric species Ginkgo biloba can be traced back about 270 million years, many millennia before dinosaurs even roamed the earth, making it the poster tree for strength and longevity. For the artist's preferred medium to come preloaded with symbolism just adds extra layers of meaning to her pieces. The waxy, fan-shaped leaves stay golden and supple long after they've dropped to the ground, giving Hedrick—who draws inspiration from the work of famed British environmental artist Andy Goldsworthy—time to discover the freshly fallen carpet and rake it into a mesmerizing motif, which she does every year, typically starting around Thanksgiving. (Hat tip to the university grounds crew, which has orders to aim its leaf blowers away from the designs for as long as possible.) As such, her leaf art is slowly gaining recognition around the world through social media and stories on such national art and design blogs as My Modern Met and Inhabitat.
Joël Dubois, a CSUS professor of religious studies, tells his students of Hedrick's labyrinths when it's time to study the ancient Borobudur Temple in Indonesia, a Buddhist place of worship built during the eighth century. With four labyrinthine passages and 10 levels, ascending to its peak stupa is indicative of the hardly straight and seldom easy path to enlightenment. "I'm always looking for examples to show my students that such cultural practices aren't just in the past—people are still doing them today," says Dubois, who first encountered one of Hedrick's labyrinths a few years ago, near the building where he teaches. "I was so fascinated that I walked the labyrinth to its center, finding such inspiration in the care it must have taken to create it."
The exercise of drawing a labyrinth on graph paper is a brain teaser—as you might expect from an ancient representation of a meandering, yet purposeful, life's journey—and building one can take up to eight hours. "Joanna's patience is paramount to the final product," says Bohl. "I have always relied on improvisation for my [paintings], but Joanna methodically plots her work and executes what is in her mind and heart. I am in awe of that."
The understanding of negative space is itself worth a degree in philosophy (which Hedrick will be earning this December); in Japanese culture, the concept is known as ma, which loosely translates to "consciousness of place"—fitting for the grassy, walkable path that Hedrick reveals when she rakes away the leaves. "A labyrinth is not a maze," she explains. "There's one way in and one way out, with no dead ends."
Likewise, spirals could be considered simpler labyrinths. When Hedrick creates one, it's a nod to her Greek heritage, which views the helix as a symbol of infinity—a squarer version, the Greek key, has similar associations. Hedrick has used photographs of her leaf art to illustrate ideas of "self" for philosophy projects: The spiral or labyrinth emphasizes the ego theory, or the existence of a self and its need for inward reflection. And to demonstrate the absence of a self, or bundle theory, Hedrick returns to her earliest motif. "There's a belief that we're all just a bundle of experiences, like a tree is composed of its rings," explains Hedrick. "Concentric circles are my interpretation of the layers of life experiences."
Given its ancestral roots in the ideologies of ancient Greek and Buddhist philosophers, as well as in the musings of their Western counterparts, Hedrick's leaf art appears to transcend its humble beginnings. (One of Hedrick's ambitions is to take her craft to Japan, where some ginkgo trees are over a thousand years old, and meditative raking is an element of Zen culture.) But the art's true significance is much more humble and quiet. "Many mornings, when I arrive on campus, I see the sun come up over the trees, and I pause to acknowledge the beauty of that moment," Dean Meyer says. "Like the leaf patterns created by Joanna, those moments come and go, yet make their mark on us."