First-ever Sacratomato Week takes over Sutter District bars, eateries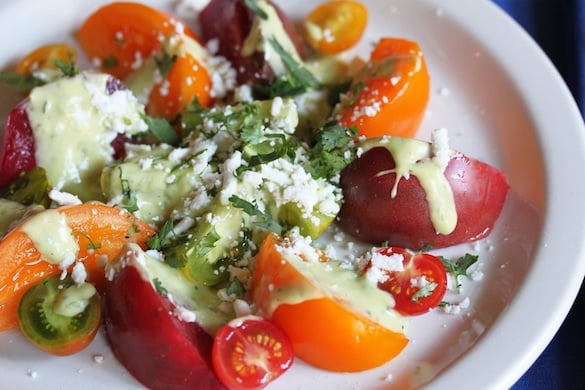 The time is ripe for Sacramento to take hold of its classic agricultural nickname.
From July 21-27, during the inaugural "Sacratomato Week," businesses in Midtown's Sutter District will be featuring creative menu items that highlight the Farm-to-Fork Capital's signature fruit.
"[The tomato] is just something about Sacramento that I feel a lot of people associate us with, and I think that's even before this whole farm-to-fork branding occurred," says Callista Wengler, chair of the Sutter District and marketing director of Paragary Restaurant Group. "I grew up in Sacramento, and I always remember the trucks coming down the freeway with tons of tomatoes falling all over."
The Sutter District features 11 eateries, bars and other venues near Sutter's Fort, and all but one—the original Paragary's Bar & Oven, which is closed for renovations—will serve up tomato-centric dishes and drinks for the occasion.
Centro Cocina Mexicana, for example, will complement its heirloom tomato salad (topped with avocado cilantro dressing and queso fresco) with a "Bloody Maria" cocktail that uses tequila infused in-house with tomatoes, onions, peppers, celery and garlic.
Ink Eats and Drinks, meanwhile, will offer a fried green tomato, bacon and cheddar grilled cheese sandwich with pimento spread, and Monkey Bar will combine gin, grape tomatoes and sage in its "Off the Vine" libation.
"Tomatoes are fun, and I think it's something that's a really versatile item," says Wengler. "We can feature it in a very interesting cocktail at Red Rabbit or we can feature it at Biba."
Sacratomato Week will take advantage of the city's farm-to-fork nickname as well, in the form of partnering with local tomato suppliers like "Uncle Ray" Yeung. "We have a very eclectic and diverse group of restaurants," says Midtown Business Association executive director Emily Baime Michaels. "But within each restaurant there's a commitment to honoring local suppliers and using local ingredients."
After this first year, Sacratomato Week's organizers plan to feature a festival at Sutter's Fort, which will include tomato-tastic delights like a market and chef demonstrations.
Visit facebook.com/thesutterdistrict for more information on Sacratomato Week.