First impressions: Blackbird reopens with a smaller menu and bigger dreams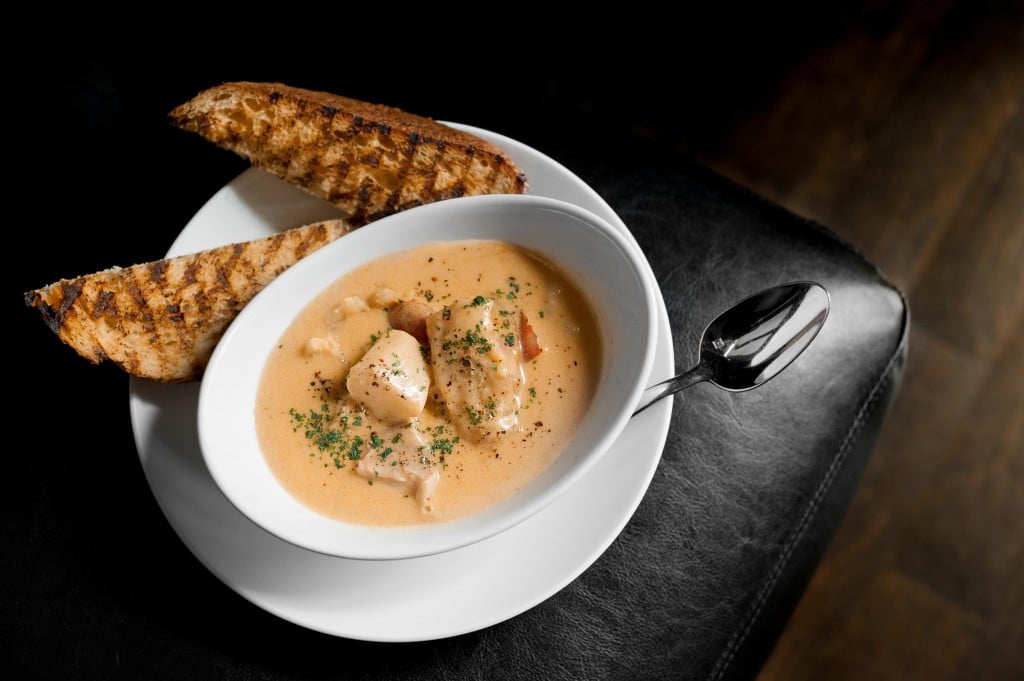 After temporarily shuttering in May due to a pipe explosion in its bar, downtown's Blackbird Kitchen & Beer Gallery streamlined its interior, pared down its menu to tried-and-true favorites and reopened its doors Dec. 2.
According to executive chef and co-owner Carina Lampkin, the restaurant will be in a soft-opening stage with limited hours (see below for details) and a leaner menu until after the holidays. This is the establishment's second reopening in the three years since it landed on the Sacramento dining scene. Lampkin affectionately terms this incarnation "Blackbird 3.0."
"3.0 will be the perfect blend," Lampkin says. "1.0 was way too fancy [and with] 2.0 we overcorrected."
Balance is exactly what patrons will find in Blackbird's kitchen these days. Sophisticated, seafood-forward dishes drive the menu in the form of easy bar-style small plates. Customers can expect favorites like the Captain's Chowder—a savory blend of Arctic char, shrimp, mussels, local squid, red potato and chives served with grilled bread—and the Old-Bay Bomber, a slider made with grass-fed beef, American cheese, house-made sauce and shredded lettuce served with light, crisp potato chips. Other items on the menu—or the "perfect seven," as Lampkin calls it—include individual oysters, fish tacos, a seafood cocktail, vegan risotto and the West End fried chicken. In January, Lampkin plans to grow the menu, bring back the oyster bar and offer weekly seasonal tasting menus consisting of three to five courses.
The cocktail menu is currently under development but customers can find five favorites, including the Sac Mule made with Tahoe Blue Vodka, lime juice and ginger beer, and the Pepino made with Hendricks gin, lime juice, cucumber-basil, St. Germaine and elderflower liqueur. The craft beer list continues to be one of the most impressive in town, with nearly 50 handles, including local names Ruhstaller and Bike Dog Brewing Company.
The establishment's interior and subtle changes reflect Blackbird's urban-yet-cozy vibe. Tea lights dot the new, repurposed-wood bar that stretches from the front of the restaurant to the back, vibrant local art hangs on the walls, and a DJ spins through happy hour and into the night.
And Blackbird is about to expand. The second floor, currently an open gallery space, will soon be filled will community tables similar to those on the ground floor, all of which were created with wood from the same 80-year-old fallen redwood tree. The team also plans to build out the second-floor loft area and a parklet on the sidewalk of 9th street. Plus, Lampkin says a basement speakeasy is in the works.
Blackbird 3.0 markets itself as a tastemaker for the West End, a historical term Lampkin hopes to revitalize, which references the area of downtown spanning from the Capitol to the riverfront.
The most notable, inventive example of that leadership is Blackbird's new focus on producing events in collaboration with local groups and artists that utilize the restaurant's adjacent alley space. Recently, for example, Blackbird hosted an Alice in Wonderland-themed West End Wonderland party, which featured a 50-foot mushroom suspended above the alley. Blackbird will also host a Studio 53-themed New Year's Eve celebration featuring local indie band Sister Crayon from 7:30 p.m. to 2 a.m. on Dec. 31. Eventually, Blackbird and its collaborators plan to host a 3,000-person mini music festival.
"We're going to continue to throw parties to [help] shape the identity of downtown," says Lampkin. "Sacramento is a very cool, creative, humble bunch."
Soft reopening hours: Wed.-Thurs. 4-9 p.m. Fri.-Sat. 4-11 p.m. 1015 9th St. 498-9224. blackbird-kitchen.com
You Might Also Like
Chef Carina Lampkin on reopening Blackbird Kitchen
B-Side opens in downtown and Meet & Eat opens in Land Park
New Elk Grove lunchtime cafe is set to expand with a wine bar
Where to find Sacramento's best cup of hot chocolate