First look at Iron Horse Tavern, the next big eatery on the R Street corridor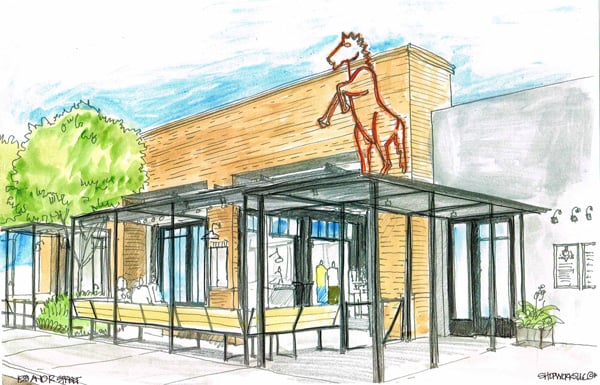 Update: Iron Horse Tavern will open on Thursday, June 18, 2015.
A new dining destination from celebrated midtown restaurateurs Mason, Curtis and Alan Wong will bring further excitement to the already bustling R Street corridor.
The Iron Horse Tavern, set to open next spring at the intersection of 15th and R streets, is the latest bar and restaurant project to imprint a spirit of urbane sophistication on the revived former railway stretch south of midtown. Named after the locomotives that once rumbled down R Street, Iron Horse features a style that interweaves the area's industrial heritage with sleek international touches.
"You see things kind of like an artist—things that inspire you in a certain direction," says Mason Wong, citing both the neighborhood ambiance and design inspirations gleaned from visits to eateries in New York, Portland and Seattle. "It's a tavern concept, but it's kind of a modernized urban tavern concept. It has a little bit of a French colonial element to it. I think that [concept]—as well as the location—is what's really exciting us about doing this new project."
Wong emphasizes vintage touches like the reclaimed wood and hexagonal tile constituting the floors in the dining room and bar, respectively. The bar itself will feature a black anodized steel facing and pounded copper top, with blown glass light fixtures and a model locomotive perched beneath the antique tin ceiling. Three booths, including one with a fireplace, will line one side of the bar space.
Iron Horse's glass doors, meanwhile, will open onto the surrounding patio, where guests can dine and drink alfresco. Chef Christian Palmos of Cafeteria 15L—a downtown sister eatery in the Wong family of restaurants—will oversee the menu at Iron Horse as well. (Wong demurs when asked about planned dishes, opting to describe the cuisine as "creative American—maybe American with a twist.")
Iron Horse reflects the latest entry in the Wongs' 10-year collaboration with Shopworks, the Napa-based design firm that has helped craft the look of Cafeteria 15L, Firestone Public House, Mix Downtown and the rest of the siblings' Sacramento restaurant and nightclub empire.
"Every [space] has to have kind of a new spontaneous design thought," Wong says. "They see our vision the way we see it, and I think that's a big reason as to why we work so well together."
And as for Iron Horse's place in Sacramento's thriving, up-and-coming neighborhood along R Street, which Wong characterizes as the "next midtown"? Wong expects the city to be all aboard.
"It's kind of funny, the slogan, 'Build it and they will come,' " he says. "I don't think we would do anything new unless we thought we were going to be able to come up with something that would be interesting, different and exciting enough for people to want to come and see what we've done."
Related Links
–Ice cream cookie sandwich hot spot CREAM of Elk Grove opens Nov. 15
–New farm-to-fork charcuterie opens in Placerville
–Blast 825° bets on build-your-own-pizza craze in Roseville, Rocklin and Elk Grove