First look: Brasserie Capitale serves up a French revelation on K Street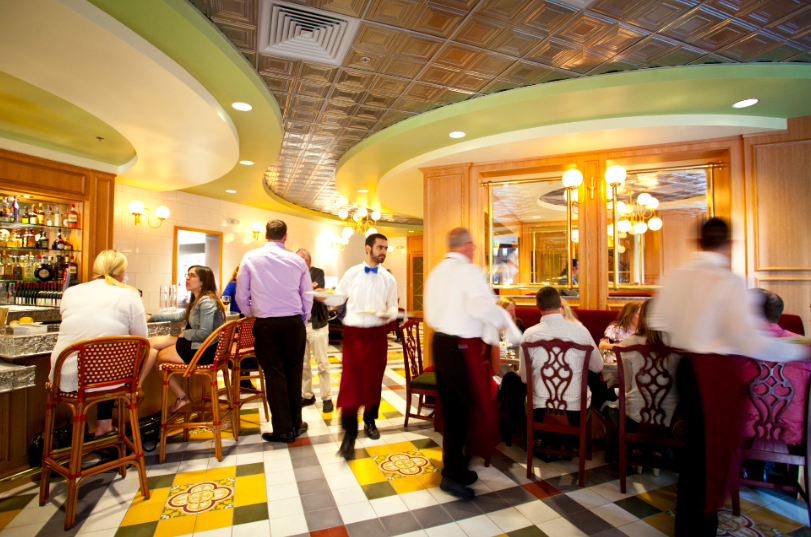 Bon appetit, Sacramento: After months of anticipation, downtown's new French restaurant Brasserie Capitale is finally open at 1201 K St.
The eatery, founded by the family behind the midtown mainstay Aïoli Bodega Español, began serving lunch and dinner to the public this week. Featuring fresh, modern takes on both the cuisine and design of the French motherland, the restaurant's elegance—from the kitchen to bar to table—reflects the perfectionism of owner Aziz Bellarbi-Salah and chef Scott McNamara.
"We're doing traditional French, straight up and down," says Bellarbi-Salah, 30. "There's a little bit of making it our own, but it's a lot about making it right."
McNamara strikes that balance in the kitchen with a nifty suite of dishes, including supple house-cured salmon (kissed with dill, egg brunoise and laid on a bed of rye crostini and crème fraîche) and petatou (a delicate mashed potato salad containing niçoise olives, thyme and balsamic beneath a seared cap of goat cheese). McNamara's outstanding country pork pâté (crafted over two days of marinating in cognac, white wine, shallots and spices) and his zesty garlic sausage are both made in-house, along with classics like bouillabaisse, coq au vin and cassoulet that are each offered as specials throughout the week.
"If you take the five to seven days you need to make cassoulet, the product should be pretty spectacular," says McNamara, a veteran of Sacramento institutions like The Kitchen and Ella who came to Brasserie Capitale after four years as the head chef at the recently shuttered, but highly regarded French eatery Bistro Michel. "Those are the dishes we want to emphasize. We don't make a lot of it, but we do make it once a week, so it's kind of first-come, first-served."
The warm, eye-popping interior alone is worth a visit: Formerly occupied by The Broiler (in a fortuitous coincidence, the erstwhile restaurant's "B" still remains on Brasserie Capitale's frosted glass doors) and situated across 12th Street from Ella, the space is enlivened by white tile walls, pressed tin ceilings and matte gold lighting fixtures imported from Paris. San Francisco designer Sherman Warren is responsible for the look, which is rounded out by plush red velvet banquettes, pewter-topped tables on cast-iron bases, and blond woodworking from Paul Parks at River City Millwork in Rancho Cordova.
The centerpiece in Brasserie Capitale is its 20-foot-long bar: Designed from cast pewter by Sacramento sculptor Alan Osborne and buffed to a warm shine on top, its border ripples with an abstract relief chronicling a leafy year in the life of grapevines growing on a vineyard cordon. (In keeping with the theme, the restaurant currently offers a wine list featuring nearly 80 varieties.)
A smaller version of the bar can be found next door at Café a Côté, Brasserie Capitale's quick-service sister spot that also opened this week. The cafe—open weekdays from 7 a.m. to 1 a.m. (and Saturdays from 11 a.m.-11 p.m. plus Sundays from 5 p.m. to 10 p.m.)—offers coffee and pastries in the morning and lunch, dinner, wine and cocktails in the afternoon and evening.
Brasserie Capitale. 1201 K St. 329-8033. brasseriecapitale.com
You Might Also Like
New parklet patios planned for two Sacramento restaurants in June
Mikuni announces new location in Folsom
Gunther's Ice Cream rings in 75th anniversary with ice cream social